ColourPop's New Lippie Bundle Will Save You Money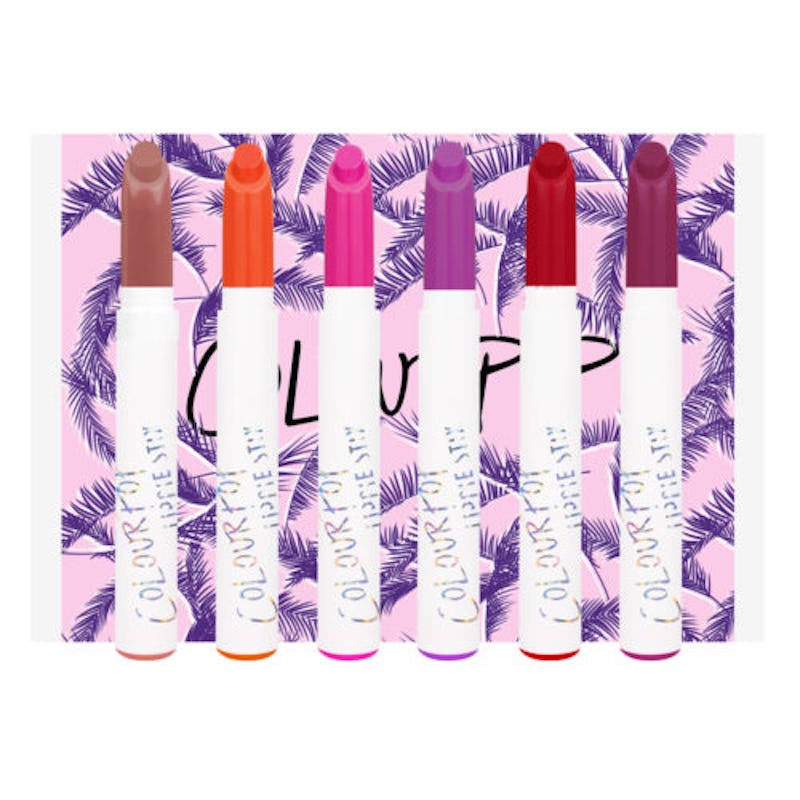 Just in time for summer, ColourPop is launching a new sheer formula that could just be the best one yet. Don't think of this as a gloss though, because the bendable lip product is way more than its name suggests. How much are ColourPop's new Lippie Stix, you ask? As if the company' products weren't already affordably enough, their new sheer summer Lippie Stix bundle pack is here to save you even more money. No need to pinch yourself, because this is a makeup lovers real-life dream.
What's better than affordable makeup? When you get even more money off your already low-cost finds, of course! That's exactly what ColourPop is offering with the new Sheer Lippies. They've improved their formula just in time for summer and have six brand new colors for makeup lovers to collect. The new mini collection has a nude, some pops of color, and staple reds that go on sheer and blend to your perfect opacity.
At just five dollars a piece, that means you can have all the colors for less than the price of a Kylie Lip Kit. That's not all either. If you do decide you want them all, you can buy the new bundle pack for $25 instead. That's basically getting a free Lippie. It doesn't get much better than that, people!
If you're not into the bundle, then no worries. You can still buy your favorite shades by themselves. Here's an up-close look at all the shades, so you can plan your summer spending accordingly.
1. Kiddo
Kiddo Sheer Lippie Stix, $5, colourpop.com
If you're looking for a sheer nude that won't leave you feeling sticky, then this is the one for you. It can also be built up to a pretty pink color.
2. BYOB
BYOB Sheer Lippie Stix, $5, colourpop.com
Don't be alarmed by the neon look. This color brings the brightness while letting your own lip color slightly shine through.
3. Safari
Safari Sheer Lippie Stix, $5, colourpop.com
This coral will leave you looking like you just ate a popsicle.
4. Peacocky
Peacocky, $5, colourpop.com
The blue red is perfect for easing into a bold lip.
5. Whip
Whip Sheer Lippie Stix, $5, colourpop.com
If you've been dying to try the purple trend, this is a great way to test the waters.
6. Tiger
Tiger Sheer Lippie Stix, $5, colourpop.com
You know that color on your lips after you finish three glasses of your favorite red wine? This is the look, but better.
After seeing them all, I'll be surprised if you don't pick the bundle!
Images: ColourPop.com (8)