Kylie's Newest Lip Kit Is A Fan Favorite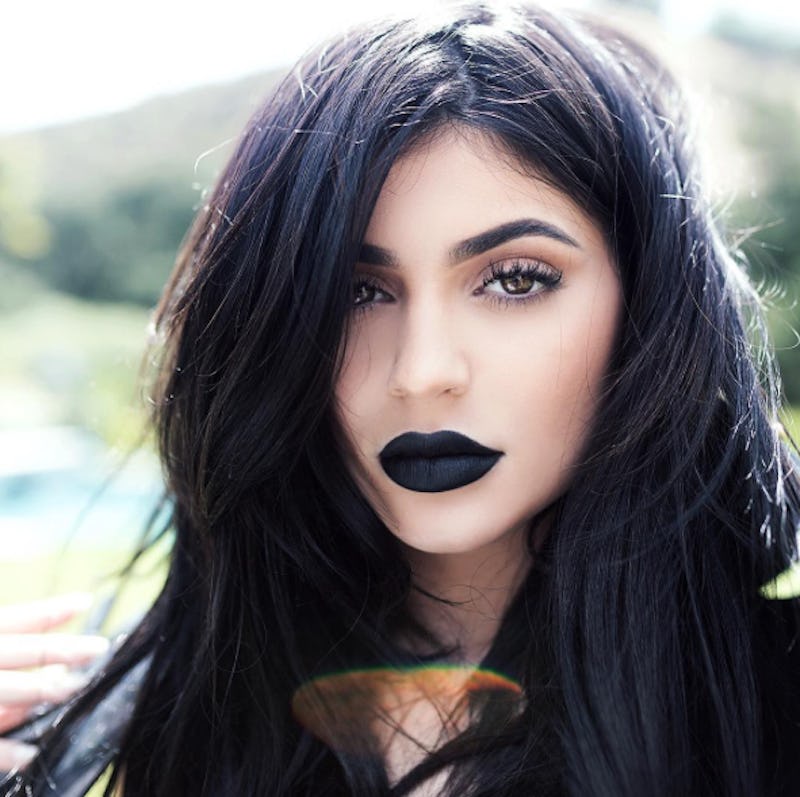 When I found out that Kylie Jenner was releasing a black matte liquid lip kit, my cold black heart skipped with joy. I happen to think that black lips are the chicest, so I couldn't wait to get my hands on it during the restock on Friday afternoon. If you're wondering "Is Kylie's black lip kit Dead of Knight sold out?" The unfortunate answer is: Oh yeah.
Dead of Knight sold out in 30 minutes, which is the longest time a new shade has been available during an initial launch in Kylie Cosmetic's history. It's understandable: Jenner's team has more experience (and stock) under their belt, plus a matte black is certainly not everyone's cup of tea (but can look beautiful on everyone!)
Dead of Knight debuted a couple days ago on Kylie Jenner's personal Instagram account, with a full shoot by Sasha Samsonova. It's metallic matte sister, KyMajesty, wasn't available during Friday's restock. So why did she choose to release Dead of Knight first, or at all?
According to her personal Instagram, Jenner explained that she created the black matte lipstick as a tribute to her younger self.
"I did it for her 😏 back when I only dreamed of having my own lip line. 16 yr old me would be so proud 😢 @kyliecosmetics this new kit is so important to me #deadofknight," she captioned a throwback photo.
I love that Jenner is remembering how it all started, and getting a little nostalgic about her business growth.
Dead of Knight, $22, kyliecosmetics.com
It makes sense that everyone would want these dark kits, since they double as amazing, long-wearing liquid eyeliner and kohl eyeliner pencils.
If we've learned one thing, it's that Kylie Cosmetic launches are like buses: if you miss one, there's always another on its way.
Image: Kylie Jenner/Instagram