This Is Why Dead Of Knight Is The Color For You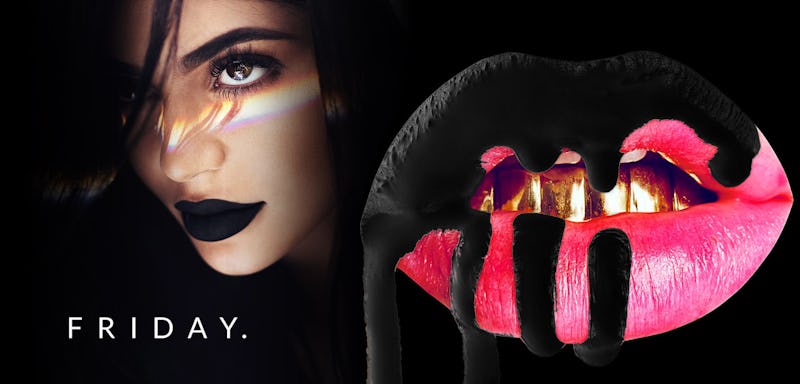 When Kylie Jenner released the Kylie Cosmetics Dead of Knight Lip Kit, I squealed with joy. I think black is a truly universal lip shade that looks chic on every skintone, even though Twitter disagrees (For now). I'm making it my job to prove everyone wrong — Dead Of Knight will look good on you, no matter your skin tone. Here are 11 examples Kylie's Lip Kit Dead of Knight is the perfect shade for every complexion to prove it.
The biggest myth about makeup, right behind the idea that it's vain or fake it wear it, is the idea that not everything is for everyone. I'm going to call bullsh*t. Everything is for everyone — you can wear whatever you like, however you like, whenever you like. Electric blue liner to lunch? Go for it. Contour to the corporate office? Do you. Black lips as an every day look? Yes ma'am. In fact, experimenting with different things is how you find a signature look, how you have fun, and how beauty trends are born.
So when I jumped on Twitter and saw Kylie fans of all kinds doubting the wearability of Dead of Knight, I had to intervene. Fair girls said they'd look like a "zebra" while darker complexions expressed doubt that it would be complimentary.
Ladies, ladies. I promise it can look beautiful, but don't take my word for it. Here's a few examples to prove that black lipstick is universally flattering. Behold!
I mean, really, have you seen anything more beautiful? Black lips are so romantic when paired with a sultry smoky eye.
MAC Cosmetics shows that a black lip can stop the show.
Nikkie is fair as snow, and looks amazing with a dark pout.
Edgy meets every day. Told ya!
Golden and olive skin really stand out with a dark lip.
Bronze-hued and worried a black lip will be overwhelmingly dark? Have no fear.
Drop. Dead. Gorgeous. She let the lips stand out by keeping her makeup minimal and monochromatic with the matching dark eyeliner.
Nothing goth about this look. It's chic, dramatic, and totally doable.
Bold brows and black lips were a match made in heaven.
Patrick's medium-toned skin glows with black lipstick.
I rest my case.
Dead of Knight, $18, kyliecosmetics.com
Image: Kylie Cosmetics