14 Books To Bring Camping With You This Summer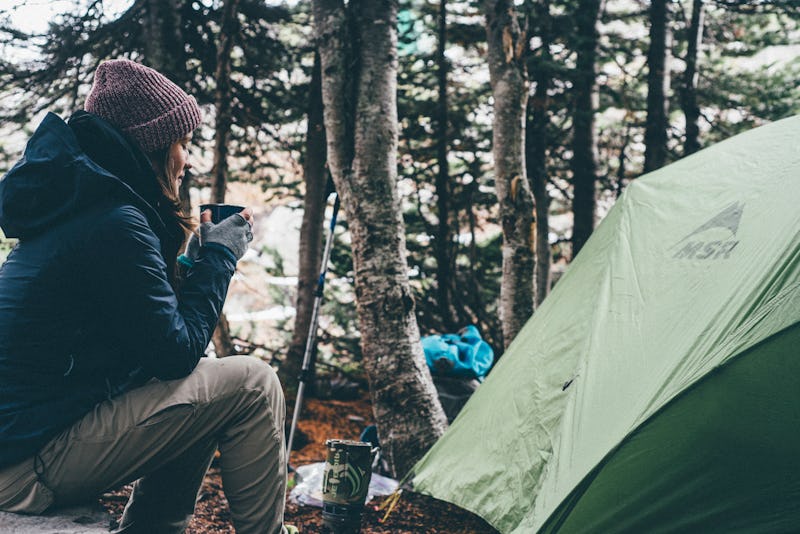 As a kid one of my favorite things about summer was summer camp — that magical place where you played from sunrise to sunset — and now that I'm an adult, camping with friends still sounds just as fun. If you're planning on spending a day, a week, or even a month-long adventure camping somewhere in the wilderness this summer, then I have some packing recommendations for you.
Bringing along a survival guide is definitely a good idea if your hiking journey may lead you far away from the world of modern medicine and reliable communication connections, but if you're just heading to a cabin on a lake or a tent in a public park, consider entertaining yourself with a couple fun reads! Summertime is the best time to escape in a fun, easy, breezy book. There's nothing I love more than falling into a good book near the edge of a lake or one that keeps me up with the lantern as my only source of light.
Always pack light, but don't forget to include a couple books with you as you embark on your camping adventures this summer. From spunky YA characters heading to summer camp or memoirs of real hikers and their experiences, here are 14 books to bring camping with you:
Sam signs herself up to become a camp counselor at Whispering Pines camp in the New York Catskills to get away from her best friend, who is much too infatuated with her new boyfriend. Sam thinks all is going swimmingly until she meets the new counselors, some of whom are mean, some of whom are cute, and some of whom fit her like a new best friend bracelet. It's a classic summer camp novel, and an easy breeze if you're looking for something fun and quick!
If you like the sound of Sleepaway Girls, you'll love Kathryn Williams novel, The Lost Summer. Helena Waite and Katie Bell, two best friends, are off to camp — but Katie misses the age requirement by a few months, making her a camper while Helena takes on the role as a counselor. Their friendship is tested as Helena finds herself getting caught up in the counselor fun and ignoring her friend. It's a touching coming-of-age novel set out in the wilderness, and one you'll love reading next to a campfire or calm lake on a cool summer evening.
Bill Bryson is about to take you on one of the most entertaining hikes of your life, and if you're headed on a hike or major camping trip this summer, take this book along with you. As Bryson makes his way through The Appalachian Trail, he'll share some history and fun facts, point out a few bears, and definitely tell some jokes.
In search of a time traveling YA novel you won't be able to put down? You're in luck. Lexa Hillyer's Proof of Forever is about the friendship between four teens who spent countless memorable summers at Camp Okahatchee. Fast forward to the present, and the girls won't even look at each other. That is until a photo booth transports them back in time, and they have to relive that last summer at camp, forcing them to face the dark secrets that tore them apart.
The Intersentings follows six summer camp best friends as they grow up and remain friends — even when their talents, fortunes, and ideas of satisfaction diverge. This book is gorgeously written, and it's a perfect novel to read in the wilderness as you ponder the direction of your life.
6. Positively by Courtney Sheinmel
Both Emerson Pressman and her mother have been diagnosed with HIV, and when Emerson's mom passes away with AIDS, she has to go and live with her father. Realizing that Emerson is lonelier than ever, her dad decides to send her to Camp Positive, a camp for HIV-positive children. That's when her life takes another major turn. It's a dense book on a difficult subject, but it's told beautifully and it's one story you'll never forget.
Want to pack your bags with a classic? Take Jack London's masterpiece, Call of the Wild, a story about a dog named Buck, who is kidnapped and sent to the the harsh Yukon Territory. It's a fantastic underdog story (pun intended), and if you're a dog person, there's no doubting you'll adore this novel.
Who doesn't want to get lost in an exciting adventure story with demigods fighting historical creatures?! The Percy Jackson series is written for kids, sure, but as you continue on reading, you grow up with the characters, sort of like a Harry Potter experience, and become incredibly attached to Percy and his friends. Begin your camping reading with the first in the series, a book in which Percy is shipped off to Camp Half-Blood and learns who his real father is... and where his destiny may lead him.
9. Holes by Louis Sachar
Have you already read all of Percy Jackson? What about digging out another old favorite when you were younger — like Holes? Stanley Yelnats and his family all suffer from bad luck. So when he's caught "stealing" a pair of shoes (spoiler: he didn't steal them), he's sent away to Camp Green Lake, a place for boys to build character and dig a lot of holes. This is just Stanley's first step towards breaking his family's bad luck curse, and you won't want to miss out on the rest of his adventure.
Four best friends have spent five incredible summers together at camp. But when they come together to spend one last weekend at camp drinking, skinny dipping, and playing capture the flag, past secrets surface and their friendship begins to fall apart.
11. Wild by Cheryl Strayed
If you're taking a solo camping trip, or need something inspiring and encouraging, don't forget to bring Cheryl Strayed along — well, in book form, that is. Wild, her bestselling memoir documents her journey as she hiked Pacific Crest Trail just after her mother passed away and her marriage fell apart. It's a story of strength and defeat, grief and joy, and how to overcome the most difficult things in life.
You can't deny the enduring power of this classic YA novel, no matter how many times you've read it already. When one pair of pants perfectly fit four very differently-shaped best friends, it's obvious that the pants are magic. And when the four friends separate for the summer, it's the pants and the letters written along with them that keeps them close. If you have to spend the summer apart from your bestie, this book will definitely help fill that BFF-shaped hole in your heart.
13. 68 Knots by Michael Robert Evans
Summer camp is great and all, but what about a camping trip based on strengthening leadership — and one that takes place on a sailboat? 68 Knots is the story of eight teenagers the summer before they head off to college. They're all strangers to one another, but they become close friends after their captain commits suicide and they're suddenly in charge of where the summer, and boat, leads.
Bring along this intriguing mystery with your best camping gear. E. Lockhart's suspenseful novel is about a group of friends who spread lies like mosquito bites during their summers on a private island. This mind-blowing YA novel will keep you up so late, you might run out of flashlight batteries.
Images: Julian Bialowes/Unsplash