13 Books To Bring Camping With You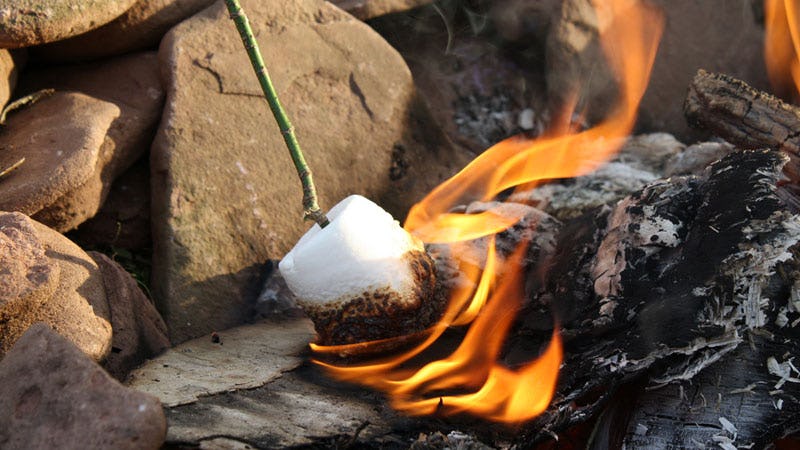 School is winding down and the weather is finally heating up, so it might be time to air out your tents and clean out your coolers, because camping season is upon us. Every year, you stock up on batteries for your lanterns and lighter fluid for the grill. You never head to the woods without a full bag of marshmallows and at least half a dozen chocolate bars. You've even considering investing in a wearable sleeping bag this year, but have you thought about your camping reading list yet?
Camping is a favorite pastime of many people, and it's no wonder why. Camping brings people back to nature and away from skycrapers — and Wi-Fi. Whether it be in the woods, on a mountain, or even on the beach, there's nothing like camping to make you feel connected to the great outdoors, and to the people with whom you go camping. From hiking to swimming to fishing to stargazing, camping is a great way to spend some well-deserved time off this summer, and no camping trip is complete without a great book to squint at in the light of a blazing fire. From tales of adventure to stories of survival, a great book can be the best companion when you find yourself deep in the woods.
So this year, when your making your packing list, don't forget one of these 13 books in your backpack:
Hilarious and heartwarming, Bill Bryson's memoir about hiking all 2,100 feet of the Appalachian Trail is the perfect paperback to throw in your knapsack alongside some trail mix and plenty of water. From the rugged forests of Maine to the Great Smokey Mountains in Tennessee, the seasoned travel writer captures every bit of the beautiful and constantly changing landscape, including the people he meets along the way. This is a must-read for anyone looking to spend some quality times in the woods.
If you're the kind of camper who enjoys the great outdoors for all of the climbing it has to offer, then Joe Simpson's true and terrifying tail may or may not become your next favorite read. After Simpson fell off of an ice ledge over 21,000 feet up in the Andes, his climbing partner, Simon Yates, was forced to cut the rope that attached them. Touching the Void chronicles the days to follow, in which Yates, assuming Simpson didn't survive the fall, struggles over his guilt and mourning, while Simpson, crippled and starving, struggles for his life. This epic story is not only about survival and courage, but the strength of self and the unbreakable bonds of friendship.
Years before Cheryl Strand laced up her boots and hit the trails, Robyn Davidson, accompanied only by her dog and four camels, set out on a nearly impossible journey through some of the most perilous terrain on Earth, the Australian Outback. Full of adventure, danger, and ultimately courage, Davidson's memoir is one for reading under a dessert moon. Warning: this book will cause you to question all of your material possessions and your true self.
If you weren't invited to the Parks Department annual camping trip, fear not — there is still a chance to go camping with Ron Swanson... I mean Nick Offerman. While Paddle Your Own Canoe isn't strictly a nature or outdoors book, it does cover the important (and often hilarious) fundamentals of life, from grilling red meat to woodworking, that every camping should know about.
Based on his experiences growing up in the Rocky Mountains, Norman Maclean's classic collection is at once a nature story, a coming of age tale, a family saga, and a love letter to Mother Earth and her rivers. And, if you've ever considered fly-fishing but haven't made up your mind, Maclean's stories of catching trout alongside his brother will convince you to give it a shot.
Nature, spirituality, and... baseball? Yes, Stephen King's part-thriller, part fairytale deals with these seemingly unrelated topics in a story about a young girl lost in the wilderness of northern Appalachia who finds comfort and guidance in the form of hallucinations of Red Sox pitcher Tom Gordon. Chilling and surreal, this book will reconnect you to your most primal self — you know, the one that told you to go sleep in the woods in the first place.
Jack London's most beloved novel takes readers from the southern valleys of California to the Yukon during the Klondike Gold Rush, all in the mind of a sled dog. After being stolen from his comfortable ranch life, a once-domesticated Buck transforms back into his primal, wild self. Though not about camping, this nature-centric book is a must-read classic for wilderness- (and dog-) lovers.
You're supposed to tell scary stories around the campfire, right? Well, it doesn't get much more terrifying that James Dickey's novel Deliverance , which tells the story of how four friends' idyllic canoe trip turned into a horror show on the remote rivers of Georgia. Brutal and graphic, this one is not for the faint at heart. You'll want to go to sleep with all of your lanterns on after finishing it.
If you're camping in a big group this year, heed the warnings of William Goulding's parable Lord of the Flies . When a group of ordinary boys are marooned on a desert island, the fun and games of having no adults around quickly turns into a tragedy of destruction and death. OK, so you and your campmates likely won't get marooned, and if all goes well, no one will die, but you should still revisit this high school reading list staple.
For poets like Robert Frost, nature and verse go hand-in-hand. Ideal for reading outside your tent as the sun rises over the forest, this poetry collection celebrates nature and man's precious relationship with it. Take a page out of Frost's book, and pick the road less traveled on your next camping trip.
Rapids by Tim Parks
When it comes to camping, there are those people who can start a fire, build a lean-to, and navigate using the stars. There are also those people who get lost walking from the campsite to the bathroom. Tim Park's novel Rapid, about a kayaking trip down the white water rapids in the Italian Alps, understands not everyone is a nature expert. Adventurous and unpredictable, the different characters in Rapids and their varying enthusiasm and wilderness skills will make you feel better about your own.
If you're still worried about your camping capabilities, W. E. Bowman's group of bumbling mountaineers will put your concerns to rest, or, at the very least, put a smile on your face. Although The Ascent of Rum Doodle is a parody of mountaineering literature, this amusing and lighthearted tale has become a staple for nature lit lovers.
What young kid has read Mark Twain's The Adventures of Huckleberry Finn and hasn't wanted to go camping with Tom and Huck along the Mississippi River? Filled with adventure, hijinks, and friendship, this book is best read with your bestie while splitting a s'more.
Image: sand_and_sky/flickr