All The Pixar Easter Eggs In 'Finding Dory'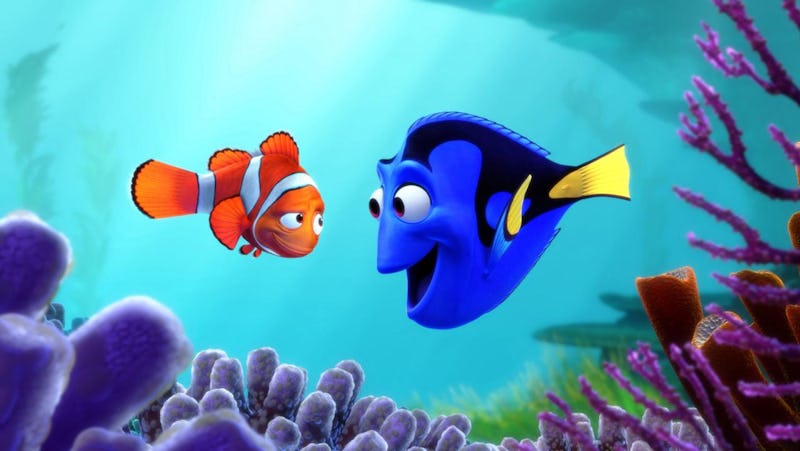 With so many superhero movies being released every year, it can be easy to forget that there's another big on-screen universe that features plenty of connecting films: Pixar's. The animation studio has released 17 films to date, many of which connect in either major or subtle ways, and so nearly every Pixar movie out there contains plenty of Easter Eggs and references to films of the studio's past. The latest creation by the animation giant is no exception; there are an impressive number of Pixar Easter Eggs in Finding Dory, and all of them make the movie a hugely enjoyable experience for fans of the studio.
Not that audiences wouldn't enjoy Dory even without the Pixar references, of course. The new movie is a hilarious, poignant, emotional sequel to Finding Nemo, and fans of the first movie — or ones just tuning into the franchise for the first time — will undoubtedly have a great time. Yet catching the Pixar references during the movie (or discovering them afterwards, if you didn't spot them all the first time) makes the experience even better. Here are all the best Pixar Easter Eggs and references in Finding Dory — some small spoilers contained within:
1. Herbie Fully Loaded
Twitter user DegaMatthew noticed what looks to be Herbie perched on the ocean floor in one Finding Dory trailer.
2. Seawater Supply TL59
UltimateOrlando saw that a pipe seen in one Dory sequence boasts the label "Seawater Supply TL59," which Disney fans will recognize from the Finding Nemo Submarine Voyage ride at Disneyland.
3. A Wall-E Calendar
Pixar Post noticed that one Dory scene contains a calendar featuring an image of Wall-E, one of Pixar's most loved characters.
4. A-113
Pixar's longest-running inside joke — a nod to the classroom used by John Lasseter and Brad Bird at the California Institute of the Arts — has appeared in many Disney and Pixar movies, and it shows up again in Finding Dory. The sea lion pair, Fluke and Rudder, each sport tags with a number; Rudder has A1, while Fluke has 13, Pixar Post points out. Smooth.
5. Pixar's Address
Pixar Post also notes that Dory's Japanese trailer includes an image of a boat pulling Dory out of the water that features a numbers on its side, 1200, that references Pixar's headquarters address, 1200 Park Avenue.
6. Pixar's History
The boat also featured an 86, which is a nod to the year Pixar became an official company, 1986.
7. Darla
Thankfully, Darla does not appear in Finding Dory, but a photo of her appears in the background of The Marine Life Institute, Pixar Post notes.
8. Crush
Pixar post notes that a model of Crush, the fan-favorite turtle from Nemo, is shown hanging from the ceiling of the Marine Life Institute.
9. Piper
A bird painting seen in the background of one scene seems to be a clear reference to Piper, the adorable Pixar short that plays before Finding Dory.
10. Lava
Piper isn't the only Pixar short to make an appearance in Dory. Pixar Post notes that the movie also features a poster of a volcano that looks suspiciously like the one in the 2015 favorite, Lava.
11. Hank
Although many Finding Dory fans might think that Hank, the gruff but secretly kind octopus who helps Dory on her journey, is a totally new character, that's actually not the case. Director Andrew Stanton revealed in a promo video that Hank has actually been in practically every Pixar film since Toy Story.
"Every Pixar fan knows that we love Easter Eggs," Stanton said in the clip, above. "And until now, Hank has been our most closely guarded secret. There are even people internally at Pixar who don't know about this."
12. The Toy Story Aliens
One funny scene features a group of fish making a group "ooooh" sound that will be very familiar to those who remember Toy Story's Squeeze toy aliens.
Catch all those references? Finding Dory is a nostalgia-filled treat.
Images: Giphy; Pixar/Disney