Will Puma Restock The Grey Rihanna Trainers?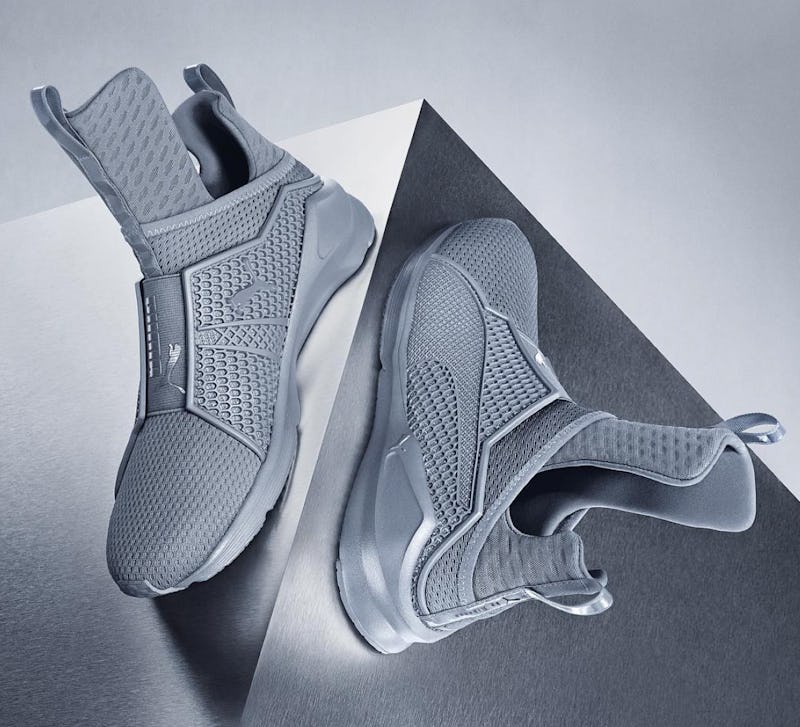 Today is the big day! Rihanna and Puma are dropping another shoe together. No, it's not a fresh round of Creepers nor is it a replenishment of the summery shower shoe that is the fur slide. Instead, the grey Rihanna x Puma trainer drops at 10 a.m. ET today, June 15. The grey trainer joins a lineup of previously released red, black, and white colorways and looks like a futuristic wrestling sneaker, IMO. If history is a good indicator, and it often is, these kicks should sell out on the quick. While Rih's Trainers have not generated the same kind of mania or hype as the aforementioned Creepers and slides, they are still popular, coveted, and expected to go quickly. That leads to my next point. Will the Rihanna x Puma grey trainers be restocked?
Bustle reached out to Puma PR reps about restocking options. The reps responded via email, saying, "This is currently the only drop announced for this colorway."
There you have it. This is the only scheduled drop of the grey trainers. There are no restocks planned as of press time, but that could change. The brand may be waiting to see if or when it could restock. Or it may not do another drop. It all sounds very TBD.
Check out the cool kicks below.
You don't have to be a sneaker fanatic to appreciate the urban chic nature of these shoes. They are as cool as ice, just like the person who co-created them aka Rihanna! Puma reps also confirmed to Bustle via email that the sneakers will go on sale at 10 a.m. ET via the Puma site and at Puma stores.
Notice the caption of the Insta post even confidently expects and suggests a quick sellout.
Here is the screen grab from the Puma site, further confirming the 10 a.m. drop. Are you ready? Consult my six shopping tips for Rihanna Puma Trainers. Good luck!
Images: Puma/Instagram (1); Courtesy of Puma (1)