14 Things You Can Make With Iced Coffee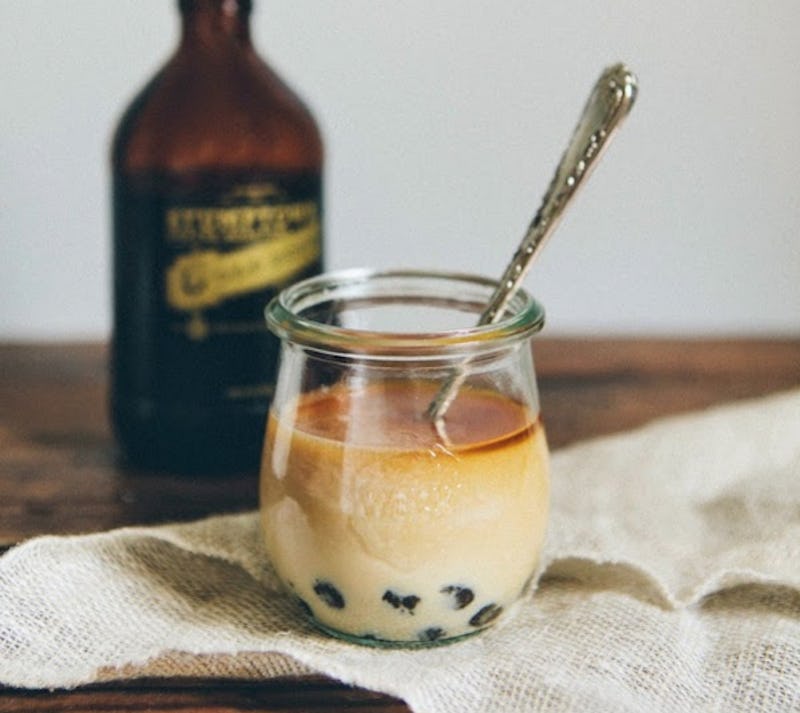 Calling all iced coffee lovers! Get ready to cool off this summer with some delicious ways to up your iced coffee game. Each of these 14 things to make with iced coffee is a brilliant way to switch things up while still enjoying that iced coffee flavor you love.
Turn your morning pick-me-up into a daytime or nighttime delight to be enjoyed whenever you want and however you want it. Beat the heat with a frozen version of your favorite drink infused with a twist of flavor by way of Vietnamese coffee, mocha, or Bourbon butterscotch. Treat yourself to decadent remixes of your go-to, with a homemade caramel Frappuccino, bubble iced tea coffee, or milkshakes boasting flavors of coffee and doughnuts. Satisfy your sweet tooth with charming desserts in which iced coffee is a star ingredient, like mocha cupcakes, rum cake, and mocha granitas. Make happy hour even more uplifting with a boozy cocktail take on the classic iced coffee. Or simply upgrade your usual with a terrific iced coffee hack to make sure the flavor lasts until the very last sip.
Now grab some iced coffee, and go ahead and experiment with these innovative ways to spice up your standard pour.
1. Mocha Popsicles
A Cozy Kitchen promises these mocha popsicles "have every awesome thing ever created," from chocolate, to sweetened condensed milk, to super strong coffee. They're also supposedly so easy to make you could do it blindfolded, before you taste test to adjust accordingly depending on how sweet or chocolatey you want them.
2. Caramel Frappuccinos
Avery Cooks calls this drink the perfect solution to your typical Frappuccino that can be sucked down in a minute — it's icy, bulkier, and takes "longer to inhale." This recipe makes two large venti-sized drinks to fill all your Frapp cravings. You can always put the extra in the freezer
3. Ice Cubes
Try out this iced coffee hack from The Kitchn to keep your iced coffee icey but not diluted all summer long, because "there's nothing worse than going in for a big sip only to find that your once cold brew is a distant memory, replaced with coffee flavored water." Coffee ice cubes are the perfect solution, keeping your iced coffee "tasting rich, full and strong 'til the last sip."
4. Cocktails
Give your happy hour session an added kick by opting for an iced coffee cocktail by Jelly Toast. A splash of flavored vodka, vanilla, and caramel are recommended, and give this strong cold brew coffee that something extra to "rock your world and cool down your sweaty, humidity laden summer afternoons."
5. Mocha Granita
This little dessert by A Cozy Kitchen is the ideal combo of coffee and chocolate and doesn't require an oven. It takes a little effort in the making, but "the reward of delicious, slushy, icy awesomeness is grand." You can top off the final product with a dollop of whipped cream, which is technically optional but arguably necessary.
6. Coffee And Doughnuts Milkshakes
How Sweet It Is says you should "probably make this for dessert today. Or lunch." And once you pair these cake doughnuts with a fabulous coffee milkshake, you probably won't be able to resist having it for both. It's hard to avoid making something completely irresistible when you're pureeing doughnuts into ice cream.
7. Vietnamese Coffee Pops
Vietnamese coffee is a beautiful blend of rich, dark coffee, creamy sweetened condensed milk, and a tiny pinch of cinnamon. These popsicles by The Crepes Of Wrath are "just a frozen form of this tasty morning pick-me-up," making for "an excellent mid-afternoon snack, packed with both delicious coffee and enough caffeine to get you going again."
8. Bubble Iced Coffee
Bring the fun of bubble tea to your cold brew with boiled boba pearls and your creamer of choice. After that, all this bubble iced coffee by Hummingbird High needs is a few ice cubes and a fat straw.
9. Mocha Rum Cake
Joy The Baker promises this mocha rum is full of sneaky surprises. "Impossibly moist and dense without being heavy," the cake combines the flavors of chocolate, coffee, and rum to "taste like it's loaded with all the good things in the world." Top it off with a simple rum glaze or lightly sweetened whipped cream.
10. Vietnamese Iced Coffee Milkshakes
Here's another, slightly chiller, way to indulge in the world of Vietnamese iced coffee. Super strong coffee, sweetened condensed milk, coconut ice cream, and ice are all you need to achieve this addictive dessert drink by A Cozy Kitchen.
11. Marinade
Tori Avey is to thank for the total wild card on the list. In addition to all the tasty drink concoctions you can cook up with iced coffee, you can also make a terrific marinade. Rum and coffee come together with the meat for "off-the-charts delicious" results. After the rum burns off, the taste that's left is coffee, making for "a dark, rich, savory sauce that infuses the brisket with tons of flavor."
12. Bourbon Butterscotch Latte Popsicles
The only thing better than a cold cocktail on a hot summer day is a frozen "poptail." Endless Simmer brings us this boozy delight made of coffee, cream, bourbon, and butterscotch all blended together.
13. Mocha Cupcakes With Espresso Buttercream Frosting
Bake up these goodies that promise to be "a chocolate and coffee lover's dream come true." The cupcakes by Brown Eyed Baker go along perfectly with your favorite cup of coffee, that strike "a subtle balance between light chocolate and a hint of creamy coffee," and are topped off with espresso-spiked buttercream.
14. Homemade Iced Mocha
How Sweet It Is makes things extra sweet with this iced mocha number that aims to please. Sugar, coffee powder, and cocoa are mixed and then used to coat the glass. Then chocolate syrup takes a swirl before ice cubes and iced coffee are added with vanilla, milk, and heavy cream. Add the final touch with brown sugar and whipped cream.
ages: Hummingbird High, A Cozy Kitchen (3), Avery Cooks, The Kitchn (2), Jelly Toast, How Sweet It Is (2), The Crepes Of Wrath, Joy The Baker, Tori Avey, Endless Simmer, Brown Eyed Baker