The 'Liars' See Mary Drake In This Season 7 Clip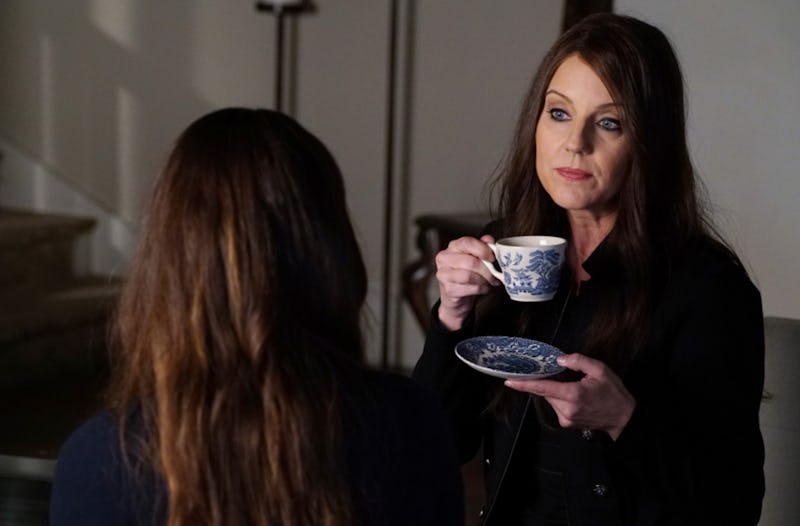 *Rings the spooky bell at the spooky church in spooky Rosewood.* Gather 'round, Liar heads, for E! News has shared an exclusive clip from the Pretty Little Liars Season 7 premiere. In the preview, Aria, Emily, Spencer, Caleb, Toby, Ezra, and Mona see a ghost… Or do they? As the Liars and company lurk outside Rosewood City Hall (classic Liars!), they spot Jessica DiLaurentis's twin, Mary Drake, skulking up to the building. Now, because they aren't privy to as much information as we viewers are (i.e., they don't know Mrs. D. had a twin), the Liars are understandably freaked out by this Jessica DiLaurentis-y woman. Because, ya know, Jessica DiLaurentis died a few seasons ago.
As Mary Drake makes her way up the front steps, the Liarificent Seven stare in disbelief. Does the specter of Alison's mother haunt the government building or something? Will the Liars have to hire an exorcist to drive this ghost out of their already chaotic town? Where's the Grunwald when you need her?!?!
Sorry, Liars and company, but this isn't "This Is A Dark Ride" or Ravenswood; there isn't anything supernatural going on here. As Officer Toby and the others quickly find out, the reality of the situation is much, much worse: 1) The Jessica DiLaurentis-y woman is Jessica DiLaurentis's long lost evil twin, 2) she is Charlotte's mother, 3) she's the new owner of the Lost Woods Resort (aka the creepiest place on the planet), and 4) she might've kidnapped Hanna. Zoinks.
Much to my relief, the Liarificent Seven do not trust Mary Drake. (The moment I saw pics of Spencer and Mary gabbing over tea, I worried we'd have another Sara Harvey situation on our saucers.) Then again, this show is a twistfest; for all I know, the Liars and Mary Drake could be best friends by the end of the episode. *Breaks into nervous sweat.* *Grabs pasta box out of the Marin pantry. *Dabs brow.*
Ring-a-ding-ding, indeed. Pretty Little Liars returns on June 21 on Freeform.
Image: Eric McCandless/Freeform