You Need To See These Women-Led Sitcoms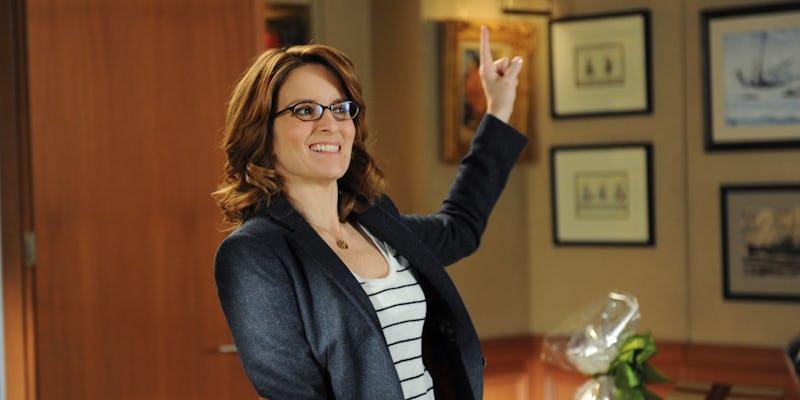 Since the days of I Love Lucy, women-led sitcoms have been among the very best on TV. Funny ladies still rule the small screen (and now your laptop screen) to this day, and there is a TV comedy out there fronted by an amazingly talented actor (or two) for everyone. Choosing which female-led sitcom to watch is the hard part. Eventually, you are going to want to watch them all because there are way too many awesome women on TV to settle with just one show, but if you are looking for a starting point, you have come to the right place.
I am going to consult the greatest personality indicator of them all, the stars, to tell you which female-centric sitcom you need in your life right now. Come on, you may love both Liz Lemon and Leslie Knope, but you know you prefer one just ever so slightly more than the other. That's where your Zodiac sign comes in. Whether you believe in the Zodiac, or just like to check your horoscope for kicks and giggles, you have nothing to lose when it comes to this list. When you get a show recommendation featuring stars like Mindy Kaling, Tina Fey, and Miranda Hart out of the deal, everyone wins. So sit back, relax, and prepare to meet your next sitcom soulmate as decided by your astrological sign.
Aries (March 21 — April 19): Broad City
I see you over there having adventures and getting super excited over everything, Aries of the world. Please allow me to introduce you to your comedy soulmates, Abbi and Ilana. Every episode is an adventure in New York City — and sometimes beyond — for these two hilarious twentysomethings. Yas queen, this show will never let you get bored.
Taurus (April 20 — May 20): Parks & Recreation
Leslie Knope is the quintessential Taurus. She is driven, stubborn, and determined to achieve all of her goals. She is also aggressively passionate and deeply in love with waffles. Add in the plethora of awesome ladies surrounding her like April, Donna, and Ann, and you have a show that will speak to your Taurus heart.
Gemini (May 21 — June 20): Playing House
You get the best of both worlds with a Gemini. They can be witty and totally spontaneous, or measured and contemplative. That's why Playing House is the perfect show for every mood of the Gemini. Maggie and Emma both balance each other out, and totally amp up each other's adorable weirdness as they raise a little baby together. They are the perfect comedy tag team in a show that is funny, totally crazy, and warm and domestic all at once.
Cancer (June 21 — July 22): New Girl
Face it, Cancers of the world, Jess is your life hero. Just like you she can be kind, in touch with her emotions, and also super stubborn. You and Jess have both probably touched glitter in the last 24 hours, and you both put your friends and family above anything else. The Loft is the cozy home away from home you should visit whenever you need to recharge.
Leo (July 23 — August 22): Raised By Wolves
This British gem is written by sisters Caitlin and Caroline Moran, and it is basically a Leo manifesto. The family comedy is full of amazing women, from anti-establishment mom Della to the show's overly dramatic, totally relatable, boy-crazy Germaine. As a Leo, you will fall in love with the brashness and unapologetic larger than life attitude of the women in the Garry house, while also laughing at their antics.
Virgo (August 23 — September 22): Lady Dynamite
As a Virgo, you are ruled by your intellect, acerbic wit, and love for all things offbeat. Lady Dynamite, the story of comedian Maria Bamford's life as a stand-up comic dealing with bipolar disorder, is a non-linear masterpiece. The jokes are smart, the leading lady a revelation, and the story meaty enough to entertain even the most persnickety Virgo.
Libra (September 23 — October 22): Unbreakable Kimmy Schmidt
Libras are known for their kindness and open hearts, which is exactly why they will adore Kimmy. A total Libra at heart, Kimmy is a bundle of optimism despite the horrors she has been through. The show itself has a gentle weirdness about it that makes watching it feel like being wrapped in a cozy blanket chatting with your favorite friend.
Scorpio (October 23 — November 21): The Mindy Project
Hey, Scorpios, you want fierce? Meet The Mindy Project. When your heroine is a kickass doctor, business owner, and single mom who still has the most amazing zingers this side of Chandler Bing you cannot go wrong. The fact that she also rocks a drool-worthy wardrobe is just a bonus.
Sagittarius (November 22 — December 21): Miranda
There is nothing shy about a Sagittarius, and the same can be said about your new favorite sitcom. Miranda is a bundle of enthusiasm, independence, and expertly executed pratfalls. The British comedy has a warm heart and an old school feel, but the comedy could not be more modern or honest about being a woman who just wants to have fun.
Capricorn (December 22 — January 19): Mom
Mom never pulls its punches. The comedy gets real about addiction, but it also finds genuine humor in the day to day struggles of mother/daughter duo Bonnie and Christie. As a Capricorn, you will admire the women's determination, and be totally engrossed by their complicated relationship.
Aquarius (January 20 — February 18): 30 Rock
Liz Lemon is an eccentric, comedy queen. 30 Rock fully embraces its weirdness, and its leading lady's quirks in a way that will make every Aquarius feel right at home. Go ahead and queue up a marathon the next time you are working on your night cheese.
Pisces (February 19 — March 20): Younger
Pisces always have big dreams, and so does Liza Miller. Watching Liza and her crew of awesome lady friends trying to get the careers and personal lives they always dreamed of is messy, rewarding, and so, so funny. This show will hit close to home for anyone with a love of new beginnings and a chronic fear of confrontation. Trust me, you need Younger in your life.
Now that you know your Zodiac approved lady-centric sitcom, go forth and enjoy the awesomeness that awaits you.
Images: NBC; Giphy (10); raisedbywolvesstuff/Tumblr; theladydynamite/Tumblr