'Bach's James Taylor Says He's Working On An Album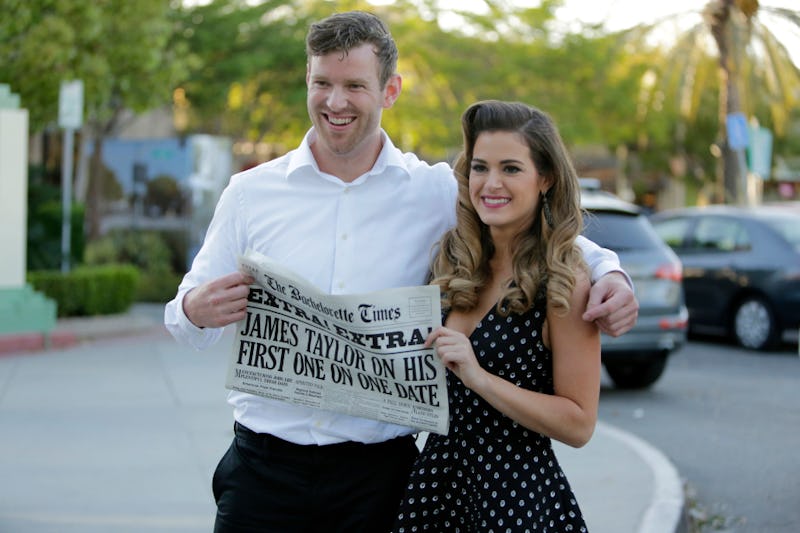 If you, too, still have the James Taylor masterpiece "Jo Jo Jo Jo Jo Jo" stuck in your head, listen up, because he has big news. James Taylor will release an album after The Bachelorette . The reality star tells Bustle he recently quit his job and is ready to make a go of this music thing full time. "I'm working on [an album] right now and I have all the songs done," he shares. "I'm just working on getting it recorded."
James says he writes all the songs himself, so fans can expect to learn a little more about his life before and after the show through the lyrics. He teases one song "Cry Wolf," which he says is about some of his previous romantic experiences. "Right when you meet somebody you're excited because you want to believe it's going to be a good thing. So, I would tell my friends, 'I'm with this cool girl. I really feel a lot of potential. This is good; something good could actually come of this," he explains. "And then, slowly but surely, I could tell they got less and less excited any time I'd tell them. They'd stop believing, then, before long, I'd kind of stop believing."
He says he named the song "Cry Wolf" after the children's story about the boy who cried wolf. "It's like saying, 'Don't make me cry wolf again.' Because you want someone to finally be the person that you actually mean it this time, that it's actually there."
Having grown up in a musical family, James says he's been playing since he was young. "My parents are both good singers. I grew up listening to them in the church," he says. "They'd sing at weddings ... and I just kind of started singing myself that way with them. In the car, in the shower, like everybody else I guess." From there he moved on to eventually sing at a pep rally celebrating his hometown football team, and now he's parlaying his skills into an album and even a mini tour.
"I literally am just about to buy a new car with money that I made from playing music, and I'm about to just start driving around the country pulling into places and playing," he tells Bustle. He plans to hit places in Tennessee, South Carolina, Texas, and Atlanta. And, while he doesn't have a formal schedule, you can keep up with his whereabouts on Twitter where he'll likely announce his next stop a day or two out.
As for the album, he says it will be ready within the next three months and describes it as "80 percent country." Oh, and the name he'll release it under? His full name: James McCoy Taylor, since, you know, the whole James Taylor music thing has already been taken.
By the way, that is very much his real name, and, he says the other James Taylor has been a big inspiration to him musically — once he learned who he was. "I was named after my dad, so I had no idea who this guy was that other people were, you know, freaking out about," The Bachelorette star says. "So, finally I told my parents, 'Y'all have to get me the CD of this guy that everybody talks about ... I really liked how different he is and his writing style."
And, although he will be adding his middle name to things, he's not too worried about being the other James Taylor when it comes to Google searches or recognizability, because what matters to him most is the music. "It's what I love, so I can't let little things like my name or anything like that really get in the way," he says. "Yeah, I guess it's a little scary; it's not ideal, but I'll find a way to do it. And, if people like the music, then it'll all be worth it."
Images: Greg Zabilski, Rick Rowell/ABC