See Swatches Of Skylie Lip Kit Light Blue Shade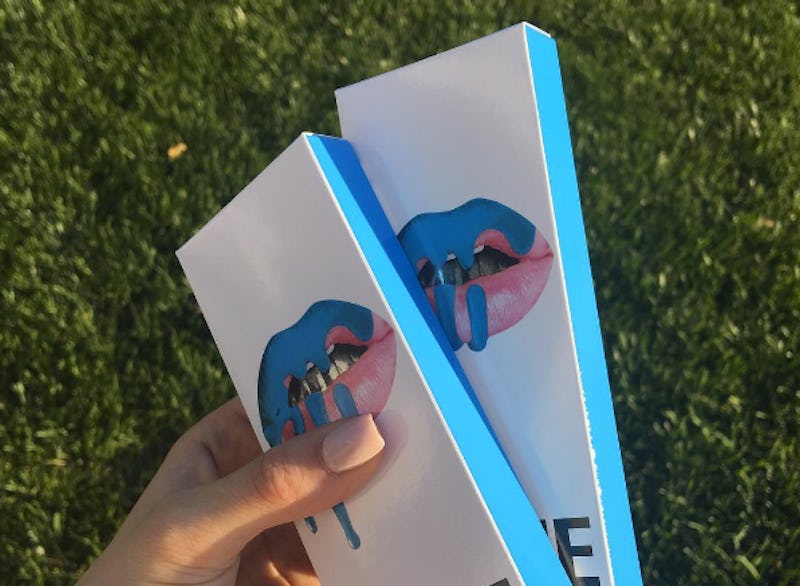 After teasing us with yet another black and white photo of two brand new hues, the news is officially out. Kylie Jenner created two new blue Lip Kits just in time for the Fourth of July holiday, and they're too good not to see. The boldest of the two is a bright light blue named Skylie. Whether you're a fan of this punny name or not, you'll completely fall in love with the color once you see these IRL swatches of the bright lip look.
While normally Jenner takes her fans into consideration when color she creates next, the Skylie was inspired by something else. Not only is the patriotic color being released just in time for Fourth of July picnics everywhere, it's also inspired by her car. Regardless of where the inspo came from, the color is so completely unique. It was the first of the two shades she teased on Snapchat Monday night, and there's no doubt in my mind that the unconventional hue will be yet another best seller. This Lip Kit is her boldest move yet — literally.
I know what you're probably thinking — how can a light blue lipstick be practical? Well, these real life swatches from the Lip Kit Queen herself will have you setting alarms for its release. It's like you sucked on a Bomb Pop only better. Just see for yourself.
I told you it was good! Odds are you don't have a color like this already in your collection. This is true sky blue like you've never seen it before. The opacity of the Lip Kit is ridiculous, so this is not for the shy lipstick lovers by any means.
Compared to Freedom, the other blue Lip Kit, it's much brighter. The second shade gives off some gothy vibes, similar to her newest black Lip Kit, but Skylie is much more cheery.
If you're as in love with this color as I am, you'll be happy to know that you won't have to wait much longer to get your hands on it. According to Jenner's Snapchat, the two colors will launch on June 24. That means it'll be to you just in time to sport to all your Fourth of July festivities.
There is a little bit of bad news about the launch though. According to Jenner's hashtags on Instagram, it looks like the two blue Lip Kits might be limited edition. Her other launches have sold out in minutes, so you'll have to act fast if you want them in your makeup collection.
Bottom line: mark your calendars, because there's no doubt in my mind that the unconventional hue will be a best seller.