11 Items We Rocked In The '90s That Sparkled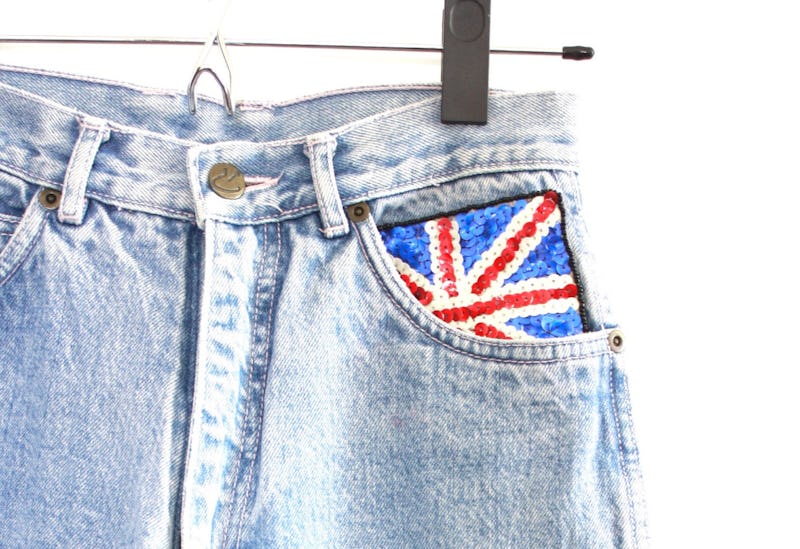 The '90s had way more style than we give it credit for. Alongside Kate Moss' classic minimalism and slip dresses came grunge, the Spice Girls, and club-wear. Depending on which sartorial genre you subscribed to, you likely rocked glittery clothing and beauty products from the '90s that sparkled for no reason. Sure, the girls who stopped bathing after Kurt Cobain died probably weren't sporting sparkly co-ords. But you can bet a Spice Girls fanatic owned glittery two-pieces in every color of the rainbow. OTT sparkles may sound like they came from the early millennium; but trust me, the '90s did it first.
In fact, one of my favorite '90s celebrities championed all-glitter-everything for years throughout the decade — and no, it wasn't Baby Spice. Lil' Kim's 1998 Grammys outfit, for example, was one of many ensembles worn by the rap queen that used a whole load of unnecessary (but still fabulous) shimmer. Let this serve as a reminder to us all that there's no such thing as too much glitter, even if the following clothes and products may make you think otherwise.
These '90s items may have sparkled for absolutely no reason whatsoever, but who needs a reason to sparkle? Of course, some of them are downright ugly and I can't possibly defend them. But that has nothing to do with the glitter and everything to do with the change in trends over the past 20 years. Without further adieu, here are 11 unnecessarily sparkly things we sported in the '90s.
1. Jeans
'90s Roberto Cavalli Glitter Jeans, $66, Etsy
Denim, which is arguably meant to be the most dressed-down material ever, has experienced so many pointless additions over the years. Lace-up details? Check. Embroidery? Check. Glitter? You bet.
2. Pockets
'90s Light Wash Jeans With Sequin Union Jack Pocket, $55, Etsy
It may seem unnecessary to give this its own heading, but I think it deserves it nonetheless. Embellished pockets — especially glittery ones — were meant to give pants and jackets a sparkly edge.
3. Bras
'90s Embellished Bra Top, $37, Etsy
When is a bra not a bra? When it's a sparkly bra. This trend was hopefully inspired by Madonna's Jean Paul Gaultier cone bra, which made underwear as outerwear popular during her Blond Ambition World Tour in 1990.
4. Body Spray
Goodmark Hair And Body Spray, $5, Walmart
OK, this is one '90s item you probably shouldn't buy vintage. But to get those authentic '90s vibes, consider investing in some form of body glitter to throw all over yourself.
5. Scarves
'90s Multicolor Glitter Scarf, $14, Etsy
Please explain to me why a scarf needs to sparkle? Especially these absolutely pointless, thin ones that everyone adored in the '90s and the early '00s.
6. Pants
'90s Sheer Glitter High Rise Pant, $18, Etsy
I am of the humble opinion that this trend should never go out of style, regardless of any given decade's stance on minimalism.
7. Belts
'90s Clear Belt With Silver Glitter Buckle, $9, Etsy
While not really necessary, glitter belts were still utterly fabulous. Glitter is the best accessory, TBH.
8. Sportswear
'90s Shimmery Neon Oversized Jacket, $30, Etsy
Sportswear as casualwear was everything in the '90s. So of course we were going to make sparkly version.
9. Cream Eyeshadow
Again, please don't buy or use beauty products from the '90s. You'll probably melt your own face off or something of the like. Cream eyeshadows just scream '90s, though, because they simultaneously shimmered, sparkled, and glittered on your visage in an era during which glittery faces were the height of style.
10. Bandanas
Sunburst Mandala Bandana, $35, Etsy
This was a style we saw time and time again throughout the era. I'm presuming that the majority of the rhinestoned bandanas from the decade were burned when everyone realized how awful they are.
11. Waistcoats
'90s Sequin Vest, $25, Etsy
I hate any and all waistcoats, regardless of their sequin status, but this is the only item on the list that infuriates me because it's glittery. IMO, it's the epitome of "polishing a turd."
Most of this list makes me feel like we should bring back glitter in full force as the next vintage trend to make a comeback. Sure, some of the looks are hideous and should be burned forever. But most of the time, you just can't go wrong with a little sparkle.
Images: Courtesy Brands