Who Is Returning 'BB' Contestant Nicole Franzel?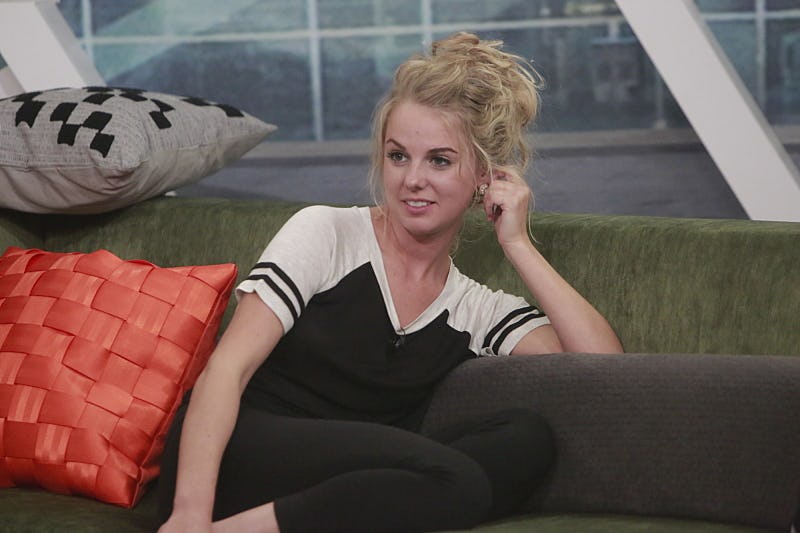 Big Brother 18 may be filled with a bunch of new faces, but not everyone crowding into the house is new to the game. In fact, you may recognize a couple of faces — including returning Big Brother cast member Nicole Franzel. The 23 year old, who competed on Season 16 of the show, came in seventh place out of the 16 person cast, and now she's back for even more drama, romance, and maybe even some revenge. But who is Nicole Franzel from Big Brother 18? The Ulby, Michigan native is much more than what fans may have already seen in Season 16.
Even though she went from Head of Household to getting kicked out of the Big Brother house in the matter of just one week, there was a plethora of knowledge, personality, and planning in Nicole that was cut short during Season 16. While she may have regrets from her last stint on the show, she's is always sure to stay true to herself. "I definitely think there are things that I could have said that could have possibly saved me," she revealed in an interview with The Hollywood Reporter following her exit from Season 16. "But I wouldn't have been happy with myself if I made up stuff."
However, that doesn't mean that she's going to come in this season with the exact same strategy and mindset in place. So here's all you need to know about Nicole going into Season 18.
1. She's A Huge Big Brother Fan
Before Nicole was a contestant on even one season of the show, she was a proud, self-proclaimed Big Brother fan just like you and me. In fact, it's even been said that her dream of being on the show began at just the mere age of 8 years old.
2. She's An ER Nurse
So, basically, there is nothing this girl can't handle. While she was still studying towards becoming a nurse in Season 16, this time around she's a full-fledged emergency room employee. Which means that she not only has experience dealing with high-pressure situations, but there's also nothing that she can't handle.
3. She Is A Single Lady
After falling for fellow contestant, Hayden Voss, during Season 16, Nicole ended up launching it into an actual long distance relationship once they were both evicted from the house. However, Nicole and Hayden's relationship came to an end, and it doesn't seem like she's going to make the same mistake twice. "It's easy to get emotionally invested in people while playing this game, but that's something I need to control better this time around," Nicole shared in her CBS introduction interview. "I'm very emotional and get attached quickly, so I need to keep my guard up a little longer, be sneaky, and play the game hard."
4. She's Very Close With Her Mom
If Nicole has one weakness, it has to be dealing with being away from her Michigan-based family over the course of the show. However, there's one specific family member it seems like she'll miss the most. "I will miss my daily talks with my mom," the returning contestant shared with CBS. But I have a feeling that — even if they have to be out of touch — her mom will be cheering her on the whole time.
5. There's Nothing She Loves More Than Cuddling And Puppies
Basically, Nicole is one of the most relatable Big Brother contestants you'll find. Between her countless Instagram posts and her straight-forward interview responses, there's no denying her love of cuddling — specifically with her puppies and cup of coffee in hand. And, honestly, who could blame her? That sure sounds like heaven to me.
6. She's Always Up For Adventure
But loving to stay inside doesn't mean that she doesn't have an adventurous side as well! In fact, when she is cuddling inside, you can expect either hockey or basketball to be on her television screen. And, when she's out and about, Nicole loves to be doing everything from hitting the softball field to traveling to pulling pranks on her friends. There's nothing stopping her.
So, how will Nicole fare her second time around on the show? We'll just have to wait and see.
Images: Bill Inoshita/CBS