This Might Be A Clue To 'GG's Revival Premiere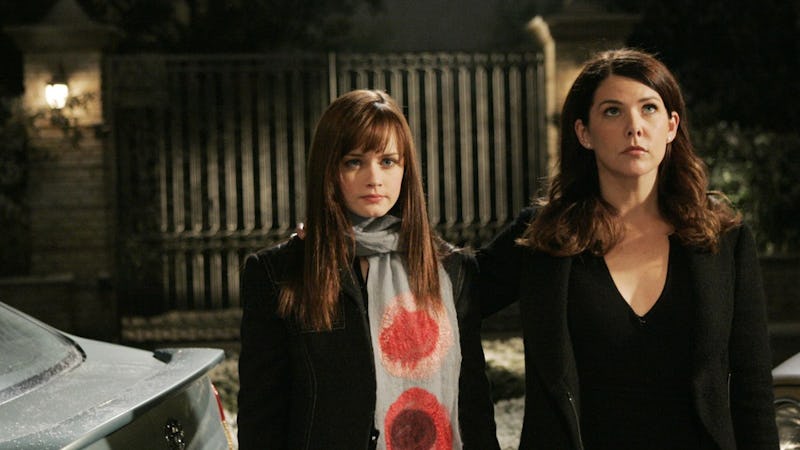 Like a Gilmore waiting impatiently for her first coffee of the day, fans (myself included) have been getting impatient waiting for the Gilmore Girls revival to hit Netflix. Although filming of Gilmore Girls : A Year In The Life wrapped up on May 10, we're all still left hanging without an official premiere date. But, maybe the clue to when the Gilmore Girls reboot will premiere is right under our noses: the official Gilmore Girls account just started a #153DaysOfGilmore campaign in which fans are supposed to recap their favorite moments from the series. But why 153 days?
Could it be because, in 153 days on November 22, they're going to debut Gilmore Girls revival? Probably.
OK, we need to clear up some speculation about #153DaysOfGilmore before we can properly proceed. There is a theory that this was supposed to lead up Lauren Graham's book release, which was originally slated to debut November 22, but has since moved to November 29. Graham had previously teased that her book and the revival would be released concurrently, which would imply at least that the revival would be released at least ballpark around late November. That leads us to this new, next theory about why the book has been pushed off in the first place.
Perhaps it was a judgment call from some higher up that Graham shouldn't release her book the same day as the revival. Maybe the mindset was that it's best to delay the release so it doesn't get muddled with Netflix debut itself. People will either be holed up binging (food, the episodes, or otherwise) or they'll be out on Black Friday... shopping for discounted books. That slight delay may just be a strategic mood, because Graham's book could still ride the immediate post-Gilmore-revival rush, making for an easy gift to any die-hard fan.
Another reason November 22 would work fabulously is that it falls two days before Thanksgiving... so basically, during a perfect lull in the week where people can properly marathon a series. Or, maybe it would work best because, ideally, the Gilmore Girls revival won't be released all at once. "My preference would be they would not be released at once, because I feel like there's going to be anticipation, and I think the diehard fans would enjoy it more with a little separation," series creator Amy Sherman-Palladino told TVLine back in February, saying she hoped to release each episode a day apart. Whether that's going to come to pass is still up in the air, but an episode a day would be the ultimate slow kick starter to the holiday season, a Gilmore gift for all. The timing fits.
Of course, it doesn't have to be November 22 necessarily. #153DaysOfGilmore could wrap up and the account could just announce the release date at the end of it... but I still think it would zone in on the immediate. The evening of November 23 might just make for a slightly smarter date, if only because audiences will have be-rid of the work week completely.
Right now, though, I would mark any and all calendars for November 22 being an important day until told otherwise — or just bank on a late November premiere if you want to play it safe. And until then, make sure to practice your funny, desperate cry for those episodes: "I really need Gilmore-Gilmore-Gilmore-Gilmore!"
Images: Warner Bros. Television (1); Giphy (2)