Why Blake Lively Loves Playing Badass Women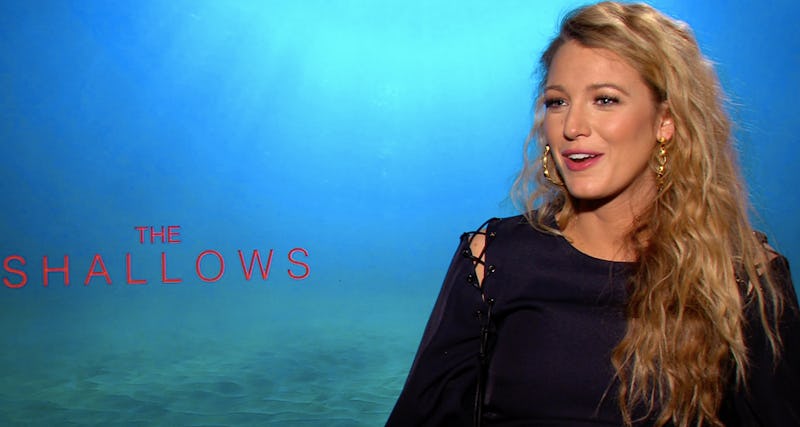 When a movie is about a person fending off a shark attack, it's easy to forget about, well, pretty much anything else about it. After all, even much-loved films like Jaws and Deep Blue Sea are best remembered for featuring those terrifying villains, not their thoughtful dialogue or intriguing characters. Yet when watching The Shallows , the newest shark-centric movie to hit theaters, the evil creature won't be the only thing you'll be focusing on, because, as star Blake Lively explains in the video below, the film is notable for not only being "a shark movie," but for featuring a truly badass woman hero.
In the film, out June 24, Lively plays Nancy, a surfer who goes to a secret beach in Mexico simply to catch some waves, but instead encounters a terrifying great white shark. Nancy is forced to come up with creative, dangerous ways to save herself from her enemy's jaws, showing off some seriously impressive ingenuity. It's the rare leading role for a woman that makes the character a true solo hero, not a victim, a supporting player, or, most importantly, a romantic interest; amazingly, Nancy is allowed to go through the entire film without a single mention of her love life.
Speaking with Bustle at The Shallows' New York press junket in the video above, Lively explains why she's so proud to be in this movie, one that lets its heroine be, well, a heroine, and nothing less. "I think it's important to see women as they actually are," she explains. Nancy is smart, bold, creative, resourceful, naive and frustrating; in other words, she's a realistic, multi-faceted woman, and that's something that Lively, for one, couldn't be happier about.