This Is How Much Kailijumei Lipsticks Cost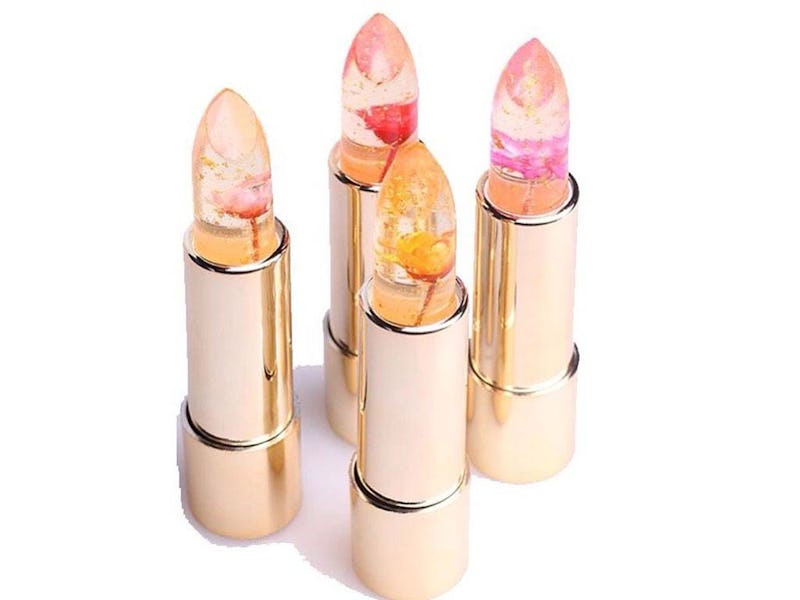 Looking for a lipstick that will make you feel straight out of the pages of a fairy tale? Look no further than Kallimujei's newly-viral products. These jelly lip tints have an actual dried flower inside, which makes them look just as pretty in the tube (and on your vanity, and on your Instagram feed) as they will on your lips. Wondering how much Kailimujei lipsticks cost? The answer might surprise you.
First, a little background on this seemingly out-of-nowhere brand that's suddenly all over your social media pages: The company is based in China and recently expanded to the United States. There isn't much information about it other than that it sells "cheap, high quality makeup," which sounds good to me! From the looks of the website, it only sells these jelly lipsticks.
The lipsticks come in three different colors, and while the dried flower inside the tube may make you feel like a real-life Disney princess, the coolest part of these products is that they change color on your lips. There is also a clear balm as well as a jelly lipstick that comes in a random color and gives your lips a pink tint as it responds to the temperature of your body. According to the company, the products are moisturizing, and they appear to be more like a lipgloss or lip gel than a lipstick.
Sadly, all of the lipsticks on Kailijumei's site are currently sold out. However, you can pre-order lipsticks now, and they'll be shipped to you when the company restocks next week. Beware of counterfeit products being sold on eBay — according to the Kailimujei's Instagram, they may contain some seriously dangerous chemicals.
Here are the original products, which the company says contain natural ingredients like candelilla resin, cocoa butter, beeswax, and lavender oil.
The Kailijumei Lipsticks come in Flame Red, Barbie Pink Powder, and Minute Maid, and retail for $30.
The clear balm, which doesn't change colors on your lips, retails for $25
The plain jelly lipsticks, which don't have flowers inside of them but still look really cool, come in all different colors (the company will pick one to send to you at random) and give your lips a pink tint when you apply them. They retail for $25.
While I can't vouch for how "high quality" the products actually are, I will say they are totally unique and unlike anything I've ever seen before. I'm so curious about what happens when you use the lipstick down to the flower! If anyone has tried it, seriously, email me.
Images: Kailijumei/Instagram; Courtesy of brands