The One Thing To Know About 'Lights Out'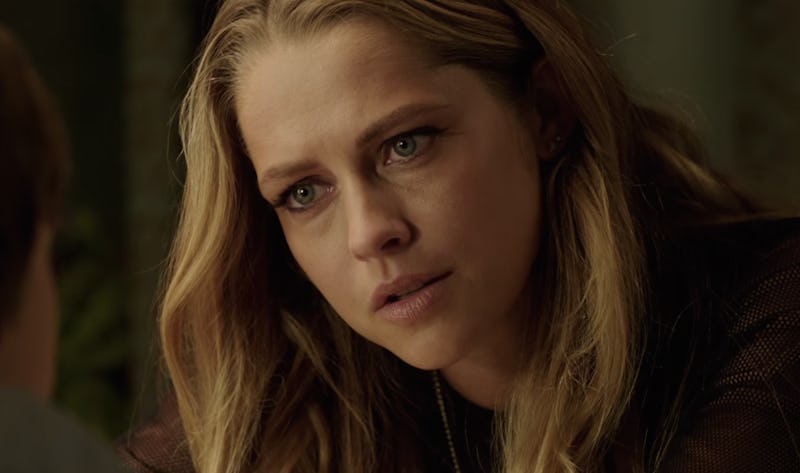 Prepare to sleep with the lights on for at least a month after watching the new trailer for the James Wan-produced Lights Out . But, once you watch the short film the movie was based on, you may also end up taping a flashlight to your wrist in case of emergency darkness-related situations. What am I referring to? If you're not familiar, Lights Out the movie — which is set to hit theaters July 22 — is actually based on a 2013 short film of the same name that went viral, and subsequently caught the attention of The Conjuring director Wan. As the title suggests, it plays on the natural human instinct to fear what could be lurking in the dark, and yeah, it's as terrifying as it sounds. I mean, I know the idea sounds fairly simple, but all you have to do is flip out the lights and queue up the short film to understand why the concept is so effective.
First-time director David Sandberg (who also directed the movie version) proves to be a genius when it comes to building suspense. The short film features a woman alone in her apartment preparing for bed. When she flips out the lights, she sees something odd in the dark, so she turns them on again, and the figure vanishes. She flips them off and it returns again, ever so slightly closer. The effect is likely to induce instant palm sweats and an inability to stop yourself from screaming at your computer screen, because clearly, the only course of action in this situation is to run for your life.
Watch the short film below, just be prepared for some serious scares. The film is just a little over two minutes long, but it packs in more horror than most feature length films. Once you watch it, you will see why current horror maestro Wan had so much confidence in Sandberg.
Everyone still here? Because I would not blame you if you went running for the nearest light switch. Sandberg's short film is a tightly plotted exercise in pure horror. In those two minutes he takes you on a horrifying journey with this woman who just wanted to go to bed. Like any of us! There is no backstory, no explaining who or what the ghost and/or demon is... just a good ol' fashioned slice of concise storytelling and an instant recipe for insomnia.
A full-length film by necessity has to be more fleshed out, and somehow, Sandberg found a way to make his story even spookier. In the film, the ghost is an imaginary friend, but not a child's imaginary friend — an adult's. Let that bit of creepiness sink in for a moment.
"I always thought it would be more scary if the parent had an invisible friend," Sandberg said at his first WonderCon panel, and he was most definitely right. The movie features a woman who is so convinced her "friend" Diana will stay as long as the lights stay out, she puts her adult daughter and young son in serious danger. Check out the trailer to see just how fast things go downhill for the kids.
The core of the story is the same: keep the lights on or deal with a not so friendly ghost, but the film is raising the stakes by introducing an entire family for you to care about. The movie stars Maria Bello,Teresa Palmer, Gabriel Bateman, Alexander DiPersia, and Billy Burke, but the real stars are definitely going to be the never appreciated enough light bulbs in all of your lamps after you finish watching this potential stroke of cinematic horror genius. From short film to big screen adaptation, Lights Out's Sandberg is definitely the next director who will become the master of keeping you up, listening for the things that go bump in the night.
Image: Warner Brothers Entertainment/YouTube