This Is The Summer's Best Music Festival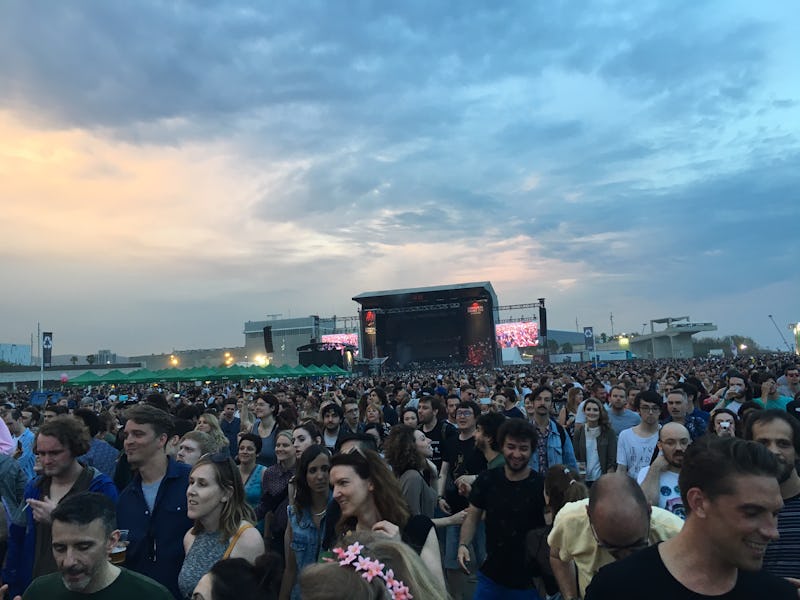 I've been to Lollapalooza. I've been to Coachella. I've been to Pitchfork and All Points West and Governor's Ball and the Telluride Bluegrass Festival. And Primavera Sound, held every summer in Barcelona, is my favorite music festival I've ever been to.
It's easy to get music festival fatigue. When an event like Coachella, which started in 1993 as a Pearl Jam concert organized to boycott Ticketmaster-controlled performances venues, became primarily an opportunity for Kylie Jenner to show off her newest fishtail braid on Snapchat and for teenage supermodels to be photographed frolicking in faux-distressed Guns N' Roses tees at the Neon Carnival after party, it was hard to find any trace of sincerity left in the summer festival circuit. Going back to Woodstock, music festivals in the states used to be about seeing how many of your dear friends and favorite musicians you could pack in one place, but they now seem to have devolved into a competition to see whose Indio Airbnb stocks the most impressive collection of pool floats. But, while it seems like the U.S.'s festival attendees pretend to care about the music when they really care about the Instagram likes, that social media cynicism doesn't seem to have fully made its way across the pond to the shores of Barcelona. Primavera is about the city and the music, not the scene.
Summer 2016 is over and the verdict is in. Here are five reasons why Primavera Sound is one of the best music festivals on the planet.
1. The City
There's almost nothing to see in Indio proper, and Bonnaroo's Manchester, TN doesn't exactly hold its own among the world's great cities. Barcelona, on the other hand, is a spectacular vacation destination in its own right. The architecture is stunning, the cobblestone streets of the Gothic Quarter are so charming they almost don't seem real, and a sunrise plunge in translucent Mediterranean waters is the ideal way to get your body right after a night of partying at Parc del Forum.
2. The Set Times
Music festivals in the states typically start around noon, so you barely have time to recover from last night before you're due back at the festival grounds. Rolling up to the Primavera venue right around sunset was plenty early — meaning you had a full day to enjoy the city, and could arrive with eight hours of music still stretching ahead of you. Oh, did I mention you won't be getting to bed until 6:00 a.m.? Just keep your body on east coast time and it might even feel normal.
3. The Lineup
Primavera attendees were among the first to see LCD Soundsystem on their 2016 tour, and they got an early listen of some tracks off Radiohead's latest album A Moon Shaped Pool . But beyond selling some of the biggest rock bands in the world, there were rowdy sets from Pusha T and Vince Staples, witch house from Julia Holter, and plenty of post-punk revival from Protomartyr, Thee Oh Sees, and Parquet Courts. Truly something for every set of ears.
4. The Sound
Lots of music snobs avoid festivals because it's a letdown to see your favorite bands play open-air venues with questionable acoustics when you're used to seeing them in small clubs or big arenas that were made for this. But while some of the big stages at Prima could have definitely upped the volume, the cocoon-like Pitchfork and Ray-Ban stages certainly brought the ruckus. Even an experimental pop act like Animal Collective, with music that seems like it's made for tiny downtown clubs, sounded stellar at the latter location.
4. The People
Primavera Sound brought some of my favorites humans in the world together to spend a weekend together, coming from Australia, New Zealand, Amsterdam, London, Atlanta, and Mykonos. They were artists, musicians, bankers, filmmakers, entrepreneurs, writers, and vagabonds. What's so spectacular about Primavera is that no one can say no it, because there's something for everyone — foodies, architecture junkies, wanderlusters, beach bums, music snobs — to enjoy. And we were having such a great time, we hardly even remembered to post about it on Instagram.