Why Glossier's Topaz Haloscope Is Amazing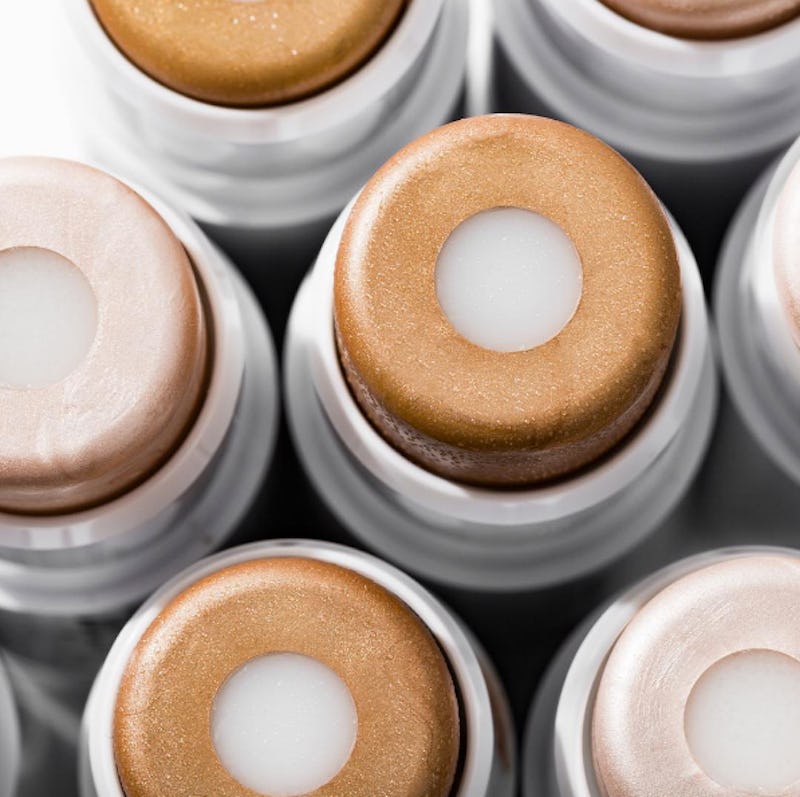 Beauty guru Emily Weiss' crazy popular Glossier skincare and makeup line has been winning fans since it first launched, but I think its latest product release might be the best one yet. Glossier's Haloscope highlighter stick gives you a luminous glow in either pearly Quartz or bronze Topaz, and both are equally amazing shades. But although Glossier's Quartz Haloscope is currently sold out and on backorder, you can still order the Topaz shade. And IMO, Glossier's Haloscope Topaz is just as amazing as its sold out counterpart.
I mean, there's nothing better in the summer than a sunkissed glow, and considering we're smack dab in the middle of the summer (and coming up on a holiday weekend), I can't imagine a better time to pick up the Topaz Haloscope shade. I mean, who wouldn't want to look like a bronze goddess at their holiday cookout? There's nothing I love more than a little (sunless) tan during the summer months, and if you neglect your face while you're self-tanning, it can look a little weird. That's where Haloscope comes in — it's like a combo highlighter and bronzer in one, and it's perfect for multitasking.
Here's why the Topaz Haloscope is amazing:
1. It Gives Your Cheekbones Amazing Definition
How crazy-good do Serayah's cheekbones look in this snap from the Glossier Instagram? The Topaz highlighter gave her some amazing definition and made her look seriously glow-y.
2. It Reflects Light Perfectly On Any Skin Tone
The true beauty of a highlighter is that it makes your face look like it's glowing and reflects natural light to give your face definition. And just look how well the Topaz Haloscope does that.
3. It's Quick To Apply
I mean, just look how fast it is to get a perfect glow using Haloscope. And when you're rushing to spend as much times outdoors as possible during the summer, that's absolutely key.
4. It Can Double As An Eyeshadow
I saw a Glossier Facebook live post demonstrating this technique, and I'm obsessed with how Topaz Haloscope looks as an eyeshadow. It's like the perfect golden eye that's surprisingly effortless.
5. Kate Moss Is A Fan (JK, But She Probably Would Be)
I loved this cheeky post on Glossier's Instagram claiming Moss was wearing Haloscope in Topaz in this vintage photo. Although it technically isn't possible, her glow is totally reminiscent of Topaz, right?
That settles it for me. I think Glossier's Topaz Haloscope is the perfect summer shade — so get it before it sells out too.
Image: @glossier/Instagram