These 'Bach' Contestants Were Not Looking For Love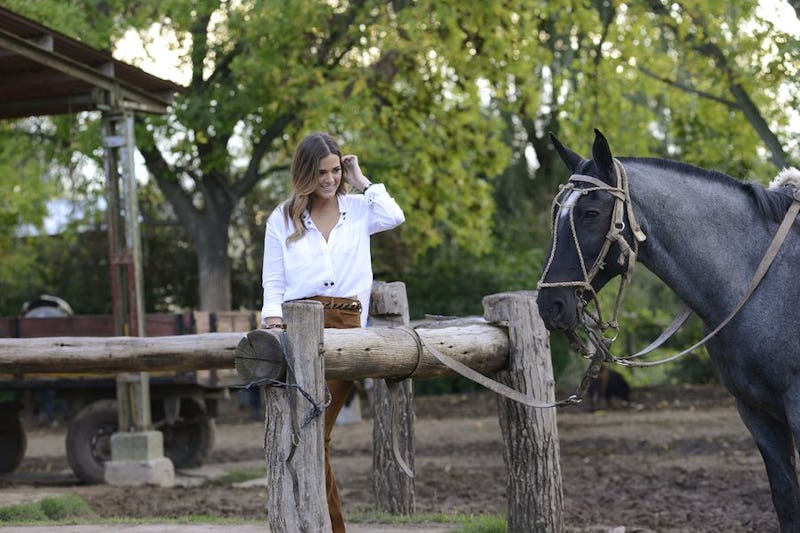 In a perfect world, men go on The Bachelorette to find happiness, love, and a person to spend the rest of their life with. In the real world, though, a chunk of contestants who sign up for the reality show often have other agendas in mind. Whether it's promoting their business, or just themselves (thanks to social media, they can be one and the same), we can't pretend that the intentions of the contestants are always pure. Just because The Bachelorette is a show about finding love doesn't mean finding love is the only thing to be gained. That being said, the Bachelorette contestants who aren't there for the right reasons are one of the many, vital pieces to this franchise's puzzle. Without them, the show wouldn't be as entertaining.
It's difficult to discern exactly what "the right reason is" because, hear me out — there's no way everyone who comes on the show thinks that they are going to leave head over heels in love, and they shouldn't be faulted for that. They likely know the odds are stacked against them going into this. But, there's a difference between deciding to go on the show to meet a potential love interest, see the world, make new friends, etc., and going on the show with no interest in actually getting to know the lead. Below, a ranking of Bachelorette contestants who seemed to agree to appear on the show with the latter in mind.
11. Jordan Rodgers, Season 12
Aaron Rodgers' little bro comes in at the bottom of the list because it's hard to tell at this point exactly what he wants out of The Bachelorette. Viewers that are Team Rodgers see a genuine guy who's really falling for JoJo, while skeptics see a guy who's had a little taste of fame and is hungry for more.
10. Robby Hayes, Season 12
Sorry to throw another JoJo contestant under the bus, but if we're talking about wrong reasons, we have to bring up Robby. Apparently, Robby might have broken up with his girlfriend of four years right before the show started filming. Shady or just a coincidence? I guess that's for JoJo to decide.
9. JJ Lane, Season 11
Love him, hate him, JJ Lane wasn't a terrible guy. He was just a guy who always put himself first. JJ just seemed more in on the joke of how The Bachelorette works, rather than someone who was actually interested in finding a wife there.
8. Clint Arlis, Season 11
Though Clint turned out to be rather innocuous, he coined the catchphrase "villains gotta vill." If that doesn't show a level of self-awareness about your place on the show — and not a true interest in the lead — I really don't know what would.
7. Kalon McMahon, Season 8
When Kalon referred to Emily Maynard's daughter as "baggage," it was cringe-worthy. It also made us viewers aware of where Kalon stood, and that he probably didn't have much interest on going far with Emily post-show.
6. Ben Scott
Although Scott was by no means a popular contestant among the men of Desiree's season, at least he didn't appear on her season with a girlfriend back home. Oh wait — he did that on Bachelor in Paradise. When confronted about the situation, he didn't deny it, and instead, just got up and left. Pretty apparent that he didn't really want to date anyone on the show.
5. Jake Pavelka, Season 14
Jake was welcomed with open arms by fans when he was on Jillian Harris' season. But, once he became the Bachelor, his true colors started to shine through: His appearances on Bachelor spin-off shows and even his latest visit to the mansion during JoJo's first night suggest that he might be more interested in the limelight than love.
4. Juan Pablo Galavis, Season 9
Another contestant who was beloved on his season only to have a fall from grace once he actually became The Bachelor. At the end of Juan Pablo's season, it was abundantly clear that JP was not at all ready to be a husband or — as evidenced by his inability to tell the winner he loved her — fall in love. He didn't take the process seriously at all.
3. Justin "Rated R" Rego, Season 6
Given that he spoke about his wrestling alter ego "Rated R" so often, I feel it's fair to say he wanted his name out there much more than he wanted Ali.
2. Wes Hayden, Season 5
Wes Hayden was one of the original "here for the wrong reasons" contestants: When Wes got send home, he bragged in the limo ride about how he had a girlfriend back home the whole time.
1. Bentley Williams, Season 7
Bentley Williams. Where to begin with him? Though Bentley might have originally signed on to the show in hopes of meeting Emily Maynard, once audiences were made privy to his catty nature (like when he called Ashley Hebert an "ugly duckling"), it was clear Bentley had zero intentions of pursuing something with the Bachelorette.
While "not there for the right reasons" is an insult that gets thrown around the Bachelor mansion ad nauseam, sometimes it just so happens to be accurate.
Images: Veronica Gambini/ABC; Craig Sjodin/ABC (2); Giphy (6)