See All The Products In Milk Makeup's Fall Launch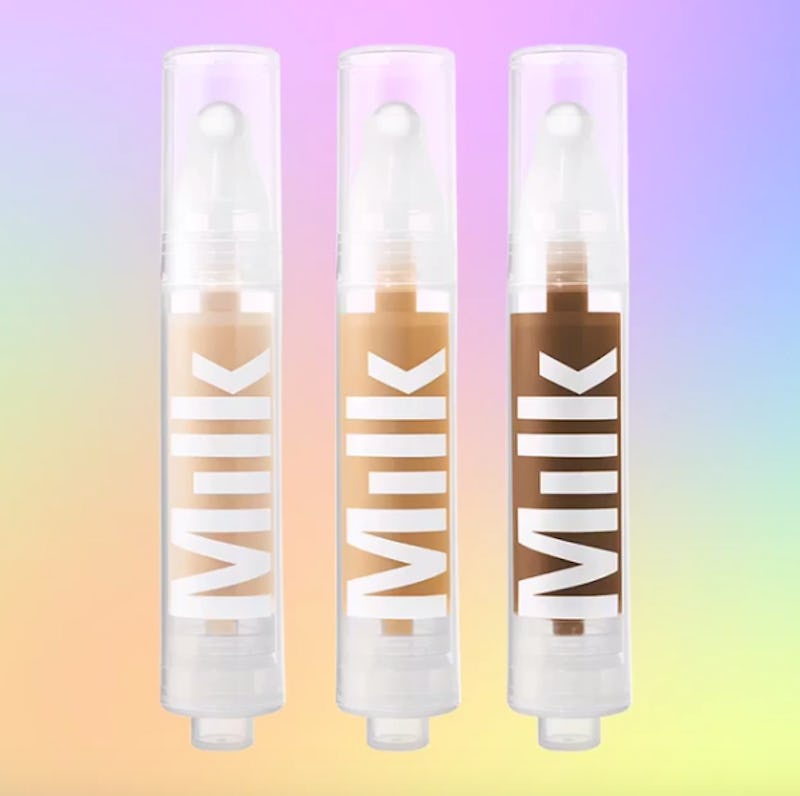 Summer makeup launches might be slowing down, but it looks like the fall has got even more in store. Milk Makeup's fall 2016 lineup is on its way and these products are like nothing you've seen before. With three brand new products that are completely changing the beauty game, this is one launch that you won't want to miss.
Brace yourselves, because what you're about to see will make you want to open your wallet and give Milk Makeup all of your money. On top of launching a full 85-product beauty line earlier this year, the company is constantly surprising its fans with new innovative products. There's nothing else like it on the market.
The first and most talked about is the new Sunshine Skin Tint. The foundation comes in a tube with a glass ball at the end. Just click the top of the tub, roll it on, and get a mess-free, hydrated look. The other two products are even cooler, if you can imagine that. They came out with a long-wearing Tattoo Stamp and a Holographic Stick that packs on some serious shine.
This might be a fall makeup lineup, but you can easily wear these items all throughout the end of summer as well. You can pre-order all three online at the Milk Makeup site right now too. No waiting necessary!
I can't think of a better way to kick off fall makeup launches. If this is the start of what's to come, I can't wait to see what's next. Here's an up-close look at all the products, so you can plan your purchases accordingly.
1. Sunshine Skin Tint
Sunshine Skin Tint, $42, milkmakeup.com
The company's first ever foundation was well worth the wait. The gluten and preservative free SPF 30 skin staple comes in eight different shades and has packaging like you've never seen before. It's currently on pre-order now.
2. Tattoo Stamp
Tattoo Stamp in Star and Heart, $12 each, milkmakeup.com
I want to know where this was all festival season! The long-wearing marker allows you to temporarily tattoo yourself safely.
3. Holograph Stick
Holograph Stick, $28, milkmakeup.com
If you love a good highlight, then this is the one for you. Infused with mango butter, peach nectar, and avocado oil for lasting hydration, this iridescent stick can be used all over the body for the perfect shine.
What are you waiting for? Go stock up while you can!
Images: MilkMakeup/Instagram (1), Courtesy Milk Makeup (3)