Romance Novel Quotes To Use In Your Wedding Vows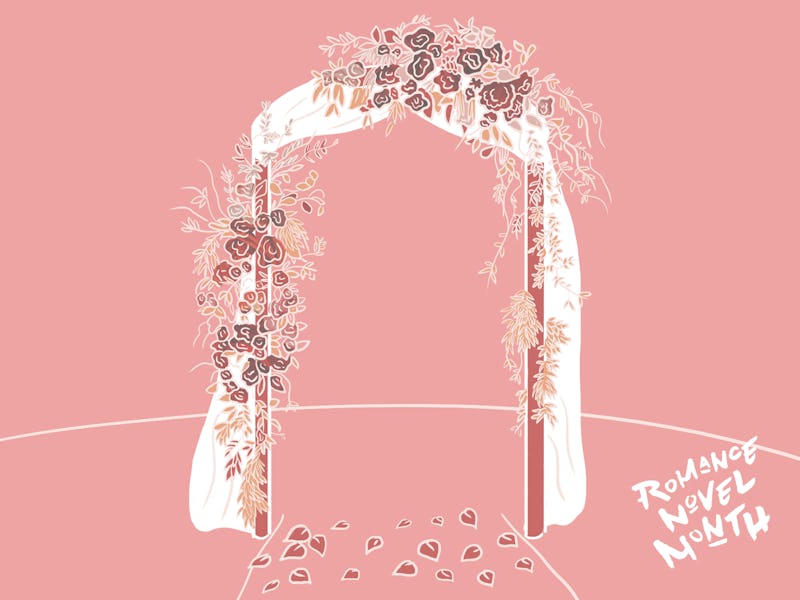 When you and your honey-to-be are deciding on wedding vows, it's easy to feel tugged in a million directions. You and your partner may have different faiths — or you may have different opinions on the ceremonial appropriateness of Harry Potter. But whether you two identify as conventional or quirky, odds are you'll want your wedding vows to reflect your attitudes about gender equality. I'm talking about feminism, folks.
Romance might not seem like the first section of the bookstore to check for feminist-friendly quotes, but ... hey, think again. In fact, no genre is more wholly predicated on female empowerment than Romance. This month at Bustle, we're celebrating all things Romance, and in honor of the occasion, it's only fitting that we choose the best of the best words for tying the knot.
There's a caveat, of course: It's pretty near impossible to pick only one lovestruck quote from any given romance novel. After all, part of what makes the genre so addictive is its titles' irrepressible quotability. That said, if you're planning your vows, these 17 quotes will give you a good place to start.
1. "If you really love someone you shouldn't have to think about anything. You should want to say it. It's not difficult."
― Katie Klein, Cross My Heart
2. "i thought maybe if i met someone else that i'd be able to stop thinking about you, but it didn't work. nothing works. when i'm with them, i wish it was you. when they laugh or talk, i can't help but compare them to your voice or your laugh. it's always been you; it'll always be you, angel."
― Kirsty Mosely, The Boy Who Sneaks In My Bedroom Window
3. "Staying mad is easy. Forgiving someone takes guts."
― Jillian Dodd, That Boy
4. "I'm ready for that adrenaline rush...with you."
― Simone Elkeles, Perfect Chemistry
5. "I love you. I am who I am because of you. You are every reason, every hope, and every dream I've ever had, and no matter what happens to us in the future, everyday we are together is the greatest day of my life. I will always be yours. "
― Nicholas Sparks, The Notebook
6. "I must've wished for you so hard and so often you had no choice but to come true."
― Sylvia Day, Bared To You
7. "I know that I have to be with you. Everything else is just...details."
― S.C. Stephens, Effortless
8. "Does it ever stop? The wanting you?"
― Diana Gabaldon, Outlander
9. "Love is not the absence of logic
but logic examined and recalculated
heated and curved to fit
inside the contours of the heart"
― Tammara Webber, Easy
10. "We laugh and laugh, and nothing can ever be sad, no one can be lost, or dead, or far away: right now we are here, and nothing can mar our perfection, or steal the joy of this perfect moment."
― Audrey Niffenegger, The Time Traveler's Wife
11. "For the two of us, home isn't a place. It is a person. And we are finally home."
― Stephanie Perkins, Anna and the French Kiss
12. "Life without someone to love is a life not fully lived. Don't waste yours."
― Tracey Garvis-Graves, Every Time I Think of You
13. "I've been looking for you my whole damn life."
― Colleen Hoover, Hopeless
14. "No one ... has ever made me feel like the person I've always wanted to be until you."
― Samantha Young, B efore Jamaica Lane
15. "I take thee ... to be my awful wedded husband."
― Susan Elizabeth Phillips, Kiss An Angel
16. "Life isn't always about logic and reasons—sometimes you just have to close your eyes and jump. Particularly when it comes to relationships."
― Julie James, Just the Sexiest Man Alive
17. "Every day is a gift — start unwrapping them."
― Beverly Jenkins, Heart of Gold
Images: Sweet Ice Cream Photography, Kristina Litvjak, Michael Ramey, Morgan Sessions, Alejandra Quiroz, Wilson Sánchez, Azrul Aziz, Drew Coffman/Unsplash