Here's How Much The New Becca Split Pans Cost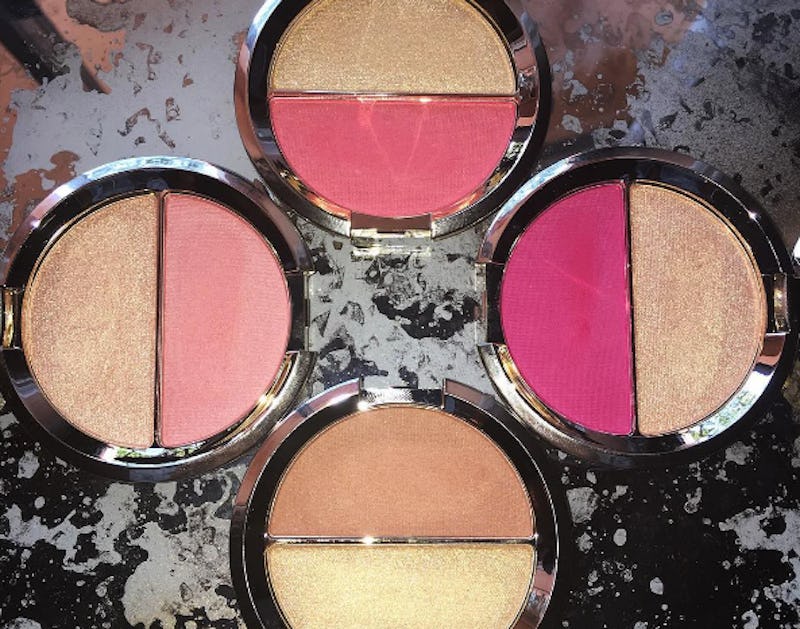 After a post from beauty blogger Trendmood sparked rumors that the Jaclyn Hill x Becca collection is expanding, people having been dying to know the details. Well, it looks the news is officially here. Hill posted a picture of the Champagne Split Pans on her Instagram with all the launch details, so it seems these beauties are likely real. How much do the limited edition Split Pans cost? The price probably won't surprise you.
As if life wasn't already glow-y enough with the Jaclyn Hill x Becca Champagne Glow Face Palette in the world, then you better believe it will be now. The company and makeup artist have teamed up once again to create two new products that will have your highlight on point. It seems the new additions include a highlight stick available in three colors and four blush and highlight duos including Champagne Pop and Prosecco Pop. Becca has yet to officially confirm the new products, but sent Bustle the following statement "Thanks so much for reaching out and for your support of BECCA! We do have some exciting news – we'll be in touch on Tuesday with the official announcement. We hope you're thirsty for more Champagne."
Hill talked about the new Split Pans and Slimlight highlight sticks on her Snapchat, and then posted a photo with all the info you could possibly need. According to the post, the Split Pans will cost $38 and are limited edition. That's the same price as a normal Becca highlight, but the packaging looks a little bit different. I'll just let you see for yourself.
The four combos — two with Champagne Pop and two with Prosecco Pop — are absolutely gorgeous. You might recognize a few of the blushes from the Glow Palette too. Pamplemousse (the top blush shade) and Amaretto (the bottom blush shade) are both from the limited edition face palette.
Hill made sure to stress both in the Instagram post and on her Snapchat that these Split Pans are limited edition. At $38 for two amazing on-the-go products, there's no doubt in my mind that these will sell out fast.
Now for the most important details. According to Hill's post, you can find these on the Sephora site for email sign-ups on July 5, but you should mark your calendars for July 15. That's when they will officially go on sale online, with an in-store date following later in the month.
The collection will also include a new blush brush. There hasn't been any word on whether of not they will be sold separately or come with the palette. Either way, it looks pretty gorgeous with the gold and silver limited edition packaging.
Get ready for a glow-y summer, people!
Image: JaclynHill/Instagram (1)