Inspiring Quotes From The Late Elie Wiesel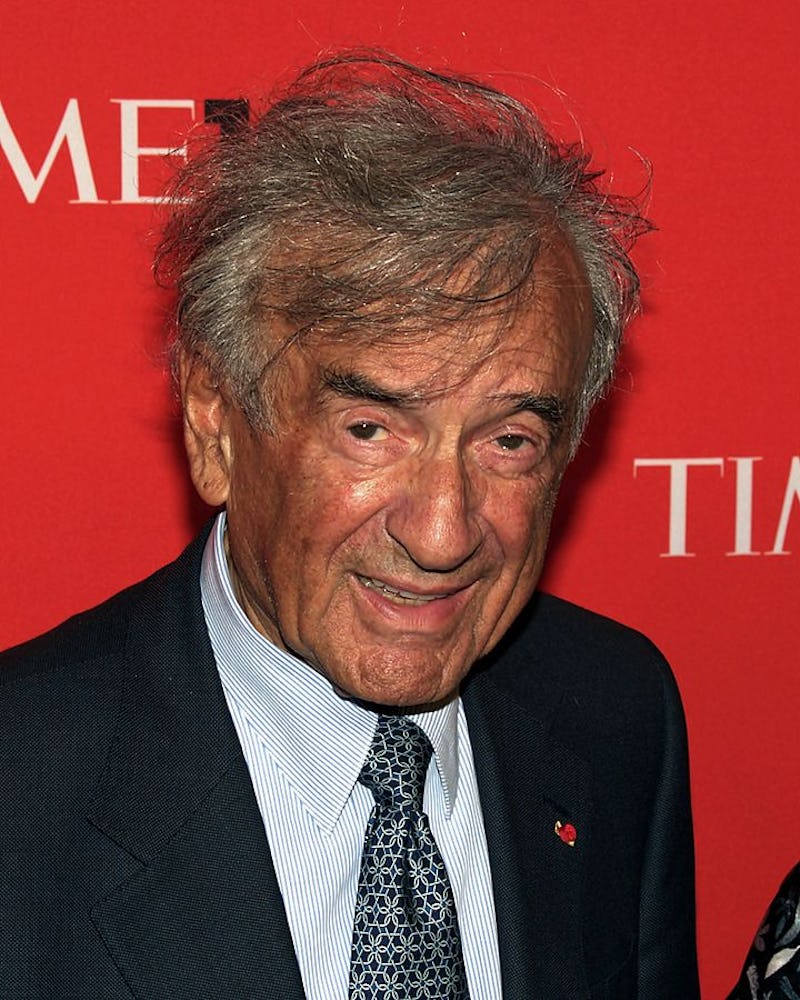 In surviving Auschwitz, the late Elie Wiesel lived through more horrors than most will ever have the misfortune of experiencing. Nonetheless, he didn't let hatred and bitterness keep him from loving and inspiring others in the decades after the Holocaust; he went on to become a celebrated writer, activist, and professor, bringing moving works and words to the masses.
For years, Wiesel was reluctant to write about his experiences in the Holocaust, but he eventually did, penning the Night trilogy. The titles are perhaps his best-known, but in total, he wrote 57 books before the end of his life. Wiesel covered a range of topics in his writing, from the personal to the universal, including ruminations on his internal struggles, religion, humanity, and much more.
Mining the late activist's work is like finding an amazingly rich ore of wisdom — there are gems everywhere. It's no wonder he inspired millions through his writing, teaching, and activism, to the point that he was honored with a Nobel Peace Prize in 1986. Through his words, he leaves a powerful legacy behind, one of endurance, kindness, and peace.
Below are some of the late Elie Wiesel's most beautiful and inspiring quotes.
1. "For me, every hour is grace. And I feel gratitude in my heart each time I can meet someone and look at his or her smile."
– Wiesel, in an interview with Oprah for O's November 2000 issue
2. "Human suffering anywhere concerns men and women everywhere."
– Wiesel, in his 1960 book Night
3. "We must take sides. Neutrality helps the oppressor, never the victim. Silence encourages the tormentor, never the tormented."
– Wiesel in the Night trilogy
4. "There may be times when we are powerless to prevent injustice, but there must never be a time when we fail to protest."
– Wiesel in his 1896 Nobel laureate speech
5. "I have no doubt that education is good for the soul, not only for the mind. I have no doubt that questions have their own magic, their own charm and their own immortality."
– Wiesel, in the November 2000 issue of O
6. "Action is the only remedy to indifference: the most insidious danger of all."
– Wiesel, in his 1986 Nobel Prize speech
7. "I did everything I could in my life to be immune to hatred, because hatred is a cancer."
– Wiesel, in a Dec. 10, 2004 interview with Professor Georg Klein
8. "No one is as capable of gratitude as one who has emerged from the kingdom of night."
– Wiesel, in his 1986 Nobel Prize speech
9. "No human race is superior; no religious faith is inferior. All collective judgments are wrong. Only racists make them."
– Wiesel, in an 1992 interview with Parade
10. "One person of integrity, can make a difference, a difference of life and death."
– Wiesel, in his 1986 Nobel Prize speech