A 'True Blood' Musical Might Be Happening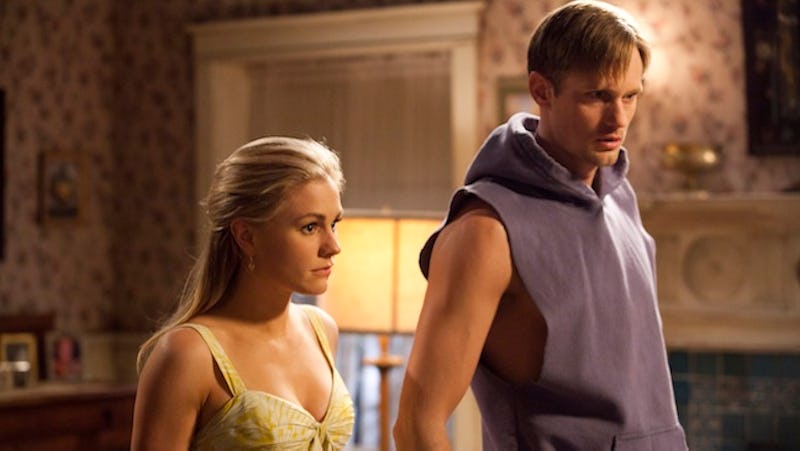 If you ever found yourself thinking that True Blood could use more singing, then you may be in luck. According to The New York Post, a True Blood musical could be heading to Broadway soon. And while it may not an HBO revival (perhaps one day?), I have a feeling that True Blood devotees would love to return to Bon Temps in any form, and that the possible musical version will make fans very excited.
The musical is reportedly in its very early days, although the New York Post reveals a workshop recently took place. Set to be directed by Pam MacKinnon with music by Nathan Barr, who did the score for the HBO series, the musical has all the makings of a fangtastic event. The story is being written by notable YA author Elizabeth Scott, and even series creator Alan Ball could have a hand in the production. The only thing standing between the True Blood musical and success, though, is the legacy of vampire tales that failed to take a bite out of Broadway in the past. Even Anne Rice's beloved Lestat could not carry a successful show.
However, True Blood has a secret weapon it can deploy those other shows did not have: Eric. There are no details on which characters will be in the show, but a True Blood story without Eric in it would be madness. While Alexander Skarsgård will likely be too busy with his film career to reprise the delicious vampire role that made him famous, Eric as a character is charismatic enough on his own. Add in Sookie, the duo's tortured romance, and some catchy songs, and I am so there.
The best thing about True Blood was how the show embraced its decadence. It was sexy, crazy, and way more fun than it had any right to be. Adding music and a Broadway stage into the mix seems like a natural progression. Charlaine Harris' novels were southern fried supernatural masterpieces. If the musical can resist going too big and stick to the mix of small town intrigue and vampire hotness that made the TV series so delightful, then I can see the show becoming a hit — at least among fans of the books and HBO series.
At this early stage, casting is likely still way down the line, and it is probably too much to hope for any of the HBO series' cast to join the production, but can someone at least page Nelsen Ellis (a man who is not just an actor, but also a playwright)? There can be no substitute for the original Lafayette.
Make the True Blood musical happen, Broadway. I will definitely give you all of my money to see Eric and Sookie singing a love ballad while Lafayette steals the whole show with a cabaret number.
Image: HBO; Giphy