Here's When The Sweet Peach Palette Will Be Back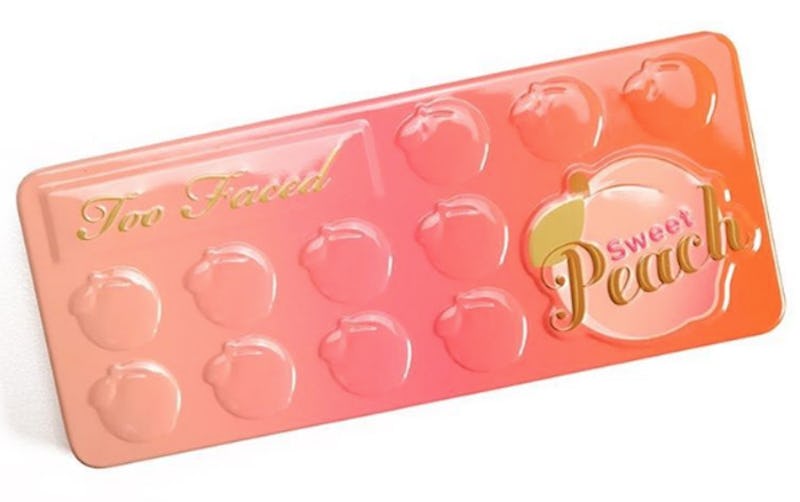 It's time to get excited, because Too Faced just dropped some big news. According to the company's Co-Founder and Creative Director Jerrod Blandino's Instagram post, the Sweet Peach Palette will be back in stock just in time for the holidays. In case you missed it, the eyeshadow kit was instantly a best-seller from the moment it came out. Considering it hasn't been available to fans for a while now, this is a pretty big deal. It turns out there's a pretty major reason why it's been missing from the shelves too.
People are obsessed with this fruity scented palette, and it's for a great reason. Not only are the colors absolutely gorgeous, the sweet smell is the perfect way to make your makeup routine a little more fun. Now you'll have a chance to add it to your beauty bag again, if you haven't already. According to the social media post, the Sweet Peach Palette will be back sometime in November. While that's a little bit of a wait, it's for a good reason.
Blandino took to Snapchat right after he posted the breaking news to Instagram to explain the decision. In addition to saying how fun it is for him to post behind-the-scenes info for his fans, he said that there has been a shortage of peaches lately. Since the company uses real fruit, this is why they couldn't get the palettes back on the shelves sooner.
Don't you just love when makeup companies keep you in the loop? I don't know about you, but it makes me love their products even more. Too Faced is normally know for there chocolate-y scented products — like their Chocolate Bar Palette and Soleil Bronzers. It wasn't until the Sweet Peach Palette that they started experimenting with new scents, and it was a total hit.
There's hope for more peachy products too. Blandino posted close-up photos of new products to his Instagram and used the peach emoji as a caption. That means there could possibly be a blush and bronzer collection using the scent, if fans are lucky.
Peach cobbler, anyone? Here's to hoping that they come out as one great smelling holiday set. Either way, at least the Sweet Peach Palette comeback is right around the corner.
Image: JerrodBlandino/Instagram (1)