Cake Literary's Mission Is To Diversify Kids Lit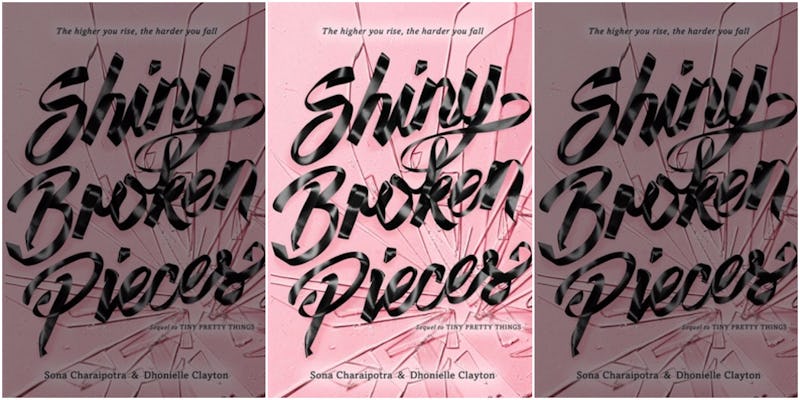 Authors, activists, and founders of book packaging company Cake Literary Sona Charaipotra and Dhonielle Clayton are not only fans of cake, they're fans of work that embodies the full lives and range of experiences of marginalized people on the page and in life.
Last year was a time for celebration for Cake as Charaipotra and Clayton's first book, Tiny Pretty Things, was released from HarperTeen. Tiny Pretty Things has been called Pretty Little Liars with ballerinas and starring girls of color. The book is a mystery wrapped in drama with all the makings of something none-too-serious but utterly addictive and entertaining. Who would couple up? Who was the villain? And what did everyone want in the tantalizing yet competitive world of professional ballet?
Next week, readers will have another reason to eat cake: Tiny Pretty Thing's sequel, Shiny Broken Pieces, will hit shelves, and readers like myself will find out how the personal and physical trials for Gigi, Bette, and June end as they struggle for spots at the prestigious American Ballet Company. Like any satisfying summer read, Shiny Broken Pieces has plenty of romance, plenty of disappointments, and plenty of backstabbing — of the literal and figurative variety. It's a beach read you won't be able to put down on your summer vacation.
I've known Charaipotra and Clayton since 2014 when we all became members of the soon-to-be formed nonprofit We Need Diverse Books. Charaipotra and Clayton are members of WNDB's executive board; Dhonielle is also COO. Before WNDB transformed from viral call-to-action into an organization that produces diversity initiatives, Cake Literary established itself and its mission: to make stories Charaipotra and Clayton wanted to read, and to make stories that kids like them could see on shelves.
Charaipotra is a parent to two young children, one of whom is a big fan of comics. Clayton worked as school librarian, and she called all the children who came in and out of her space "my kids." They both know what it's like for young readers to be disillusioned with books that ask them to root for characters they can't fully identify with. Clayton tells Bustle that many of her students tore through copies of Kwame Alexander's Newbery Medal-winning The Crossover, which they cherished as proof of something special, something just for them.
There are several book packagers in the U.S., but Cake is the only one that's dedicated to including a "heaping dose of diversity" in every book. "Swashbuckling adventures, first crushes and first kisses, space operas, tragic love stories, magical mischief, government take-overs, alien invasions, teen rom-coms, and more," are some of the topics Charaipotra is eager to read.
"We didn't see ourselves in these big, entertaining reads when we were growing up, and there's still a dearth of them today," she tells Bustle.
This dearth of diversity isn't just a problem in books being published. There's also a startling lack of diversity seen in literary journals, libraries, and the publishing industry as a whole. Another source of concern is the fear that "diversity" is perceived by some as a trend — something publishers, agents, and other entities are pursuing for publicity purposes rather than because of the earnest desire to be more inclusive or to promote a more empathetic world.
Cake doesn't see diversity as a trend; they see it as something essential. The book packaging company employs PoC in every step of the process, and Charaipotra and Clayton find additional consultants and readers who can help vet material they may not be as informed on. For upcoming titles from Anna Meriano (Love Sugar Magic, due out 2018 with HarperCollins) and Karuna Riazi (The Gauntlet of Blood and Sand, due out 2017 with Salaam Reads), Cake's founders did not rely solely upon the author's knowledge. They also asked trusted readers to examine the respective backgrounds of the characters in these works. In their quest for stories from marginalized artists, Cake's founders are utilizing the connections they've made in the three years since their business launched.
Cake Literary is neither agent nor a publisher. They represent a work and pair it with the best writer before selling it to a publisher. All the while, they aid authors as they work to establish their own voice. With Cake's second book due on shelves next week, and two middle grade novels on the horizon, it seems it's not only a great time for diversity, but also a fantastic time for dramatic stories that aren't "issue" books — i.e. books related to one's ethnicity, sexuality, and/or disability. And Cake Literary's contribution to the publication of these stories is cause for celebration.