Kat Von D's Serpentina Arrives At Sephora Soon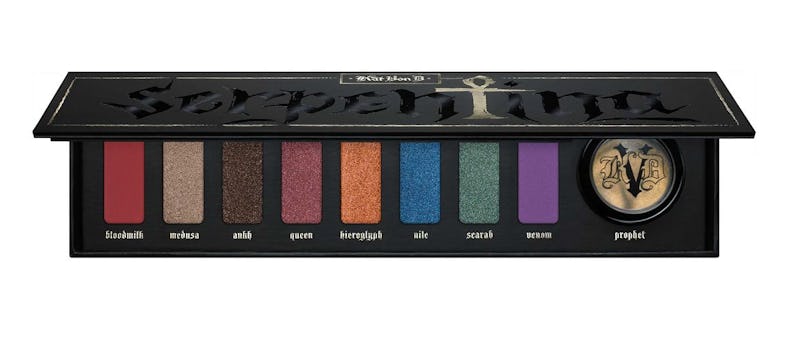 The only constant in life and in the makeup universe is change. Luckily, this is just a tiny one. Kat Von D's new Serpentina eyeshadow palette, which is comprised of jewel-toned shades with rich color payoff and was inspired by ancient Egypt, officially lands today, Tuesday, July 5. It's vegan. It's cruelty-free. It's limited edition. It's available at the Kat Von D Beauty site and was supposed to go on sale at Sephora.com, KVD's other retail partner, today, as well. But the Serpentina x Sephora.com date has changed slightly. When can you buy the Kat Von D Serpentina palette at Sephora? Relax for a hot second and I will tell you.
You can purchase the palette tomorrow, Wednesday, July 6. So you only have to wait a day to shop it at the Sephora site. Patience, Kat Von D-evotees! If the palette sells out via the KVDB site, you have another shopping option. Remember, tomorrow is another day!
The brand posted a shot of the Serpentina packaging, which is all black and beautiful, noting the new Sephora.com date. You can take a peek at that post below.
This palette is a big deal, since the shadows come in shimmer, matte, and pearl finishes. The palette also features a KVDB first — a removable jar of loose, metallic gold pigment, which you can use in a variety of ways.
Be sure and head over to the Sephora site tomorrow to grab the Serpentina palette.
Serpentina Eyeshadow Palette, $45, Kat Von D Beauty
Those shadows are so, so pigmented. You can come up with innumerable color combos and can totally add a dose of color shock to your look by popping one of these shades in the inner corners.
I can imagine hitting pan on every single shadow. Medusa looks like she will pair well with everything in the palette, right? Bloodmilk and Queen also look like they'd make quite a duo.
Not gonna lie, peeps. I am totally expect Serpentina to fly off the digital shelves at both e-tail locations. If you are able to snag one, don't delay. Add it to your cart and check out. Kat Von D-evotees have been clamoring for the Serpentina palette for weeks now and since the brand began teasing the shades on social media.
One last look at Serpentina. She's so ready to strike... at least on Sephora's digital shelves.
Images: Kat Von D Beauty/Instagram (3); Courtesy of Kat Von D (2)