You Have To See The Kat Von D Serpentina Swatches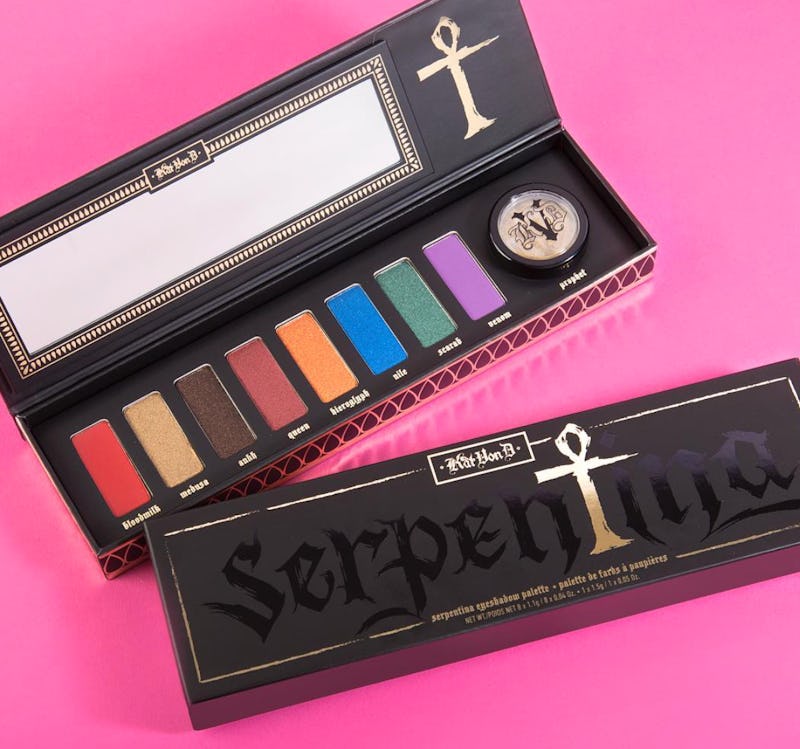 I'm not one to wish my life away, especially during a holiday weekend. But I admit that July 5 cannot get here fast enough! Why? Well, that's when Kat Von D's new Serpentina eyeshadow palette, which is limited edition and packed with richly pigmented, jewel-toned shades, cruises onto the Sephora site. By now, you have seen the glorious photos of these luscious, decadent hues and are no doubt planning ahead about what custom eye looks you can create with it. However, you can truly appreciate the colors in the Kat Von D Serpentina palette when you see them swatched on the inner arms of three different people with three unique skintones.
When this swatch shot landed in front of my eyes, it was a true "OMG!" moment. I realized that Serpentina is palette perfection because the shades look beautiful and different on everyone. When paired with pale, medium, and dark skin tones, the colors pop a variety of special ways. It's clear that any and all Kat Von D-evotees can slay the day while wearing any or all of the Serpentina shadows.
Behold the Serpentina swatches and prepare to have your mind blown. These swatches also illustrate the depth of the matte and metallic finishes of the shadows.
Wow, right? That color payoff, though. It seriously cannot be messed with. The palette is vegan, which is a cause and status close to Kat Von D's heart. Again, it's limited edition.
While I have you here, check out that packaging. As to be expected,it's goth x rock x awesome.
Oh hey girl! There are six metallics, two mattes, and one loose pigment. You don't need to yank out the calculator and do any math here. It simply adds up to innumerable color combos and looks.
Best of luck snagging a KVD Serpentina next Tuesday. I am still holding out hope for a Kat Von D all-grey palette. Perhaps for fall?
Images: Kat Von D Beauty/Instagram (2); Kat Von D/Instagram (1)