'Mindy Project' Ended On A Romantic Cliffhanger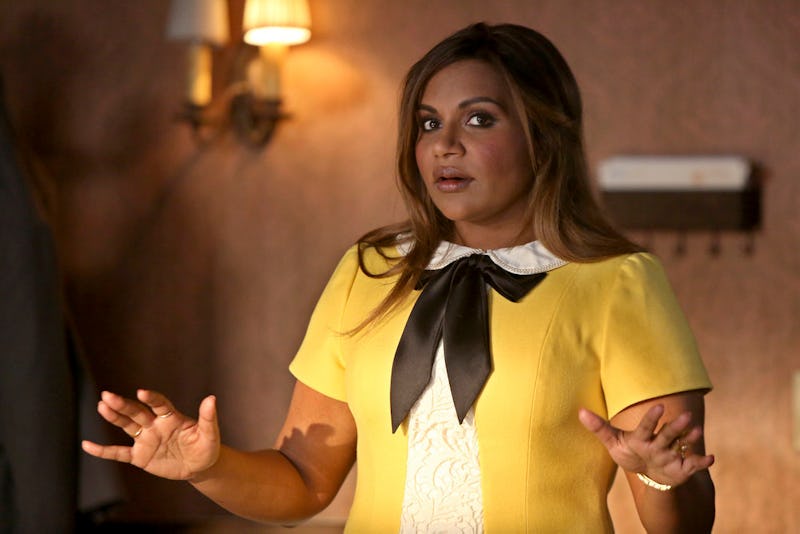 It's been a slow burn during the Hulu season, but Mindy Lahiri has finally found herself in an honest to goodness love triangle. Will Mindy and Danny get back together on The Mindy Project ? Baby Leo's parents may have hooked up in an elevator in the Season 4 finale, but with Danny's engagement and Jody's latest romantic gesture, who knows what will happen when the series returns.
As an apology for having chlamydia and not telling Mindy, much like Danny is not telling her he's engaged, Jody attempted to built Mindy a walk-in closet for her apartment. Her old closet is being used as Leo's nursery, and she's had to store so many clothes at work that it became a fire hazard. First, Jody threw out a really cool spiral staircase bookshelf without her consent — rude! Then, after a series of difficulties, he gave up that plan and just bought the apartment upstairs. An accidental hole in the ceiling became a pull-down staircase to what he envisioned as Leo's new nursery — and her closet could go back to being a closet. After showing Mindy what he'd done, he told her that he was in love with her. It was a functional twist on Big's gift to Carrie in the Sex and the City movie, which is suspicious, as Mindy Kaling has said that her character's Mr. Big will always be Danny.
I mean, I'm not gonna lie, if a man bought me an apartment, built a secret entry like a fort, and told me "it's time someone takes care of you for a change," I'd melt a little. Old fashioned and not without flaws in the plan, maybe, but it's pretty melty nonetheless. Still, I have said it before and I've said it again. I don't like Jody. His character is a weird mix of Southern stereotypes that either don't exist in real life, or would be beyond not cute. Sure, Danny's Italianness and Jeremy's Britishness are also over the top and exaggerated on the show, but that makes it difficult for me to see Jody's appeal as a contender for Mindy's heart who is worthier than Danny. Maybe we aren't meant to.
Speaking of, Danny is still engaged. He's still engaged, and he never told Mindy! This is a disaster. It's clear that Mindy and Danny still love each other, they said so themselves, but these hurdles may be insurmountable. Season 4 ended on a cliffhanger (Jody's confession and Danny's unopened invitation on the table) and a turning point, and I honestly can't wait to see what happens next.
Images: Jordin Althhaus/Universal Television; Giphy