Teresa Comes Home In An Emotional 'RHONJ' Premiere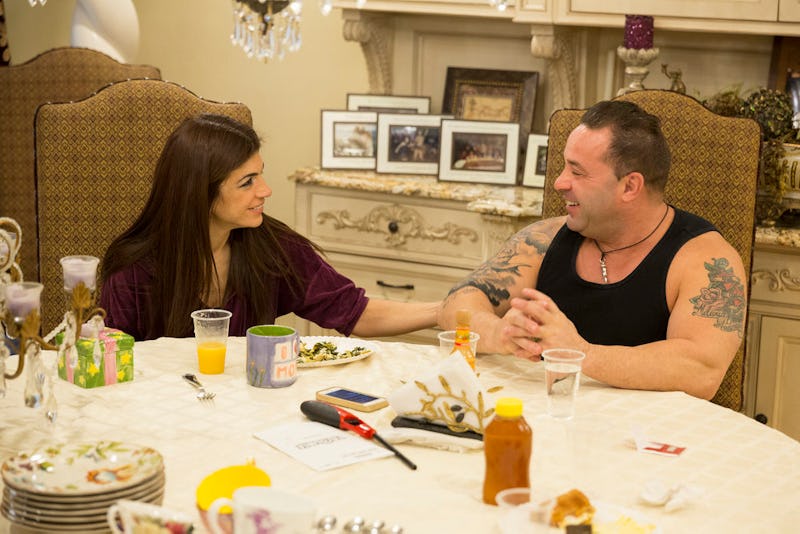 Undoubtedly, the biggest moment in the Real Housewives of New Jersey Season 7 premiere is when Teresa Giudice is released from prison and reunites with her family after nearly a year in jail. Teresa often serves as comic relief on the show, but for the past few years, as she and her husband were sentenced to consecutive stints in prison, the effects on their family have been very real and surprisingly affecting. It might be hard to imagine that a woman most famous for throwing a table could make you tear up, but seeing how Teresa's four daughters feel about their mother having been gone for so long is actually emotional. And it's equally teary to see Teresa's husband, the grumpy and quiet Joe, who always seemed overwhelmed with the five opinionated and noisy women in his family and jumped into being a temporarily single parent with everything he has, break down completely into tears when he hugs his wife in their home for the first time.
For what it's worth, Teresa doesn't let too much vulnerability show in this episode. Of course, she seems excited, happy, and emotional to see her family and be back at home, but she brushes off any concerns about the paparazzi capturing photos or video of her, jokes while video chatting with her daughters on her ride home, and excitedly tells her youngest two that they can skip school to hang out with her. And she has a totally new vibe. She seems a lot more relaxed, and less prone to anger now — but maybe I'm just assuming because she's started doing yoga.
Along with Teresa's newly refreshed attitude, she also has embraced Melissa Gorga after years of conflict between the two. Teresa had a built-in excuse to avoid the Gorgas — she will be wearing an ankle bracelet and had to obtain special permission to attend their Christmas Eve party — but her note to them made her seem to excited to be granted permission to spend the holidays together. It looks like in addition to her newly calm demeanor, Teresa is willing to turn over a new leaf with her in-law, and that represents some major progress.
While I doubt Teresa will be playing completely nice for long, it is sweet to see just how happy her family is to see her now that she's been released from prison, and how much the experience seems to have softened her. It got Real Housewives of New Jersey Season 7 off to an unexpectedly sentimental start.
Image: Greg Endries/Bravo