James Taylor Is Doing Great After 'Bachelorette'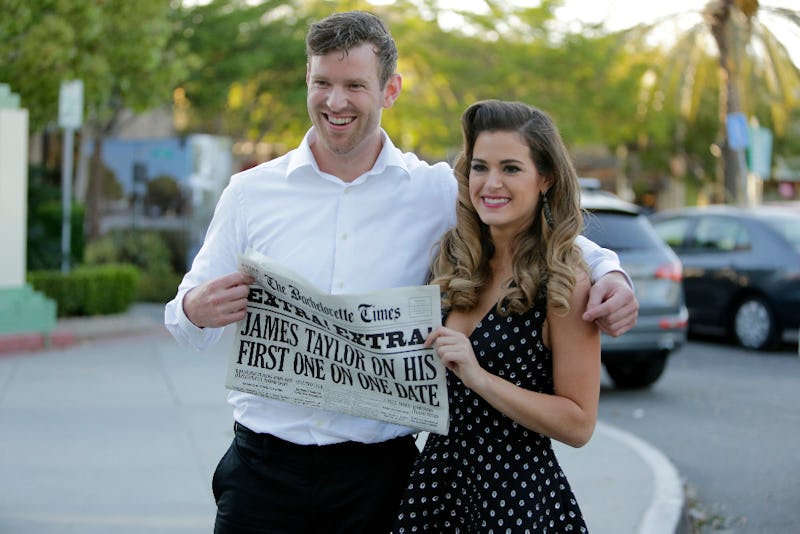 In all likelihood, and I hate to be the bearer of bad news, but James Taylor will not win The Bachelorette. It seems pretty obvious that Jordan Rodgers and JoJo Fletcher will be engaged at the end of the season, but that's not terrible news for James Taylor who could still be in the running for the next Bachelor. Hey, you never know what could happen. Now that filming is over, what has James Taylor been doing after the show? I took the liberty of checking in on the Texas singer to see how his life has been going since filming ended — and spoiler alert: Things are going great for his career.
First, let's recap because, as of now, James Taylor is still in the running on The Bachelorette, but he came close to getting sent home last episode. When the show left off, it was down to one rose and the battle between Alex and James, but JoJo just couldn't make up her mind and bent the rules a bit. She asked Chris Harrison to keep them both for another week. It was great news for them that week, but it still means that she's sending two people home this episode. I have a strong feeling that James may be one of them, but my fingers are still crossed for him.
In the meantime, let's talk about his life post-Bachelorette.
His Concerts Are Selling Out
He may not get the girl, but he's definitely got the fans. Since the show ended, he's been putting on concerts all over the place and things are going quite well for his career. It won't be long till he finds a girl, that's for sure.
His Bromance With Luke Pell Is Heating Up
There is nothing better than a lifelong friendship of two former contestants who were competing for the same person. It seems that James Taylor and Luke Pell have found that bromance and it's a pretty beautiful thing. They've been performing together and hanging out a ton since the show ended. To be honest, it will probably be the best relationship to come out of this season. Sorry, JoJo.
Getting Ready For A 5K
As much as one could possibly prep for a 5K, James Taylor is on it.
Spending Time With The Family
Over the Fourth of July, James was hanging out with his family on the lake. They had some fun practicing their football skills while riding a jet ski. Be careful James, we all know what happened the last time you tried to play football…
Possibly Hitting Up Strip Clubs
We don't know if he went in, but everyone deserves to hit up a strip club after they've been dumped, right? (I'm assuming this means he gets dumped.)
Road Tripping With His Pal
He took a selfie of him with a pal heading home on a road trip not long ago. I wish I had time to do the fun things he's been doing!
Keep being adorable, James.
Images: ABC/Greg Zabilski