'Gilmore Girls' Has Been To The Emmys Before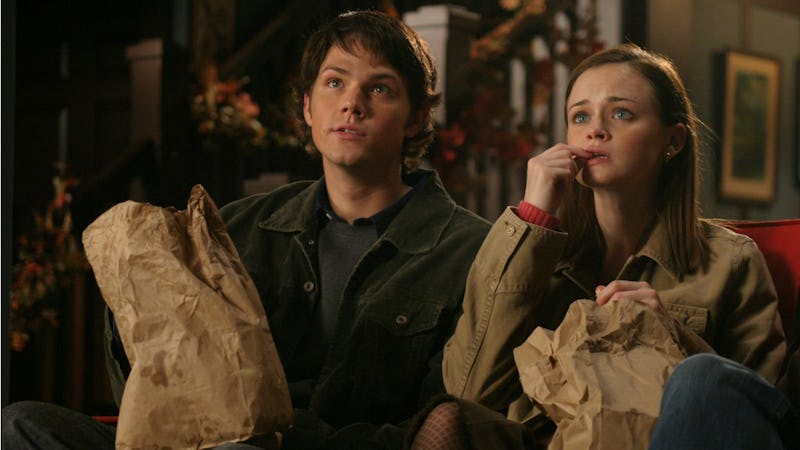 Television fans know that this is quite a time to be alive. First of all, the 2016 Emmys, hosted by Jimmy Kimmel, is coming up on September 18. Second of all, the Gilmore Girls revival may or may not be coming to our Netflix accounts in November or December, if all the hints we've gotten about the revival date are any indication. These two upcoming event extravaganzas have me wondering whether or not Gilmore Girls has ever won an Emmy. Since the show hasn't even come out yet, it's not exactly qualified to take anything home at the ceremony this year, but what about the past? (We all know it's going to sweep the noms in the future.)
It turns out the WB series has only ever received one Emmy and 'twas not for Best Fast-Paced Dialogue, or Best Supporting Kirk, or Most Food Consumed (which may or may not be real categories). No, in fact, the only time Gilmore Girls received an Emmy was in 2004 for Outstanding Makeup — Series. The winners of the award were Marie Del Prete, Malanie Romero, and Mike Smithson, and the episode in question was "The Festival of Living Art." In it, Taylor Doose convinces Stars Hollow to do one of those shows where people stand still and are dressed and painted up to look like actual art.
There is some pretty intense makeup application that goes into making a human look like a painting, so it makes a lot of sense that the makeup artists would get some love for this episode — especially because they were usually going for a natural look in most Gilmore Girls episodes. They must have had to really think outside the box, which would have been a nice and fun challenge.
Though I'm of course proud of that 2004 Emmy, I'm also curious as to why Gilmore Girls hasn't racked up any other awards at the prestigious ceremony. I'm just gong to chalk it up to the fact that, though this is an incredibly well-loved show, it is also underappreciated. People brush it off as a fluff drama about growing up and motherhood, and not as what it really is — an engaging and smart look into growing up and motherhood.
Here's to the 2016 Emmys, because they will probably be a fun time. And a double cheers to the 2017 Emmys, because I'm pretty sure Gilmore Girls is going to sweep next year.
Images: Giphy (2); Warner Bros. Television