10 Charming DIY Back-To-School Supplies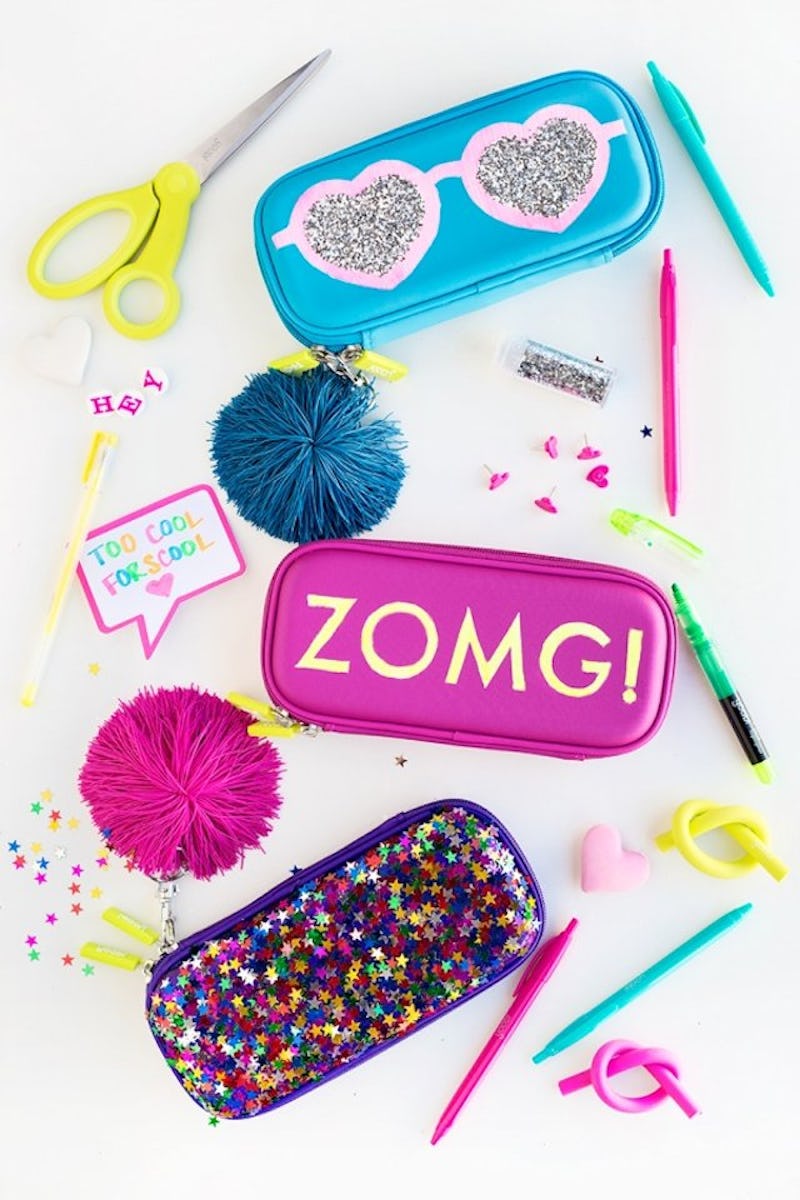 With summer halfway over, it's time to start thinking about back-to-school season. And if you are anything like me, this means that it's also time to geek out over DIY back-to-school supplies. While one can argue that you can always just head to the store, there's something so awesome about personalizing a useful item that you can use all year round.
I'm not just talking about coloring in the covers of marbled notebooks, either. The ideas on this list of DIY ideas feature cool-girl supplies and objects that can make school life a little easier. Even if you won't be a student this fall, there's still a lot to get stoked about. After all, office ladies and stationery lovers can totally benefit from back-to-school season. I definitely fall into that category, and I'm sure I am not the only one.
To top it off, spicing up your stash of basic school supplies can make doing work a bit better. Of course, a vibrant pencil case or stylish notebook won't make writing that paper any easier. But when you need to deal with those items constantly, sprucing them up can brighten up the process. Fancy feather pens, anyone?
Happy back-to-school season, folks!
1. DIY Lap Desks
It goes without saying that a laptop is a huge part of being a student. From researching the Web and late-night writing, your laptop is basically your BFF during the school year. Get cozy with it by making a homemade lap desk with A Beautiful Mess. It's no-sew, too!
2. DIY Glittery Graphic Pencil Case
Fans of vibrant colors and glitter will adore these DIY graphic pencil cases by Studio DIY. They're an awesome way to liven up even the most boring assignments. The post even features free printable stencils, too.
3. DIY White Board Calendar
Keep yourself in check with this nifty white board calendar by Now That's Pretty. Because you can re-number the calendar every month, you'll be able to save paper, space, and your sanity.
4. Gold Animal Book Ends
Round up those textbooks and just-for-fun reads with a pair of adorably quirky metallic animal book ends. This DIY from The Effortlessly Chic is so easy even novice crafters can take it on. It doubles as fun decor for your dorm, too.
5. DIY 10-Minute Notebook
If you're into the old school way of taking notes, consider whipping up a sweet and simple 10-minute notebook. This project by Fall for DIY is ideal for using up random sheets of paper to create a lightweight, easy-to-carry pad of paper.
6. Fabric Photo Transfer Journals
Looking for something with a little more oomph? Make a fabric photo transfer journal with A Beautiful Mess. This is perfect for showcasing your favorite shots from summer vacation.
7. Custom Magnetic Clipboard
For another way to stay organized, make A Beautiful Mess' magnetic clipboard. Complete with a chalkboard, this number would work exceptionally well in a locker, dorm, or office.
8. DIY Quilted Laptop Sleeve
Protect your laptop with style using this quilted sleeve tutorial at A Beautiful Mess. This is an ideal and extremely useful sewing project for a beginner seamstress to take on.
9. Feather Pens
Why settle for plain jane writing utensils? With this exclusive DIY project for Bustle, you'll be the coolest note-taker in the entire room. See ya never, boring pens.
10. Easy Painted Canvas Lunch Sack
This year, ditch the brown paper bags and go for something infinitely cooler. With this tutorial by Delia Creates, you can learn how to customize a canvas lunch sack using acrylic paints. I'm loving the combination of contrasting patterns in this one.
Images: A Beautiful Mess; Studio DIY/Jeff Mindell; Now That's Pretty; The Effortlessly Chic; Fall for DIY; A Beautiful Mess; A Beautiful Mess; A Beautiful Mess; Bustle/Kirsten Nunez; Delia Creates