How To Celebrate Twitter's Birthday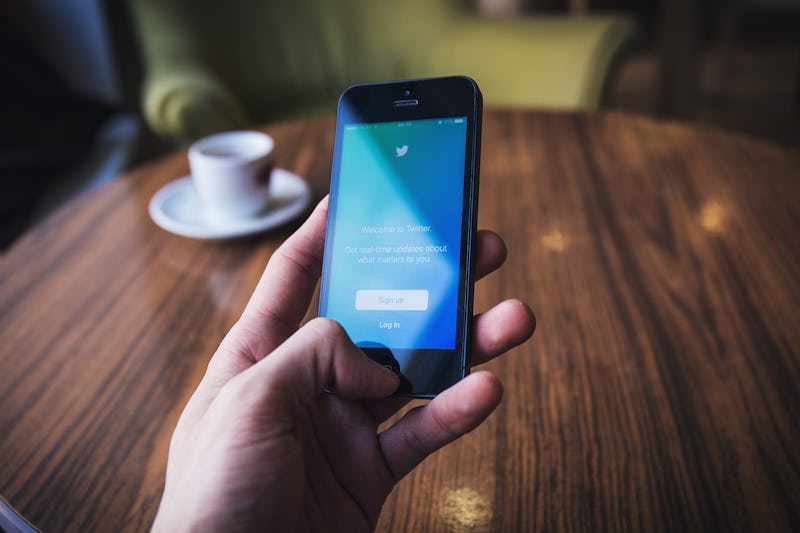 It's that time of year to celebrate Twitter's birthday — and at 10 years old, this one is definitely a biggie. While social media platforms seem to come and go, Twitter is still as strong as ever, and there's plenty of ways to celebrate Twitter's birthday (in 140 characters or less, of course).
You might be a little confused, especially if you figured that Twitter's birthday was on March 21 — after all, having two birthdays is the American dream, but just not possible. March 21 was definitely a big day for the site, as it commemorates the very first tweet by one of its founders, Jack Dorsey, back in 2006. Back then, he was just testing out the functionality of the site, which eventually launched in July of that year. In its 10 years, Twitter has become one of the most popular sites around, with 310 million active users, and over 35 offices around the world. While it is headquartered in San Francisco, it has a presence in Dublin, Paris, Singapore, and Sydney, just to name a few.
Not only do celebrities embrace their Twitter presence (since hey, it's a great way to connect with fans and promote new projects), but multiple television shows have also incorporated Twitter in their format. We've all seen Jimmy Fallon select funny tweets to broadcast based on his Tonight Show Hashtags segment, and even game shows like Let's Make A Deal offer cash to audience members who bring items mentioned on their Twitter account prior to taping. Twitter is huge, and it's not going anywhere.
So, let's all wish Twitter a big ol' happy birthday, and celebrate the occasion in these fun ways that showcase how far Twitter has come since 2006.
1. Pin a "happy birthday" tweet — or, the tweet you're the most proud of.
When Twitter just started up, there was no such thing as a pinned tweet. Nowadays, this feature lets you showcase your very best tweet, or perhaps one that pretty much summarizes your whole account. While it's a little daunting to try and evaluate your own public snippets from years past, it'll also help you remember some of your own fondest, funniest moments. It's kind of like opening a photo album for the nostalgia trip. Plus, AdWeek mentioned that pinned tweets are pretty much the key if you're looking to brand yourself — they'll give you a ton of additional exposure.
2. Post a happy birthday video to Twitter.
Or, any video. Above is one of my recent favorites — Taylor Swift making light of the fact that she won the Taylor Swift BMI Award. Since when I heard about it, I was like "...really?" but felt much better knowing that she could also make the moment a funny one. But, I digress.
If you choose the happy birthday route, maybe give Twitter a shout out and let it know how much its service means to you.
3. Tweet out your ultimate favorite birthday GIFs.
Whether you pronounce it "gif" or "jif," there's no denying that GIFs are ultra fun. (Sidenote: Nobody will convince me that the former is incorrect. The latter is a peanut butter brand, enough said.) The GIF function on Twitter is still somewhat new, having been launched in 2014. Also, let's be honest here — GIFs are simply amazing, and jazz up every Twitter feed. You can find your own favorite birthday GIF right under your tweet box.
4. Post a birthday-related poll for your followers.
A few good ideas: What's the best kind of cake? Who's the best celebrity that shares your birthday? What destination should you go to for your wild weekend birthday bash? The options are unlimited. Twitter polls were introduced last year, and they're a fun way to get answers to the questions that really matter. (And if it involves birthday cake, or other delicious foods, it definitely matters.)
5. Bake a celebratory cake, with some inspiration from Twitter.
Even with limited characters, the best baking and recipe-related sites still find great ways to share their ideas through Twitter. Users like @cakerecipesgo and @cookbook are bound to make you a little hungry, and super inspired. Finding a recipe through Twitter to celebrate Twitter is definitely a smart way to spend the day.
6. Check out some of your favorite celebrity's first tweets ever.
It was likely something like, "What's up Twitter" but still, there's something so innocent about seeing someone's very first tweet. Back then, they were just navigating the site for the very first time, and probably a little bit confused. Obviously, the still-active celebs have adjusted, embraced the changes that have been made throughout the years, and found their online home. You can find anyone's first tweet easily with this handy tool directly on Twitter.
7. Show some appreciation with Twitter stickers.
Twitter stickers were released just a handful of weeks ago, and if you use your phone to post your best tweets, they're easy to access. So, post your best selfie and surround it with some festive birthday cake, delicious pizza, and bubbly champagne. It's definitely a day to celebrate.
To peruse the stickers, just compose a tweet on an iOS or Android phone, select a photo you want to sticker up, tap the sticker icon (which looks like a smiley face), and have fun from there.
8. Tweet something with the hashtag #happybirthdaytwitter.
You might not have realized this, but Twitter — well, Chris Messina, to get specific — invented the use of hashtags to help group topics way back in 2007. Prior to Chris, they were just known as pound signs. And since the "invention" wasn't patented, other social media networks took the idea and ran with it. So, to celebrate Twitter's big day, it's only appropriate to tweet using the exact thing that had set it apart years back.
Images: Giphy, Twitter (7), Unsplash