This Disney Couple Shouldn't Have Happened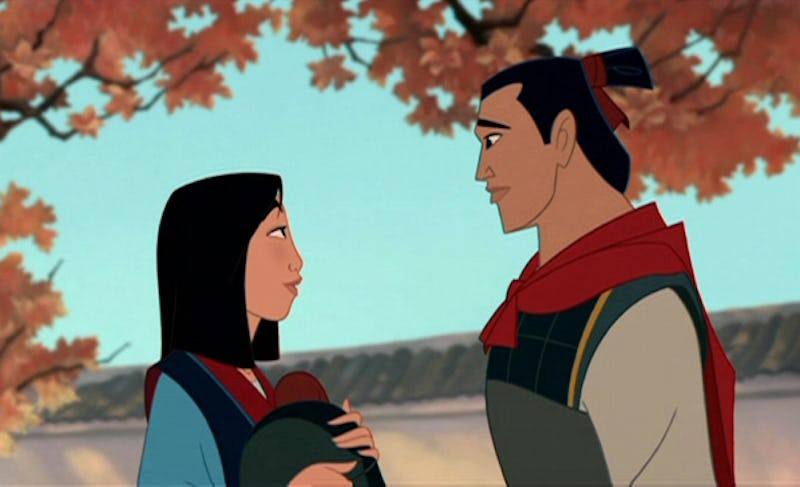 I try not to have beef with too many Disney characters, given that they're a) mostly wonderful, and b) entirely fictional, but there is one thing I need to bring up: Mulan and Li Shang from Mulan are a bad couple, and should never have gotten together in Mulan II. I know I'm coming in pretty hot on this, but I'm only criticizing because I care about them, and I want what's best for them. And because of that, I'll be honest — and I feel like forcing a marriage between two characters who I really don't think are gonna be able to make it work is a sucky twist of events for both of them. Now, you might already be pretty mad, because Mulan is your favorite Disney princess, or you have a crush on Shang or something — and I get that. But, let me just say that I really like both of these characters! My beef has to do with them as a couple, not as individuals, so hopefully we can stay friends. (We still on to see Moana in theaters together?!)
If you're not familiar with Mulan II (which in and of itself is a good film), here's a little rundown: it picked up one month after the end of the original Mulan movie, with now-General Shang traveling to Mulan's home to ask for her hand in marriage. She agrees — but therein lies their little problem: their entire relationship was built on a lie, guys! Sure, now Shang knows who Mulan really is, but he met her when she was lying about her identity to his face on a daily, minute-to-minute basis. Obviously I understand why, and I admire what she was trying to do, but it's just a tricky thing to start your relationship with, y'know? And that's not even taking into account that these two are polar opposites, with completely different priorities. Yes, sure, they can balance each other out and opposites attract and all that, but I've never seen two characters be at each others' throats this much and still get together.
It's especially jarring given the traditional Disney timeline of "Hey, I just met you, and this is crazy, but here's my number, let's get married tomorrow and go fight the Mongols together." I'm fully aware that the scope of one of these movies doesn't give us a ton of time for the hanging out falling in love part, but it really feels like these two know nothing about each other when they tie the knot. Shang didn't even know about Mushu until after the wedding, and he's literally the most important figure in her life.
And then finally, there's my own bias about this whole thing — call me crazy, but I really wish that Shang's grudging, earned respect for Mulan as a warrior and as a human could have remained just that, instead of being translated into affection. There are already so many movies where the girl gets the guy at the end that I would've found a nontraditional story of heroism and platonic friendship to be pretty cool too.
Images: Walt Disney Pictures; Giphy (2)