'OITNB' Got Snubbed At The Emmys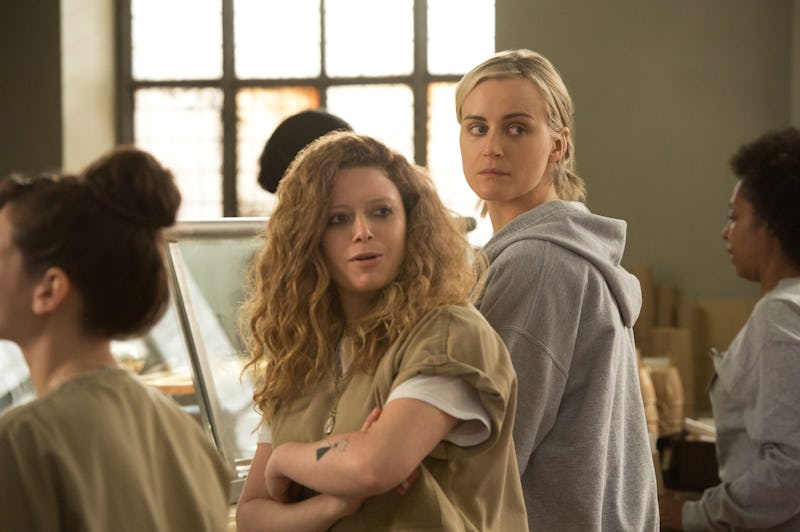 Well, the 2016 Emmy nominations are in, and there's one big-time show that's missing — Orange Is The New Black. What gives? The show has been an Emmys darling since its first season in 2013, so how in the world did Orange Is The New Black not get any poignant nominations for Season 3, save for Outsanding Casting. Now, you may be confused about Season 3 being the one that's nominated, since that gut-wrenching, heartbreaking, best-one-yet Season 4 of Orange Is the New Black was just released. The eligibility period to be nominated for the 2016 Emmys was June 1, 2015 to May 31, 2016, and Season 4 was released on June 17, 2016. Season 3 was released last June, and that's why we are where we are.
According to the Emmys website, Orange Is The New Black has 16 nominations and four wins — Uzo Aduba won for Outstanding Support Actress in 2015 and Outstanding Guest Actress in a Comedy Series in 2014, and the show also one for Outstanding Single-Camera Picture Editing in 2014 and Outstanding Casting For A Drama Series in 2014. Where are all the other acting wins that the show deserves? Sure, its casting is spectacular, but damn — show Orange Is The New Black some love!
There should have been a few acting nominations given out for Season 3 at the 2016 Emmy Awards — what about Taryn Manning and Pennsatucky's rape storyline? She brought such wonderful despair and humanity to that role. Piper's takedown of Ruby Rose's character? That was cold. And I maintain that Cindy's conversation to Judaism was a bright spot in the season. There were so many opportunities for the Emmys to give credit where it was due to Orange Is The New Black, and they failed. There had better be some nominations for Season 4, or people will be storming the Emmy headquarters.
Images: JoJo Whilden/Netflix