These Are The Most Popular Emojis On Tinder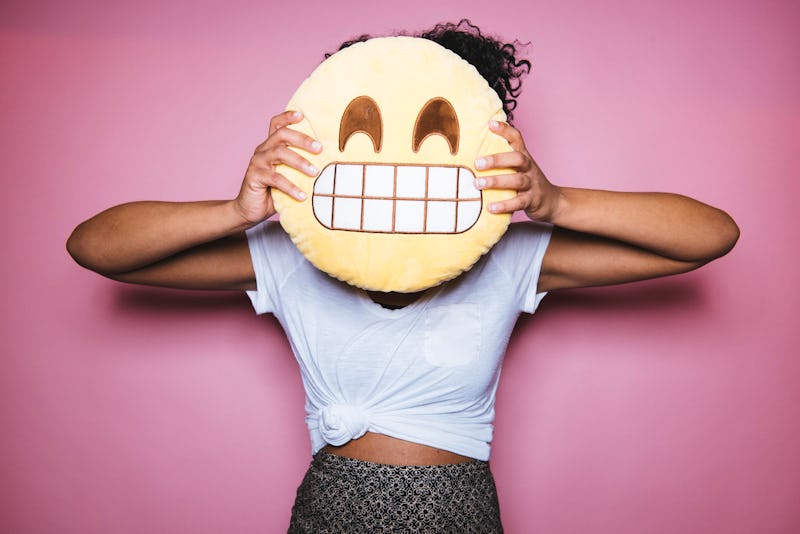 Whether you're a lover of the pint-sized little pictures or not, there's no denying that they've significantly changed the face of texting, especially when it comes to flirting. And July 17 — the date on the little calendar emoji — is World Emoji Day! It's a day to embrace the impact emojis have had on our texting game (and it's a great excuse to overuse them).So naturally, Tinder is celebrating the holiday — they've released a list of the top 10 emojis that its users gravitate toward when making small talk with their matches.
It's hard to remember a time when you actually had to type out things like OMG I'm so embarrassed, because now you can just insert the little monkey with his hands over his eyes and voila! — the message is received crystal clear. Sure, it can be pretty cringe-worthy when your parents overuse the poop emoji and some creep won't stop sending you the kissy face, but there are plenty of good reasons to use emojis in your daily life. For one thing, they're adorable, and for another, they just make conversations feel more personal. Call me crazy, but they can even up your sexting game if you're particularly bold.
There's hardly a Millennial alive who doesn't love both Tinder and emojis, so we're lucky that we can use them when we're courting a new cutie (they even did us a solid by making them larger in-app, too).
Without further ado, here are the top 10 emoji that Tinder users inserted into their convos. And if you've never been a big fan of dating apps, this holiday might be the perfect time to give it another shot. What's the worst that could happen?
10. Dancer
I would wager a bet that people aren't using this emoji solely as a way to ask someone out on a salsa dancing date (not that that wouldn't be cool).
9. Wine Glass
Keeping it classy with a glass of red. Who doesn't like to be wined and dined?
8. Hot Beverage
For all those mornings you're hungover at work, Tindering the pain away, you just need the coffee emoji to tell your online boo how sleep-deprived you're feeling. Don't worry, we've all been there.
7. Multiple Musical Notes
When the conversation hits a lull, why not use the music note emoji to ask your match about his or her favorite bands? Just keep it judgment-free, everyone (looking at you, Brooklyn guys).
6. Smiling Face With Heart-Shaped Eyes
Aww, how sweet. Looks like people on Tinder are pretty open about making swooning faces at their matches.
5. Earth Globe Americas
I can only assume this means people like to discuss all the zany places they've traveled. Especially because every single person has some sort of exotic photo — riding an elephant or a camel or a llama or some other animal — or else their bio mentions their love for traveling the globe.
4. Slice Of Pizza
No explanation necessary. Pizza is bae.
3. Clinking Beer Mugs
What kind of dating app would Tinder be if its users didn't invite each other out for a brewski via emoji?
2. Person Raising Both Hands In Celebration
Ideally, this emoji is so popular because everyone is celebrating each other's awesomeness.
1. Smiling Face With Smiling Eyes
The king of the flirty emojis? The little blushing smiley, of course. What a cutie.
Images: Andrew Zaeh/Bustle; Laken Howard/Bustle (10)