'The Night Of' Has One Of The Best Casts On TV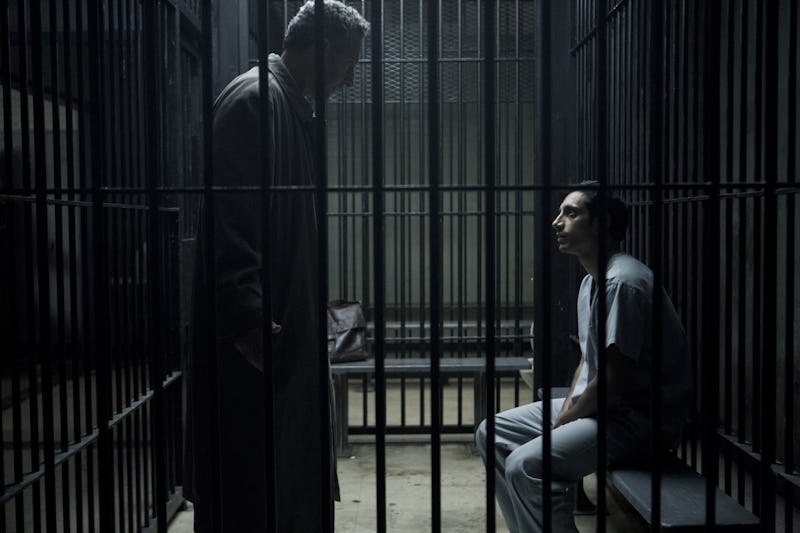 In a lot of ways, new HBO limited series The Night Of feels like what the second season of True Detective should have been. The British remake that was championed to the screen by the late great James Gandolfini bears a lot in common with its predecessor: a knotty murder mystery, an unflinching look at the dark side of human nature, and impeccable cinematography and direction. But one thing The Night Of certainly doesn't have is movie stars like Matthew McConaughey and Woody Harrelson headlining it. But that doesn't mean the Night Of cast is anything to shrug at; in fact, it just might have one of the best casts on TV.
The eight-part limited series might not boast any household names, but if you're like me, then you probably spent a good part of last Sunday's premiere scratching your head wondering just where you knew those actors from. That's because, not only has creator Steven Zaillian (the Academy Award-winning screenwriter of Schindler's List) recruited some incredibly talented — if low-profile, compared to McConaughey and Harrelson — film actors, but he's also recruited from in-house at HBO, casting a number of well-respected character actors in supporting roles big and small. You never know when another familiar face is going to pop up next!
Here's the who's who of this terrific cast:
John Turturro
Of course, the one person that almost everyone watching The Night Of will know is Turturro, who plays crusading lawyer Jack Stone. The role was originally going to be played by Gandolfini before he passed away; but the actor most famous for his roles in Coen Brothers movies like Miller's Crossing, Barton Fink, The Big Lebowski, and O Brother, Where Art Thou? is not bad as far as replacements go. This technically isn't Turturoo's HBO debut, either — he previously guest starred in one episode of Flight Of The Conchords back in 2007.
Riz Ahmed
Our incredibly unlucky suspect Naz may currently be most well known for his supporting role as plucky cameraman Rick in the acclaimed Jake Gyllenhaal film Nightcrawler. But soon he'll be known for so much more, after he appears in highly-anticipated franchise entries Jason Bourne and Rogue One: A Star Wars Story.
Sofia Black-D'Elia
The Night Of presents a big leap forward for Black-D'Elia, whose most prominent previous gigs are recurring roles on teen-oriented shows like Skins, Gossip Girl, and The Messengers. But like Ahmed, prepare to see a lot more of the actress who plays his doomed hookup Andrea; you'll be able to catch her next in the blockbuster remake of Ben-Hur and in the upcoming FOX midseason sitcom The Mick .
Bill Camp
Aside from our three main actors, almost everyone you see on The Night Of will be someone you've encountered on HBO before. Case in point: Camp, who plays Detective Box, has appeared in both Boardwalk Empire and The Leftovers. (In an ironic twist, he'll also appear alongside co-star Ahmed in Jason Bourne this summer.)
J.D. Williams
Motormouth witness Trevor is instantly recognizable for his role as Preston "Bodie" Broadus in four out of the five seasons of The Wire. Elsewhere on HBO, he also recurred throughout the first four seasons of the network's first original drama series Oz, and guest starred in episodes of both The Sopranos and Sex And The City.
Ben Shenkman
The man who plays Sergeant Klein may be most familiar from his series regular role as Dr. Jeremiah Sacani on USA's Royal Pains; but well before that, the actor was starring in the HBO miniseries Angels In America as Louis, alongside the likes of Meryl Streep, Al Pacino, Emma Thompson, Mary-Louise Parker, and Patrick Wilson.
Max Casella
The role of Edgar is Casella's (above left) first part in an HBO show that doesn't involve Terence Winter, having previously appeared in all three of the acclaimed writers projects at the network: The Sopranos (as mob soldier Benny), Boardwalk Empire (as Philly gangster Leo D'Alessio), and Vinyl (as record company exec Julian "Julie" Silver).
Glenn Fleshler
Audiences may recognize Fleshler (above left), who plays Judge Roth on The Night Of… although they may wish they hadn't, since his previous HBO role was as deranged serial killer Errol Childress in Season 1 of True Detective. His HBO resumé also includes Boardwalk Empire, on which he played bootlegger George Remus — you know, the one who always referred to himself in the third person.
Paul Sparks
Sparks just earned his first Primetime Emmy nomination for his guest role on House Of Cards as novelist (and Claire's lover) Tom Yates, a man of few words. But before appearing on that Netflix show, his biggest role was as Boardwalk Empire bootlegger Mickey Doyle — a man of many, many, many words.
Michael Kenneth Williams
Although his resumé is over 80 credits long, Williams will likely forever be best known as gay thug Omar Little on The Wire, one of the most complex and memorable TV characters created in the past couple of decades. Aside from that acclaimed series, Williams has also appeared on HBO in an episode of The Sopranos, as Chalky White on Boardwalk Empire, and as Bessie Smith's husband Jack Gee in the HBO movie Bessie — a role which earned the actor his first Emmy nomination last year.
As far as I can see it, the moral of the story is: get cast in something on HBO and you'll be set for life. Make sure you tune into the second episode of The Night Of this Sunday night to see this talented cast in action.
Images: Craig Blankenhorn (4), Barry Wetcher (2), HBO/HBO