The One Beauty Hack To Do After A Bikini Wax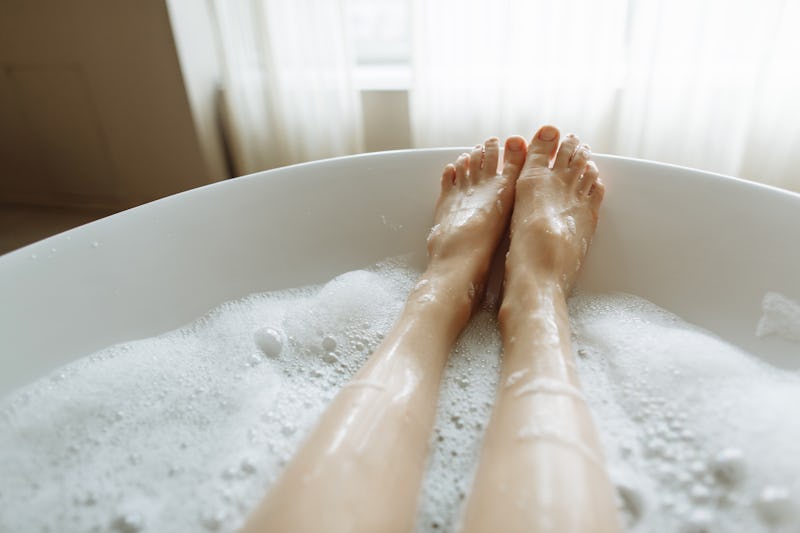 Tanja Ivanova/Moment/Getty Images
The pain of a bikini wax is often nothing compared to the unpleasantness of the pesky ingrown hairs, troublesome infections, and irritated skin that so often follow. But according to dermatologists, there is a beauty hack to do after a bikini wax that might help you avoid all of that additional discomfort. And guess what? It's as simple as a sugar scrub. That's right: The exfoliating and soothing properties of a sugar scrub can prevent redness, ingrowns, and irritation, leaving skin feeling soft and smooth even after an excruciatingly painful wax session.
Don't just take it from me, though. Take it from the professionals. I spoke to dermatologic surgeon and RealSelf Contributor Dr. Sejal Shah via email, who tells me that the "sugar granules in a sugar scrub exfoliate the skin," allowing the product to remove "dead skin cells that can clog the hair follicle and trap the hair, causing it to become ingrown."
Dr. Janet Prystowsky, a board-certified dermatologist based in New York, agrees, telling me via email that sugar scrubs can be essential, bikini wax or no bikini wax, because rubbing off dull skin "helps to remove skin cells growing over the hair follicles which can cause ingrown hairs."
Surely, that's too easy. I mean, can rubbing the sensitive, raw skin down there post-wax with a sugar scrub really help prevent redness, irritation, and folliculitis? Well, according to Shah and Prystowsky, it definitely can. So if you're all too familiar with the pains of post-bikini-wax skin in your nether regions, a sugar scrub may just be the answer to all your prayers.
That said, keep in mind that waxing "can remove the top layer of the skin, causing the skin to be sensitive, red, and irritated," Shah explains. Additionally, Prystowsky says, "Bikini waxes aren't great for your skin, but that should be expected when you're ripping hot wax off of it." So before you throw a party for all the ingrown hairs you'll never have to experience again, take these recommendations on how to correctly treat your skin post-wax so you don't do it more harm than good.
Shah advises going for a scrub that is actually made of sugar with medium-sized granules for the bikini area, since they are "less drying than other exfoliants and dissolve easily in hot water, which makes them less abrasive." Prystowsky adds that opting for store-bought products might be your best bet, since you never really know what "contaminants may be in your sugar or oils."
Since waxing is tough on the skin, both Shah and Prystowsky recommend waiting a few days after the wax to apply a sugar scrub. Prystowsky says you "don't want to exfoliate raw skin that's still healing," so it's important to wait in order to avoid making your skin more irritated than it already is.
Once you've applied it for the first time, however, Shah suggests going back to the sugar scrub every other day at most to ensure fresh skin sans ingrown hairs and infections.
While there's nothing quite like the excruciating pain of a bikini wax, the ingrown hairs and infections that can surface post-wax are just as awful. Knowing that correctly using a soft, gentle sugar scrub on your sensitive skin can exfoliate and soothe it, however, is quite comforting.
If you're eager to get your hands on a sugar scrub, look no further. Ahead you'll find a few different types of products that will make treating your post-bikini-wax skin easy and calming.
1. Burt's Bees
Cranberry And Pomegranate Sugar Scrub , $13, Jet
Scrub this cranberry and pomegranate goodness on our bikini line to polish away dead skin and condition it with cranberry seed and shea butter.
2. LUSH
Sugar Scrub Shower Scrub , $7, LUSH
Break a chunk off this sugar scrub and then work it into your wet skin gently (don't put it under running water). Not only will you love the calming lavender and ginger scent, but you'll also adore how it leaves your skin buffed and smooth.
3. Shea Moisture
Argan Oil & Raw Shea Hand & Body Scrub , $9, Amazon
The ingredients "frankincense and myrrh extract" might sound a little peculiar, but they're all natural and paired with vitamins and butters in this product to create a delicious-smelling and softening sugar scrub.
4. bliss
bliss Blood Orange + White Pepper Sugar Scrub , $26, Amazon
Blood orange and white pepper combined sound like the name of a cocktail, not a sugar scrub. But this sudsy sugar scrub promises to soften, smooth, and exfoliate the skin. If I'm being honest, that sounds even better than a cocktail.
5. Cake Beauty
Cake Beauty Milk Made Smoothing White Sugar Scrub (online only), $32, ULTA
Milk? In a sugar scrub? You might have your hesitations, but remember that milk is super moisturizing and nutrient-rich, and your skin will love it.
6. Mayfair Soap Foundry
Sea Lily Jasmine Sugar Scrub , $9, Target
I can already smell the yummy deliciousness of this Sea Lily Jasmine Mayfair Sugar Scrub. Not to mention that the gentle crystals will slough away dead skin thanks to the paraben and phthalate-free formula.
7. Bath & Body Works
Aromatherapy Sugar Scrub in Eucalyptus Spearmint , $16, Bath & Body Works
Be prepared to fall in love with this product's soothing eucalyptus and spearmint essential oils, not only for its gentle exfoliation on your bikini line, but also for its refreshing, calming scent.
There you have it: A dermatologist recommended way to avoid a red, irritated bikini line prone to ingrown hairs post wax. It's easy, it's affordable, and it's oh-so-sweet.
Images: Tanja Ivanova/Moment/Getty Images; Melodi Erdogan; Courtesy Brands