Robby's Mom Will Charm You On 'The Bachelorette'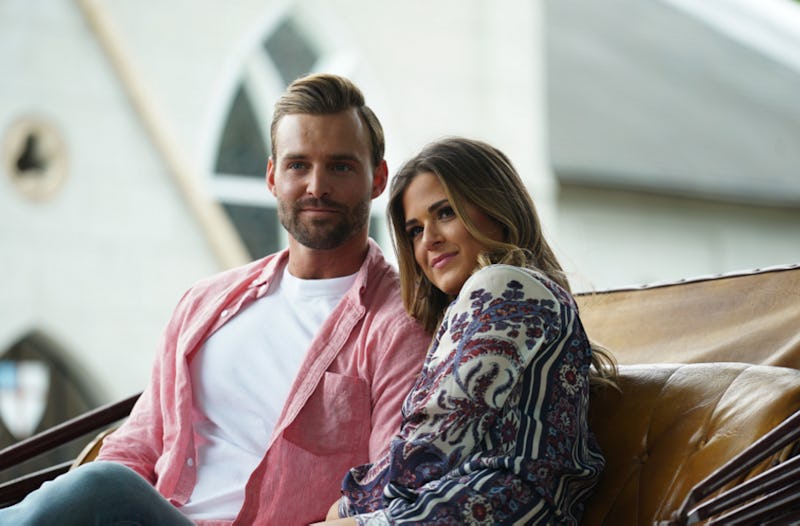 It's that time again in Bachelorette land: time for JoJo Fletcher to accompany the four remaining finalists to wherever their hail from and meet their families. Robby Hayes has made it to The Bachelorette hometown dates. On Monday night viewers will learn whether JoJo will feel at ease on the home turf of the Florida native. And, it will definitely help if she gets along with the other woman in her suitor's life. So who is Robby's mom?
Robby's mother is Holly Hayes. According to her Twitter account, she's a real estate professional" and, to no one's surprise, #TeamRoJo. Her bio also declares that Holly is mom to four other children besides Robby ("yes, all mine"), grew up in Nashville, and is a "foodie." She conducts business from her office in Ponte Vedra Beach. If you're ever looking for new digs in the Jacksonville area, hit up HollyHayesHomes.com to see what's around and available. Her comprehensive site shows that Robby's mother has an entrepreneurial spirit. And a section with glowing testimonials from her clients prove that Holly is very good at what she does. ("Holly, you could have sold us the moon...")
Bustle reached out to her for further information on her family and Holly wrote an email response that reveals all kinds of cool things about the Hayes clan, and what they thought of JoJo heading into the hometown dates. To start the email, though, Holly shares a little bit about how she and her husband met, and it's such a cute story. "Robert and I met on a blind date in June of 1987, were engaged in October, married the following March... we believe you can fall in love and find 'the one' quickly!" she writes. "We both had recently ended long term relationships so we knew what we wanted AND what we did not want. We were lucky! I like to say I won the husband lottery!
It's interesting that she had such a whirlwind romance herself, and it explains a little bit why Robby felt so comfortable telling JoJo he loved her early on in the process. He must have seen that love is not determined by the length of time you know someone, as evidenced by his parents.
Holly also reveals that she was pretty nervous heading into Robby's hometown date. "I was a little worried how JoJo would take us because we can be a bit overwhelming, but she literally walked through the door and was like one of the family," Holly writes. "I knew that she came from a large family so I was hopeful she would be ok and she did not miss a beat, she was awesome. All of the one on ones were great... the boys even played a little game with Jo which you probably won't see on the show. They had fun!"
But, though filming the hometowns was a joy for the family, Holly writes that having Robby be on the show for so long was really hard on her, because she and Robby are so close and "talk everyday." That's probably how she was so comfortable getting into things with Robby about how things ended with his ex, as seen in previews for the show.
"He has always come to me for advice about anything and we have a great relationship ... You will see in tonight's episode how I have to get right to business and tell him some of the stuff that was going on that he didn't know about so he could be upfront and honest with JoJo," Holly says. "No relationship will ever work without that. [My husband] and I have been married for 28 years now and we know, as do our children, that it is a lot of fun, but work. You have to be best friends and learn compromise, etc."
These days Holly Hayes' uses her Twitter mostly to promote open houses and share articles about home buying and selling. But since Robby made his Bachelorette entrance, his mother has also been tweeting about the show and retweeting Robby fans. Her interest in reality TV doesn't stop with her son's show; she's also voted to save The Voice contestants from elimination. So she's an active reality fan, just like you and me.
When the show started, Holly Hayes gave an interview to a Jacksonville publication doing a story on Robby, a local boy making his national television debut. She revealed to the Ponte Verda Recorder that Robby's youngest sister had nominated him for the show without his knowledge. "They reached out to him at the beginning of the year and he was freaking out, wondering what he should do because he hadn't even known she'd done it," his mom told the paper. She also described Robby as "the most driven" of her children and "a complete romantic."
My opinion of Robby has gone up a few notches discovering that he was raised by a woman who managed to care for five children while also establishing a successful business. Her social media presence hints that Holly Hayes is a person with strong opinions and no hesitancy about expressing them. In the preview for Monday's episode, it looks as if it's Robby's mother who opens up the conversation about her son's last relationship, and it's sure to be a dramatic evening of television.
Will Robby's mom's honesty lose him the rose or allow him to clear the air? We'll have to tune in to find out.
Image: Michael LeGrand/ABC