The 'Degrassi' Reunion Is A Major Milestone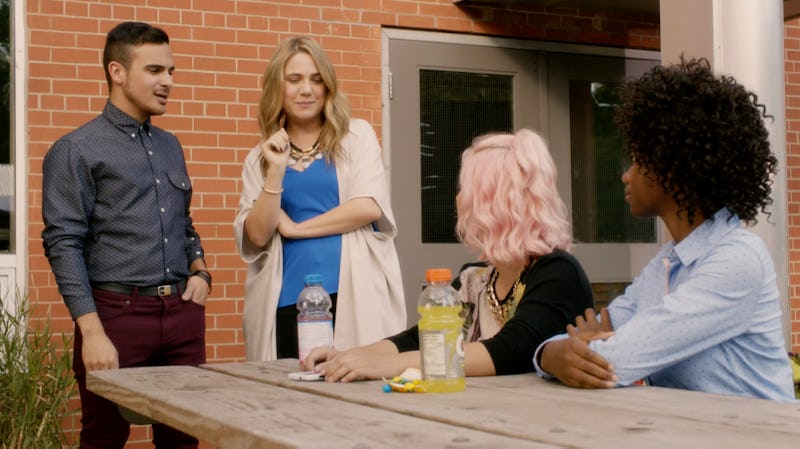 Fun fact about me: I've seen every single episode of Degrassi ever made. My own high school experience may be ancient history, and I may have forgotten most of the math I've learned, but one thing that I haven't forgotten about is the crew from Degrassi Community School. I devoured the series during my teenage years, which means that I grew up when Paige was the Queen Bee, Marco was school president, and Drake was still Jimmy. Though the new kids on Netflix's Degrassi: Next Class will become classic characters for the current generation, I'll never let go of the days when Craig was two-timing Ashley and Manny. Fortunately, Next Class will soon appeal to old and new viewers alike as there will be a Degrassi reunion in Season 2 of the Netflix series. So if you want to find out where all of your favorite characters are now, you'll beed to know which Degrassi episode has the reunion before it premieres on July 22.
If you're like me and have watched every episode of Degrassi, you might be a tad shocked at just how many hours of TV that means you've watched. Degrassi: Next Class Season 2 will feature the show's 500th episode. Nope, you didn't read that wrong. In fact, I did the math and realized that if you watched every single 22-minute episode of Degrassi just one time, you would have spent over a week of your lifetime just on Degrassi, watching gems like this:
It's fitting that the highly anticipated Degrassi reunion will occur during that 500th episode, which is Episode 5 in the second season of Degrassi: Next Class. The reunion special is appropriately titled #ThrowBackThursday, and it already has an amazing teaser trailer that will make you nostalgic for Marco's purple Degrassi hoodie:
Plenty of fan favorites will be making their way back to the school when Degrassi: Next Class Season 2 hits Netflix on July 22, and though the focus seems to be on the stars from the very early seasons of Next Generation, we're also getting some beloved Degrassi classmates from the show's later seasons. Personally, I'm stoked to see Paige return to her old hallway haunts, hopefully with enough "huns" to go around — no one has been able to rule the school quite as well as she did during her time as a student, as much as Holly J (also back!) tried.
I'm also eager to see how the series will explain the relationship between Emma and Spinner — did those two really stay married after walking down the aisle during one of Degrassi's more bizarre TV movies?! Fingers crossed Emma left him for Sean, making all right with the world once again. Luckily, we don't have much longer to wait before seeing what our favorite Degrassi: Next Generation characters are up to, since they'll be in the fifth episode of Next Class Season 2 when it hits Netflix.
Images: Degrassi; Giphy