This 'Tallulah' Clip Will Break Your Heart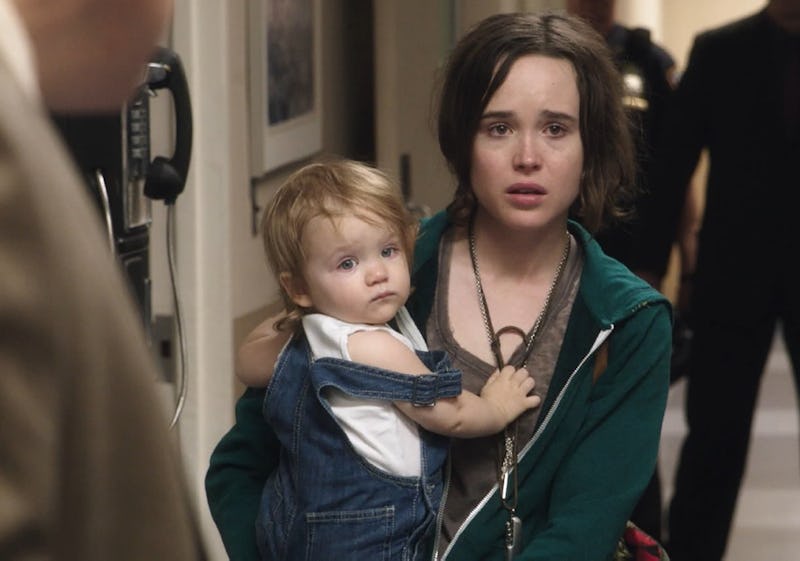 When I think about some of my favorite female actors, ones that have really brought something new to Hollywood or starred in pro-women movies, Ellen Page is one of the first people to come to mind. In films like Juno and Whip It, Page plays headstrong and dedicated female characters who don't conform to any stereotypical standard. Usually, when I find out that Page is going to be in a new movie, I anticipate me falling in love with her performance and admiring her refreshing portrayal, and the actor's latest movie, Tallulah, is no exception. A Sundance favorite and a new Netflix release, Tallulah , out July 29, stars Page in a heartbreaking and groundbreaking role, one that I'm sure I, like many others, won't forget.
Based on the short film Mother by writer-director Sian Heder, Tallulah follows Page as the titular Tallulah, a young homeless woman who "rescues" a baby from a neglectful mother and tries to pass the child off as her own. In addition to Page, the film is stacked with stars like Allison Janney, who plays Tallulah's ex-boyfriend's mother; Tammy Blanchard, who plays the mother of the child; Uzo Aduba; and Zachary Quinto. In an interview with Variety, Heder said that she knew these characters were "very unlikeable on paper," and so she purposely cast actors that she knew audiences could connect with. Said Heder, "I was looking for someone who had a warmth and charm and who could bring another element and have people fall in love with them despite their flaws ... All of these women have amazing comedic chops and have incredible emotional depth and an ability to go to a really raw vulnerable place, and that's what really drew me to each of them."
At the root of it, Tallulah is a film about motherhood in all of its different forms. In an interview with the LA Times about her short, Mother, Heder stated that the film explored a dilemma of womanhood: who is meant to become a mother? Star John Bejamin Hickey said in an interview with Variety that Tallulah is a movie "for and about women," and that's shown by the fact that it's a film written and directed by a woman, with three female leads. The above exclusive clip highlights some of the incredible female performances in Tallulah, so prepare to get your heart broken as Margot (Janney) sits with Carolyn (Blanchard) as Carolyn discusses how she never really wanted to be a mother.
It's clear that Tallulah has no intention of leaving you dry-eyed. Blanchard plays Carolyn with a quiet yet tragic bitterness that seeps through the screen, and, as always, Janney's performance is transformative. Get ready for this one.
Images: Netflix