Where To Buy The New My Chemical Romance Merch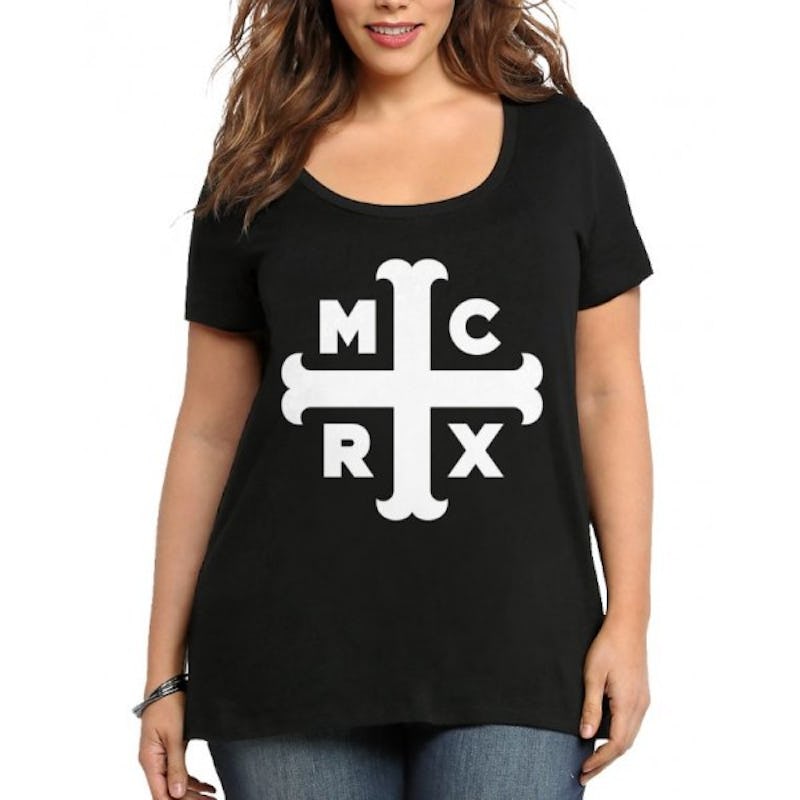 My Chemical Romance is back! OK, that might be speculation, but these guys are definitely up to something. On Jul. 20, the band released a video entitled "MCRX" on its website and social media pages surrounding the date Sept. 23, 2016 and already new My Chemical Romance merchandise has appeared online emblazoned with the "MCRX" label. IMO, it's a sure sign that a My Chemical Romance reunion tour is on the horizon.
Nobody knows for sure as of yet — except the band and probably its record label — but My Chemical Romance has given us two months to speculate, save money, and scream fan theories at each other. Oh, and buy its fresh T-shirts, of course. The new MCR merch comes in the shape of three brand spanking new T-shirts, all available on the MCR website through the band's record label Warner Bros.
The designs are simple and feature a white cross with "MCRX" written on it to fill each corner. The tees are also available in two colors, black and burgundy. It's a throwback to darker times, when emo fashion dictated that we wear dark hues only.
Although the new merch only offers T-shirts, one design, and two colors, the clothing comes in straight sizes, plus sizes, and even women's cuts, making it so most former emos and MCR enthusiasts can take part in the revival of My Chemical Romance.
MCRX Crest Plus Size T-Shirt, $19.99, mychemicalromance.warnerbrosrecords.com
MCRX Crest Women's T-Shirt, $19.99, mychemicalromance.warnerbrosrecords.com
In the video clip, the band isn't leaving much to the imagination by reusing infamous chords from the "Welcome To The Black Parade" song over a white flag bearing just a cross and waving in the wind, but we can try to hazard a guess about what this all means.
Considering this emblem is being marketed as a "crest" on the new merchandise, I cannot help but ask whether we'll be seeing some more private school imagery to come, á la the "I'm Not OK (I Promise)" video. Or will we be heading into new territory for the band, with some olden-days, Game Of Thrones vibes?
MCR Crest T-Shirt, $19.99, mychemicalromance.warnerbrosrecords.com
I can only guess for now, and the following two months, what this symbol, video, and merchandise mean for a band that split up in 2013. (I mean, before this, the band hadn't even tweeted for over a year.) It's only been three years, but given the public reaction thus far — a My Chemical Romance trending topic on Twitter, for example — it's been three years too long.
In the meantime, I've already purchased a My Chemical Romance tee and I'm going to wear it every day until we learn further information.
Images: Courtesy Brand