'Scream Queens' Season 2 Has A New Killer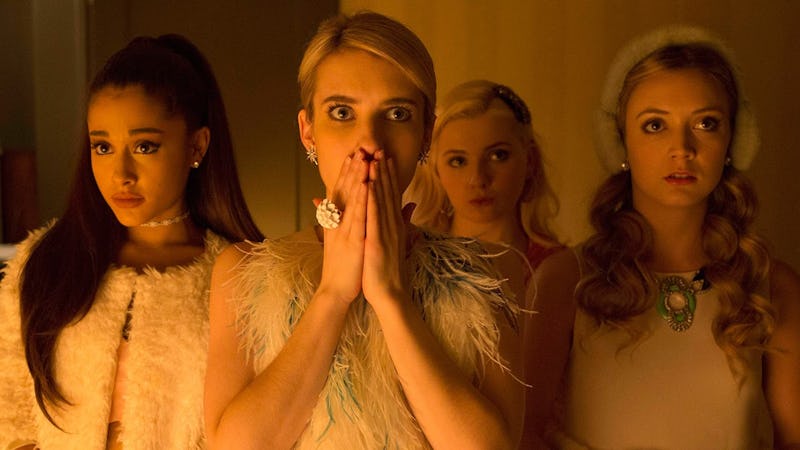 Fans of the mischievously hilarious show Scream Queens have long been screaming for an update on what the second season of the Heathers-meets-Halloween show will reveal when it premieres in September. Though spoilers for Season 2 of Scream Queens have been scarce and mysterious, the shows panel at this years Comic-Con finally treated fans to some juicy revelations. In addition to the show taking place three years after the blood spattered antics of Season 1, some new guest stars (such as Teen Wolf's Colton Hayes), and the fact that beloved frat-bro Chad Radwell will be returning, there was also some new information about season two's killer. I hate to say it, but fans will officially have to say goodbye to Season 1's beloved villain, the Red Devil, because Scream Queens Season 2 has a new killer.
Considering that the location of the story has switched from the sorority house of Season 1 to a hospital in Season 2, it makes sense that Scream Queens would want to turn up the horror by adding a new killer. After all, the Red Devil made sense as a villain terrorizing a college campus, but taking the story to a hospital opens up a whole set of new horror trope opportunities for the show. And when it comes to creating a new killer within such a fertile horror environment, there's vast potential for the enigma surrounding who and what the killer is and why they're doing it. Speaking on the panel, Keke Palmer, who plays Zayday on the show, added that this is definitely the case in Season 2:
The mystery aspect with the killer is much higher this season. In this one it's like what's going on? Where is this happening and why is this happening?
Though there were sadly no further details about what the killer will look like this time around, there was a titbit of information which seems to hint at who or what the potential villain could be. And in true Scream Queens style, it's totally weird. Playing "arrogant" doctor with a "secret" Dr. Brock Holt on the show, John Stamos' character was described by Brennan as being "the recipient of the first complete hand transplant," with BuddyTV reporting that the transplanted hand apparently once belonged to a squash player who just so happened to murder all of his opponents. Naturally, this part of the story could be there just as a quirky red herring, but it definitely sounds as though that hand is going to be spelling big trouble for the Chanels and the rest of the gang at the hospital in Season 2.
After all, not only are monstrously possessed hands a terrific trope in horror (such as in the cult-classic, Idle Hands, in which Devon Sawa has one of his hands possessed by a murderous demon, or Ash's possessed hand in the Evil Dead 2 ), but so too are horror films based on a medial transplant gone wrong. You have 1962's Hands Of A Stranger in which a concert pianist receives an experimental transplant of new hands following a car accident (and which end up driving her insane) and the 1935 classic Mad Love in which another musician is transplanted with the hands of a killer which still have a dangerous love of knives. Having an unstoppable, possessed hand with a bloodlust attached to an otherwise innocent individual is total horror excellence (and also, often hilarious), so it would fit in perfectly within the anarchic horror universe of Scream Queens.
Whether or not Dr. Holt is the killer or not in Season 2 of Scream Queens remains to be seen, but fans already know to expect the unexpected from how Season 1 unveiled countless twists and mysteries — as such, the news about Dr. Holt's character can't be taken at face value. It seems a little too easy, after all, to settle for the idea that it could only be a single hand causing havoc within the hospital of Season 2, so the news brings up a whole host of other questions about who or what else could be involved.
I mean, did someone purposely donate the hand to Dr. Holt in order for a legacy of murder to continue? Will the murderous hand simply serve as a distraction whilst the real killer enjoys rampaging through the hospital? Or will the squash-players hand only have an instinct to defeat an uber-jock like Chad Radwell in one last game of squash? We'll soon find out when Scream Queens returns on September 20 at 9 p.m. EST on Fox.
Images: 20th Century Fox Television