None Of JoJo's Guys Should Be 'The Bachelor'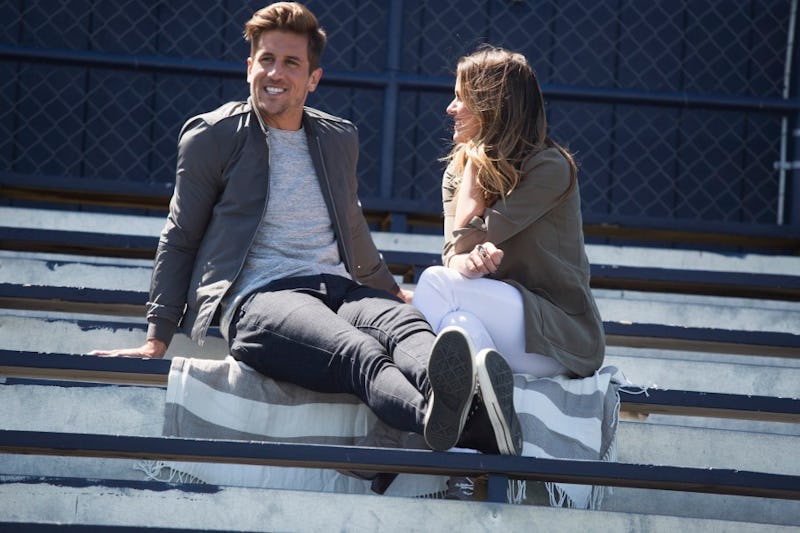 Now that The Bachelorette is wrapping up for the season, there's a big issue at hand: Figuring out who will be the next Bachelor. Usually, by this point in the season, the answer to that question is already pretty clear, but not this time. As tradition would dictate, one of JoJo's final four will probably go on to be ABC's next leading man when the next season premieres in January. But if it was up to me, the producers would decide to buck tradition, even just this once. None of JoJo's Bachelorette guys should be the next Bachelor, if we're being real here. And honestly, it's mostly because the show has so many other excellent options.
Don't get me wrong. The final four — Jordan, Chase, Luke, and Robby — all seem like pretty nice guys, and you can't debate that they aren't good looking, even though they all kind of look alike. But after a season of seeing them fall in love with JoJo, I'm just not interested in seeing any more of them. None of them really have that Bachelor quality, and there are definitely a few reasons that could explain why this is happening.
ABC, trust me on this one. You should look elsewhere for your next prince charming, and here's why.
The Drama Was Too Real
Was it just me, or was this season's crop of men especially dramatic? A little drama is definitely good when thinking about crowning the next Bachelor, but not at the point where extra security had to be called in... or where Jordan was made public enemy number one for most of the season.
I Don't Feel Attached To Any Of Them
Usually, by this late in the game, there's a guy I'm rooting for to win the whole thing, and a guy I know I want as the next Bachelor. At this point, I'm not sure any of these guys is right for JoJo — or the coveted Bachelor role. I feel pretty wishy washy about all of them, and there isn't anyone I'm dying to see again come next January. I'm sure I'm not the only obsessed fan who feels the same way, especially since my feelings about these dudes has been way stronger in seasons past.
They Don't Have That Bachelor It Factor
Like I said before, they're all really nice guys — save for a little shadiness here and there — but none of them have "it," or the factor that make them interesting to watch. They're pretty to look at, but that only goes so far. None of them have interesting back stories or reasons why they're searching for love, and except for Jordan, none of them even seem to have really strong connections with JoJo. I'm not into watching a Ken doll lookalike find love, because it's been done so many times before. After so many seasons of this show, it definitely needs something different this time around.
There Are Better Guys Out There
And by "out there," I mean The Bachelor universe. There are so many interesting men with compelling stories who would make way better Bachelor stars than the guys left on this season. Example: Nick Viall, who can be pretty polarizing to audiences but is at least a familiar face from the franchise who unarguably is trying to find love even in the face of two public rejections. Or what about Arie Luyendyk, who is seriously cute, sweet, and almost had The Bachelor gig once before? ABC should definitely look outside of this season when making the casting decision, because there are so many options out there.
Images: Carl Costras/ABC, Giphy (4)