Has This 'Married At First Sight' Couple Split?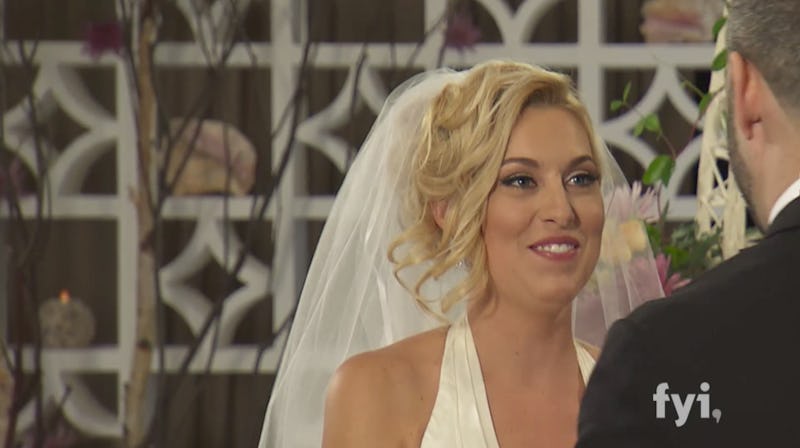 One of the most unique and extreme dating shows to ever hit TV is back. Season 4 of Married at First Sight premieres Tuesday, July 26 at 8 p.m. ET on FYI, and in this installment, we'll meet six new singles from the Miami area looking for love. But will they find it when they meet their future spouses for the first time at the altar? Perhaps figuring out if Married at First Sight's Heather Seidel and Derek Schwartz are still a couple could provide a sign.
Before I jump right in to answering this burning question, a bit of a side note here. Though FYI has already announced Season 4's participants, the network is keeping its official couples under wraps until the season premiere airs. But from one Season 4 trailer, the way the cast photos are laid out on the show's website, and rumor sites, it seems likely that Heather and Derek will be paired up when the new season begins.
So as far as the longevity of Heather and Derek's relationship goes, they don't look 100 percent confident that they've made the right decision right before they walk down the aisle in that aforementioned Season 4 trailer. Heather even says that she feels "overwhelmed" as she fights back tears.
But don't lose all hope for the couple's chances of surviving just yet. Another trailer for this season shows Derek smooching Heather's shoulder after the ceremony. So they must have liked each other for at least a little while.
And they sound pretty compatible on paper when you take a gander at their cast bios. They both have active lifestyles and a similar sense of humor is important to each of them, too. The rest of the stuff is just details, am I right?
Unfortunately, it looks like we'll have to watch this season of Married at First Sight to truly know whether or not things work out for Heather and Derek. They haven't really dropped any clues on social media, particularly on Twitter, which seems to be their most publicly visible profiles. In fact, they don't even really interact with each other on Twitter, which could mean they've broken it off or it could mean that they're keeping things on the downlow since the new season hasn't aired yet or they're just really not that active on social media. I'm kind of inclined to believe the latter since it looks like neither of them had a Twitter account before joining the cast of Married at First Sight.
Of course, the odds are against Heather and Derek. Most of the couples on Married at First Sight don't end up lasting much longer after their respective seasons end. And considering the spontaneous nature of this show, that's not really that surprising.
But in this limbo period where anything seems possible, can't I just pretend that Heather and Derek make it work?
Images: FYI; Karolina Wojtasik/FYI (2)