Rihanna's Grey Fur Puma Slides Are How Much?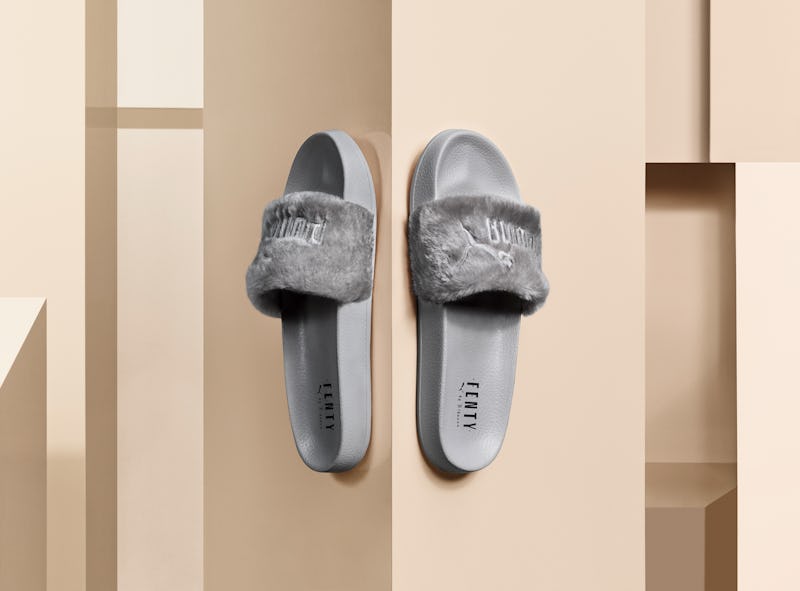 #ByeMoney. If you are a shoe fiend, a sneaker pimp, or generally have a footwear fetish, you're about to part ways with some cash. You can thank Rihanna and Puma for that. Rihanna is releasing an orange camo print version of Puma Creepers on Thursday, July 28. The Camo Creepers are $140. Now, Rihanna is also dropping grey Fur Puma Slides on Friday, August 5. This new shade is the latest addition to the previously sold-out trio of Fur Slides, which feature black, white, and shell pink pairs. The newest shade of the Fenty By Puma Fur Slide will go on sale at Puma stores, Puma.com, and other select retailers. But how much are the grey Rihanna Grey Fur Puma Slides?
This footwear, which looks like a glam shower shoe but is so much more than that, costs around $80. Since the Puma Fur Slides add a dose of fashion-forward "oomph" to any basic, errands-running ensemble, they are worth the spend. Grey is such a fitting shade for this silhouette, too.
In addition to the grey slide making its global debut, the original black, white, and shell pink Fur Slides will be restocked at select retailers, according to the press release that Bustle received. So Friday, August 5 will be a busy day for Rihanna Fur Puma Slides.
Grey is good! You can totes wear these with an all-black ensemble or with jeans and a white tee. I nabbed a pair of the black Rihanna Puma Fur Slides back in April 2016 and I can honestly attest that the shoes are crazy cozy and comfy. I wear them all the time and for many occasions — while traveling, running errands, going to the movies, and more.
There's also further good news regarding Rihanna and Puma. According to the same press release, there are other new releases coming later this season.
OK, so we are prepped for the debut of the orange Camo Creepers and the grey Fur Slides. We are ready for a restock of the black, white, and shell Fur Slides. Now, we have a hint that other shoes could be on their way.
The Rihanna x Puma collabo is a hit in any and all styles, from sneakers to slides.
Behold the Fenty Camo Creeper. It's such a looker. Remember, it drops on Thursday, July 28.
Make a reminder in your calendar or your phone now — the grey Fur Slide lands on August 5.
Images: Courtesy of Puma (2); Puma/Instagram (3)