The KyShadow Names Hold Special Meaning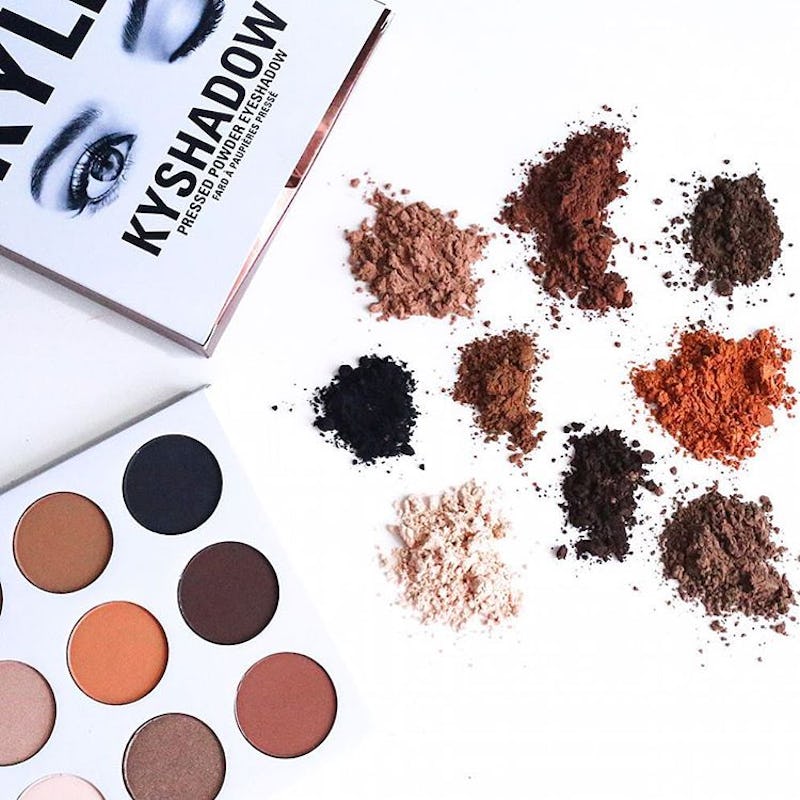 Kylie Cosmetics' KyShadow Palette officially blew up the Internet on Monday, and it's still making ways on Tuesday. This time, though, people have more questions about the ins and outs of the palette, including the inspiration behind the shades. What do all the names in the KyShadow palette mean? The inspiration behind the names are actually near and dear to Kylie Jenner's heart. While her lip kits may be named after family members, her eyeshadow — or should I say KyShadow —colors are a bit more material in nature.
On Tuesday, Kylie Cosmetics launched the KyShadow Bronze Palette, and in a moment that was a surprise to no one, the KyShadow palette sold out in only 60 seconds. That's right. One minute and the palette was gone. Perhaps, the names that Jenner assigned to her shadows gave them some seriously good mojo. Why do I say that? Because Kylie Jenner's KyShadow palette names are named after gemstones and crystals, and if you're a fan of the youngest member of the Kardashian and Jenner clans, you know she's also been a huge believer in the energies of gemstones and crystals.
Jenner has shown off her love of gems and crystal before via Snapchat, so the names of the KyShadow colors shouldn't be surprising.
From the lightest shade of Topaz to the deepest hue of Obsidian, each color is named after a crystal. Jenner is known for showcasing her personality through her products, so it makes totally sense that it would be the same way with her eyeshadow palette.
Jenner has already admitted that the Kylie Cosmetics KyShadow palette is basically her baby. She's been working on it and wearing it for months now, and her using another passion — besides makeup — in her brand makes total sense.
After all, Jenner's lip kits are named after her family members, so why not create palettes and name them after something else she loves. Sure, it's got a more material meaning, but the good vibes from these crystal and gemstone named shadows may have just contributed to her insanely fast sell out.
Let's be honest, though. The Kylie Cosmetics KyShadow Bronze Palette sold out because it's an incredibly gorgeous collection that people are clamoring to get. Jenner's palette is definitely one of the most exciting releases of the summer, and her inclusion of another passion of hers makes it even more special.